Semiconductor stocks are traditionally a cyclical group, and 2012 has been no exception. After a strong run in the first quarter -- continuing the sector's strength from an October bottom -- the Philadelphia Semiconductor Index (SOX) turned downward with the broad market, and fell quickly and sharply:
Click to enlarge all images.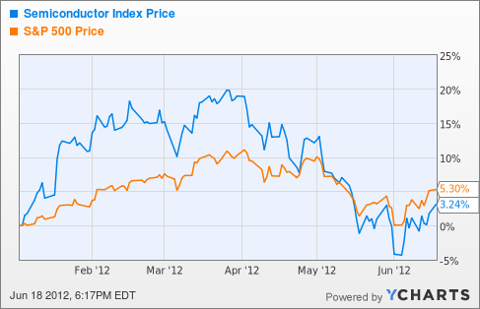 Semiconductor stocks have rebounded over the past two weeks but still trade well below recent highs, leaving some stocks seemingly undervalued. Here are, in my opinion, three of the best buys in the sector right now.
Entropic Communications (NASDAQ:ENTR): Save for some minor product updates, little has changed for Entropic since I recommended the stock back in April. ENTR closed Tuesday at $4.05, down around 3% since a 12.4% drop April 25th following disappointing Q2 guidance released in conjunction with first-quarter earnings.
Entropic is trying to digest its $65 million acquisition of bankrupt Trident Microsystems and is facing some short-term weakness in its legacy business; after strong revenue growth in 2010 and 2011, the first quarter saw a 17% decrease in sales year over year. But the company will still offer about $1.72 per share in net cash after the Trident acquisition closes, with trailing 12 months earnings of 21 cents per share.
Entropic will likely see significant short-term volatility; the stock already has a beta of 2.53 and has moved an average of 18% after its last four quarterly earnings reports. The integration of Trident's set-top box business into Entropic's legacy networking product line will take time -- the company itself anticipates it will not "return to its long-term operating model" until late 2014.
But when Entropic gets there, it will be a pure play on the coming convergence in home entertainment, between traditional cable delivery and internet protocol (NYSE:IP) video and audio, with tremendous earnings potential. Bullish investors can take advantage of the stock's volatility by selling cash-secured puts or using dollar-cost averaging to slowly build a position in the stock. With the strong balance sheet and current profitability, investors with the ability to handle what may well be a roller-coaster ride over the next year or two should be rewarded by Entropic in the long term.
Kulicke & Soffa (NASDAQ:KLIC): KLIC marched upward almost without interruption from mid-November through the first of May, reaching an eight-year high in early May above $13 per share. As the broad market turned, however, KLIC slipped; even fiscal second-quarter earnings that appeared to beat Wall Street estimates could not stem the tide. KLIC fell over 30% in six weeks, before a welcome 5% bounce on Tuesday to close at $9.60.
The near-term weakness makes some sense, as both revenues and profits have fallen in fiscal 2012 (sales down 25%, and earnings down 56% year over year). But KLIC is coming off two sensational years where the transition from gold to copper bonding resulted in strong sales growth for Kulicke & Soffa, the overall market leader (with 49% market share) and the dominant maker of copper bonding equipment. As such, 2012 seems to be a pause, not a retrenchment.
Should that be the case, KLIC will be wildly undervalued. The company currently has $4.32 per share in net cash, after accounting for the retirement of the company's remaining debt earlier this month. Its enterprise value is about $316 million; yet the company has generated $54 million in free cash flow in just the first six months. This follows its performance in FY 2011, where the company saw free cash flow of $193 million, or over 60% of its current enterprise value.
Right now, KLIC is priced as if it will never see its 2011 peak again. That hardly seems likely. It is the market leader in its space, it is benefiting from the transition to copper bonding, and it has a 60-year history of navigating an admittedly difficult industry. Analysts are still projecting FY 2012 earnings of 1.42 per share for FY 2012, putting the forward P/E below 7 in what appears to be softening demand environment. Over the long term, KLIC's balance sheet offers a tremendous downside cushion. And its earnings potential means the stock's upside could -- and should -- be substantial.
AXT, Inc. (NASDAQ:AXTI): After bottoming in December, AXTI finally seemed to take off, rising over 60% from mid-December to the end of March. Then the stock was hammered by a double downgrade from B.Riley and Northland, who noted that weakness at Triquint Semiconductor (TQNT), AXTI's largest customer, could have long-term repercussions for AXTI. AXTI fell 15%. The following week, the company released first-quarter earnings that appeared to show some strength; weaker-than-expected margins hurt the bottom line, but revenues came in toward the high end of the company's guidance. The sales strength might have mitigated some of the fears about a slowdown from Triquint, but it didn't as AXTI fell another 20%, slipping further in the following days. It closed Tuesday at $3.86, right at its December lows.
It appears AXTI's short-term sell-off has been overdone. First, the recent lows sits at a strong support level for the stock: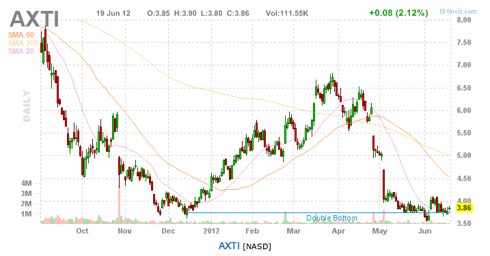 Chart courtesy Finviz.com.
Second, AXTI's valuation simply doesn't support some near-term weakness combined with aggressive pricing (one of the reasons the company gave for the Q1 bottom-line miss). Including the midpoint of guidance for the June quarter, AXTI is trading at 10 times trailing 12 month earnings, and less than 7 times when backing out the company's $1.27 in net cash. The company remains profitable, and its earnings potential -- the company earned 61 cents per share in 2011, and 57 cents the year before -- could easily support a far higher share price.
But, most importantly, with the stock at its support levels the downside risk seems limited. Even in 2008 and 2009, when the semiconductor industry was devastated by the global recession, AXTI lost just 7 cents and 3 cents per share, respectively. Its substrate business has exposure to the growing wireless networking sector, and an indirect supplier relationship to Apple (NASDAQ:AAPL) through Triquint. (That relationship can be a double-edged sword, as TQNT and AXTI shareholders can tell you.) AXTI is making money, creating cash flow, and positioning itself for what it expects will be improved demand in the second half of the year. At current levels, if AXT management is correct, the share price will surely see a rebound.
Disclosure: I have no positions in any stocks mentioned, and no plans to initiate any positions within the next 72 hours.