Editor's note: Some positions presented in this article have been disputed. See Seeking Alpha Policy for Disputing an Article.
In the initial write-up of a company called Document Security Systems (AMEX:DMC), a number of concerns were outlined. This previous write-up barely scratched the surface of the operational issues at play. What follows is a full report that completely exposes all the details concerning DMC's over-hyped technology, suspicious business arrangements, dilutive share offerings, and its lawsuit against the European Central Bank.
Over-Hyped Technology
To re-cap, DMC has never produced a profit, had only $1.3 million in cash as of 9/30/07, and trades at a large multiple to the very little amount of sales they have been able to produce. Since DMC's present business scarcely justifies a valuation near the stock's current price, management has pointed to the potential of the company's supposedly unique technologies as the key to valuing the business.
DMC states that they hold seven patents in the company's annual report (DMC currently has eight patents) while the company website describes nine technologies. According to DMC's 10K filed on 3/29/07, not all of these nine technologies are covered in the patents granted to date. In fact, only four of its listed technologies were patented, with patent applications for the five remaining technologies: AuthentiGuard On-Demand, AuthentiGuard Prism, AuthentiGuard ObscuraScan, AuthentiGuard Survivor 21, and AuthentiGuard VeriGlow.
On March 13, 2007, DMC as part of a European Patent application covering several of these technologies, a search report by the Patent Cooperation Treaty found them lacking in novelty. With research and development spending at little over $1 million for the last three fiscal years combined, potential investors should question just how advanced the technology could possibly be. Furthermore, according to the application dates on the company's issued patents, DMC's technologies are almost fifteen years old on average.
DMC management and analysts who are bullish on the stock argue that DMC's counterfeiting solutions are unique. An analyst report covering DMC released by Gilford Securities, states "These technologies are believed, by management to be the only technologies capable of so interfering with digital scanning procedures." To the contrary, there are a plethora of companies offering similar anti-counterfeiting technologies to DMC.
For example in the DMC 2006 annual report, Authentiguard Prism technology has one competing technology mentioned:
Scrambled Indicia technology provided by Graphic Security Systems Corporation ("GSSC") was developed by the company's founder, Alfred V. Alasia in the mid 70's. The company can encode as well as print encoded images with their special security technology. The image can be encoded with hidden words or images that will only appear when viewed through a special glass or lens provided by Graphic Security Systems. If an encoded image is copied, the encoded image or words will not copy and therefore will not be identified as an original document when viewed through the GSSC decoder. GSSC also offers online verification of protected documents. This technology provides similar security results to DMC's Authentiguard Prism protection technology which encodes documents with hidden words or images that are revealed using a handheld lens/decoder.
GSSC's Scrambled Indicia decoder lens in use: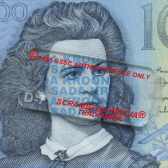 DMC Decoder lens in use with the Authentiguard Prism technology: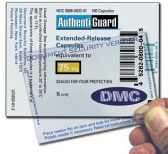 From DMC website
In fact, it appears there are a multitude of companies utilizing several different and unique technologies to achieve results identical to or superior to those DMC provides.
Using line phase modulation in a technology called "Hidden Image Technology" developed by Jura JSP Ltd.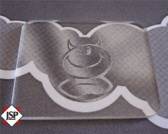 Or dot phase modulation technology used in the Isogram/Isocheck technology developed by Aestron Design BV, now part of Joh. Enschede Holding BV.
DMC's main product for years, has been security/safety paper. The paper reveals a hidden void message (a pantograph) on any duplicates when a copy is made of the paper. Even here, there are numerous competitors with superior security technologies to DMC available online.
Linked is a competing safety paper with numerous security features on top of simple pantographs. The paper includes chemical voids, heat reactive security features, holograms, pressure sensitive security rubs, an anti copy watermark, chemical reactants/voids, as well as hidden ultraviolet security fibers and messages.
Another technology DMC provides is known as AuthentiGuard Block Out. According to DMC, when a document protected with their Block Out technology is placed in a digital color copier, the copies of the protected document will print out as sheets of solid color or completely blacked out. No mention of this technology can be found in any of DMC's issued patents; however it can be found in a patent issued to the Omron corporation in 2000. The European version of the patent, EP751475 was first applied for in 1996. The technology allows copiers to detect a hidden image found in some banknotes and prevent their accurate reproduction by would be counterfeiters by printing out solid black sheets of paper or stopping the copying process altogether once the hidden image in the banknote is recognized. In fact, DMC admits this technology was created by Omron in their 2005 10K. On page 4 of the 10K DMC describes their AuthentiGuard Block-Out Anti-Color technology stating "This is a unique proprietary graphical design that we have developed that prevents color copiers and photo processors from replicating any image that contains our patented block-out image. Our patented version of this copy distortion image triggers a mechanism built by the Omoron(sp) Corporation. The trigger mechanism is housed in most color copier models and color photo processors built after 1997. On some models a solid black, single color or barred image is produced. On other color copiers, no copy at all is produced." The description goes on to reveal many of the world's currencies already utilize a form of the technology that does not belong to DMC. Curiously, the section describing the fact Block-out merely used an image designed to trigger Omron's patented technology and how several world currencies already used an image not created by DMC designed to trigger Omron's technology was deleted from the description of DMC's Authentiguard Block-Out technology on page 5 of the 2006 10K.
DMC would have the public believe its anti-counterfeiting technology is exceptional based on several characteristics including the fact it utilizes ink on paper, and because the technology protects documents without the need for electronic devices (the document is protected even when the power is out). While management is correct in this assertion when comparing the technology to security offerings such as biometrics and RFID, it completely ignores the multitude of solutions in the field of optical security technology such as holograms, foils, color-changing inks, micro printing and many others. For example, the US dollar does not utilize RFID or biometric technology, yet includes a number of security features in many ways superior to DMC offerings (for more details on dollar security click here). These technologies are virtually unknown outside of the optical security and anti-counterfeiting industries. DMC has abused this lack of general awareness outside the industry to present themselves as a company with unique solutions for the large anti-counterfeiting market.
(For a complete review of several technologies that offer identical capabilities to DMC's primary prism and pantograph 4000 technologies see here.)
Over-hyped Deals
DMC has a long history of announcing suspicious and largely irrelevant deals, in what could be seen as an attempt to prop up the company's share price. Below are a few of the many examples available:
On 9/20/07 DMC announced a partnership with Boise Cascade offering doctors Medicaid prescription pads to prevent fraud. The legislation, H.R., 2206 requires that states withhold Medicaid payments to pharmacies for prescriptions that do not have at least one of three characteristic measures intended to prevent fraud and abuse through reproduction or modification of prescriptions. The legislation deadline was October 1, 2007, and by October 1, 2008 all Medicaid papers must be embedded with all three characteristics. This press release was short of earth-shattering, as Boise Cascade has already released security prescription paper with DMC under a deal announced in No0vember 2005. Boise and DMC are still working on producing a paper to meet all three criteria by the 2008 deadline. Nor has DMC cornered the market, as similar initiatives already exist in several states, including California, where security standards for certain types of prescription paper are even higher than those outlined by H.R., 2206, and over fifty security printers are already certified to print the paper. DMC published a similar press release on September 27, 2006, wherein they announced a partnership with the Ergonomics Group to distribute 1 million sheets of DMC security paper to healthcare providers; this news yielded little ultimate effect on revenues.
For the relatively small size of the company, it is odd that DMC has signed so many international agreements. One of the first was on 11/9/06, when DMC granted a two year license to distribute their technology in Indonesia to a company called PT Sekur Grafika (this license has since been expanded to include Singapore and Malaysia). The press release had a quote from the director of PT which claimed they had searched for the past 2 years to find the best technology, finally selecting DMC. However, if you visit www.sekurgrafika.com, it states that the PT Sekur Grafika is a newly formed corporation (making a two year search pretty difficult). In addition, when looking up the registration to Sekur Grafika's website, it shows the site was registered on 11/13/06, or four days after the agreement with DMC was signed. Further investigation has revealed that PT Sekur Grafika was a web designer shortly before entering the document security business, and has since found it difficult singing new customers.
On 6/27/07,in an agreement extremely similar to the Sekur Grafika deal, DMC announced it had granted a two year technology license and exclusive rights to market, sell, and distribute DSS AuthentiGuard security solutions in Mexico to a company called Cultura Interactiva S.A. de C.V. The agreement included minimal revenues of $1.25 million per year to DMC. There is next to no information available on Cultura online, and the company does not have a website, however the domain name www.culturainteractiva.com has been parked via godaddy. Again the domain name appears to have been parked/registered only days after the announcement of a deal between DMC and Cultura Interactiva.
Perhaps one of the most blatant misrepresentation of business prospects from DMC, was the company's announcement on June 22, 2006 that DMC technology had been licensed to Barcode Technology (NYSEMKT:BTI) for inclusion in worker identification cards to be distributed in The People's Republic of China (this deal was later expanded to include the Dominican Republic). Under the original agreement, however, DMC issued a warrant BTI to purchase 500,000 shares of DMC stock at $10 a share, and BTI received the exclusive rights to market and produce DMC technology in China. In other words, DMC licensed its technology to BTI and paid BTI in stock for accepting the license. How many companies have to pay their customers to take their product? The first application of this relationship was for BTI to include DMC's technology in the printing of worker IDs in China. During the company's third quarter 2006 earnings call, CEO, Patrick White, claimed to shareholders that, in regards "every worker in The People's Republic of China must purchase [the workers ID card] once a year to be eligible to work." We find no evidence that such a program exists in China on a nationwide, annual basis. Employment rights in China are tied to the Hoku, or residential ID system, which according to Chinese law, is not issued annually. Imagine the logistical problems of issuing IDs ever year to workers in a country with over 1 billion people. Regardless, DMC announced that they had finally signed on to do their first project for the Chinese ID in one city within one province on March 7, 2007, expecting it to yield a minimum of $1.5 million over the terms of the agreement. In the press release DMC's CEO Peter Ettinger stated that "This $1.5 million contract represents only a fraction of the royalty potential we foresee under our partnership with BTI as we address China's security needs." It has been nearly a year since the company last updated the progress of their China contract with apparently no results to show for it.
Dilutive Share-offerings
For much of the company's history, DMC has depended upon dilutive private sales of stock to raise money for operations, since the company has thus far been unable to generate positive cash-flow from operations. DMC has raised money through private placements in December of 2003 and 2006 raising proceeds of $5.8 and $5 million. These offerings are described in more detail below.
Private Placement on 12/15/03: DMC raised $5,800,000 in a private placement in December 2003, selling 116 units for $50,000 which consisted of 12,500 shares of common stock and 3,125 warrants exercisable at $5 per share. There are a few suspicious issues regarding the placement.
Fordham Financial Management served as the placement agent in connection with the offering and received warrants for the purchase of 362,500 shares of DMC stock at $4.80 per share in compensation. Forty one Fordham Financial Management employees registered warrant shares in a subsequent 424 filed by DMC on 4/28/05. (See here.)
In the Form D (Document Control Number 03043072) filed in connection with the private placement, under use of proceeds, a total of $2,800,000 is listed as Working Capital, under Payments to Officers, Directors & Affiliates.
Fordham Financial Management Inc was the subject of an alert published on 4/12/05 by the Financial Service Authority (NYSEARCA:FSA) in the UK, warning investors against dealing with unauthorized firms, and stating that Fordham "is not authorised under the Financial Services and Markets Act 2000 (FSMA) to carry on a regulated activity in the UK. Regulated activities includes, amongst other things, advising on investments and dealing and arranging deals in investments ("investments" include stocks and shares). The FSA believes the firm may be targeting UK customers." (FSA Fordham Alert)
In the July 2006 edition of the NASD enforcement summary it says that Fordham Financial Management along with Harvey Joel Latzen were censured and fined $15,000 without admitting or denying the findings, that they failed to report statistical and summary information regarding customer complaints required by NASD rule 307c. (See here.)
On March 10, 2004, A researcher named Paul E. Taboada was fined $25,000 and suspended in all capacities for six months, and his firm was barred in all capacities, expelled from the NASD, and his supervisor was suspended in all capacities for 2 years and fined $80,000 in connection with a report containing material misrepresentations and omissions in a marketing letter regarding American Diversified Group authored by Taboada. As of the ruling, Taboada was currently associated with Fordham Financial. (See here.)
Fordham Financial was also fined $12,500 from the NASD in regards to a representative calling someone in Utah soliciting them to purchase a security and made baseless price projections and misrepresentations of material fact, such as saying the stock's price would reach $60 in 60-90 days, that the company's insiders were increasing their holdings, and that the representative had been a broker for ten years. The representative also failed to tell the person that he wasn't registered to sell securities in UH. This was on the State of Illinois Securities department website. (See here.)
Fordham was denied an application from the North Dakota Securities Department (see here).
Here is the announcement of the DMC placement offering.
Private Placement 12/26/06: On an S-3 form filed on 4/4/07, DMC registered shares it sold as part of a private placement on 12/26/06 in which the company sold 94 units for $50,000, with each unit consisting of 5,880 shares and warrants to purchase 2,940 shares of stock at $11.75 per share.
Ignoring the value of the warrants, this equals a price paid per share of $8.50 by the private placement investors. The closing price of DMC stock on 12/26/06 was $10.25 per share. The $8.50 paid by the investors in the private placement represents a discount of fair value at the time of at least 17%, again assigning a value of zero for the warrants received.
The primary placement agent used to sell the issue was Perrin, Holden & Davenport (also known as PHD Capital). PHD appears on a list of unauthorized overseas firms operating in the UK, and has been known to engage in boiler room like activities, (see "The call that cost this man a fortune" from The Guardian newspaper article linked below). PHD has also been fined by the NASD. See NASD Case #CMS030295, and NASD Case #CLG050008 (see here).
A portion of the proceeds from the 2006 placement were generated from Fagenson & Co, acting as placement agent. As compensation DMC paid $230,000 to Fagenson & Co., which is a related party to Robert Fagenson, the current chairman of DMC. (See here.)
European Central Bank Lawsuit
...Or when all else fails… sue potential customers!
Perhaps the most unusual aspect of the DMC story is the 2005 announcement of a lawsuit against the European Central Bank, claiming that all 30 billion Euros printed to that date infringed upon the company's European patent EP 0455750. In August 2005, DMC indeed sued the ECB for patent infringement at the European Court of First Instance. In response, the ECB countersued DMC in nine national European courts to invalidate the patent, stating that the Court of First Instance was not the proper venue. The national validity suits have already been heard in Britain, Germany, and France. To pay for the validity suits, DMC again used the only currency available to them, their own stock. On November 28, 2006 DMC's lawyers, McDermott, Will & Emery accepted shares of restricted stock in lieu of legal fees during the patent litigation suit against the European Central Bank.
Below is a quick review of European patent law, and the technology involved in the DMC lawsuits:
Patent Law Background:
The DMC lawsuit is an unusual case in the already unusual European patent litigation system. Once a patent is granted by the European Patent Office (EPO), the patent then becomes a national patent in all the countries that are party to the European Patent Convention (this includes much of the European Union).
In a patent litigation case, the patent owner that believes a third party is illegally using their patent will sue that party for patent infringement. The allegedly infringing party can defend themselves by either claiming that their use is not infringing the patent's teachings/technology (also known as the claims of the patent), or they can argue that the patent should not have been granted in the first place, that the patent is invalid. Typically when a patent's invalidity is being determined in court, it is as a defense against patent infringement, or at least some part of an ongoing infringement trial.
What is unusual thus far with the DMC lawsuit is that presently, there is no outstanding infringement lawsuit. DMC did not, and has not filed infringement lawsuits in any of the European national courts. Typically, the party who felt their patent had been infringed (in this case DMC) would file patent infringement lawsuits in the national European courts. The alleged infringer (in this case the ECB) would then prepare a defense, and as a part of that defense, argue that the patents are invalid. In most countries, patent infringement and patent validity trials are heard by separate courts, with the exception of the UK whose legal system is similar to the United States. Thus far, the validity trials being held can barely be considered a defense, as there is no infringement action initiated by DMC to defend against in the countries the validity trials are being heard in.
Returning to the subject of patent validity, there are a few different ways someone may claim that a given patent is invalid, including "added matter" and "prior art". Prior art refers to all publicly available information at the time of a specified date. If a patent application covers inventions that were already covered by prior art then the patent is invalid. The cut-off date by which to measure what was publicly available information is known as the priority date, and is set as the date when the initial patent application is filed.
When a patent application is filed, but before a patent is granted, the applicant is allowed to amend the claims (processes or technology to be covered by the patent), in order to clarify what the patent is seeking protection on. All claims of a patent, even if they have been modified after the priority date, are only compared to the prior art at the time of the priority date. Therefore, it is important to prevent abuses by patent applicants from altering claims to cover technology or knowledge which became a part of the prior art after the priority or application date. This is why a patent applicant is not allowed to substantially modify the claims of their patent to include claims or ideas not initially present in the original application. If it is shown that this has occurred the patent can be found invalid due to "added matter".
There is a delicate balance to be struck by an applicant seeking patent protection (a patentee). If the patentee makes their claims too broad, it will be more likely that the patent will be found invalid. However, if the patentee makes their claims too narrow, it is less likely for the patent to protect against another party to have infringed upon the claims of the patent. DMC has learned this lesson all too well, as under broader patent claims, the US Federal court system and the European Patent Office have found their patent to be invalid. However the one court that has found the modified DMC patent valid, also would likely find that the Euro does not infringe under the updated claims of DMC's patent.
Technology Background:
Over the years, a multitude of techniques have been invented to prevent counterfeiting. One lesser known anti-counterfeiting technique takes advantage of the way the image of potential counterfeit copies of banknotes is taken. Before the advent of digital scanning and inkjet or laser printing, would-be counterfeiters and other printers relied on a method known as halftone reproduction.
In traditional printing, images such as photographs (which have continuous changes in shading and color) must be converted into a series of differently sized dots. These dots are placed in equally spaced rows, with the size of each dot representing the darkness of the shade of the converted image. The rows of dots are fixed, and the distance between each row is measured in lines per inch (lpi), and is equivalent to the resolution of the image.
Below is an example of a shaded bar on the right, and how that shaded bar would be converted to a half-tone image on the left.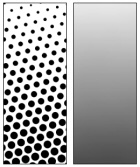 Screen traps, are an anti-counterfeiting technique common in currencies since the early 80s. A screen trap involves printing a pattern of parallel lines, with a spacing between the lines, that's difficult for a counterfeiter to capture when they screen, or convert to halftone, the image of the banknote. Since the resolution of the halftone image created by the counterfeiter not be of a high enough resolution, some of the pattern will not be reproduced creating distortions, known as moiré distortions, which will make a counterfeit note obvious. The basic concept behind the screen trap is printing patterns on banknotes in a higher resolution than the counterfeiter is able to reproduce in order to prevent them from copying the currency.
The British and French courts have found DMC's patent to be invalid, while the German court has found the patent valid. Despite the amount of attention being paid to these invalidity trials by management and shareholders, they are largely irrelevant, as the trials only determine whether or not DMC even has a valid patent in Europe, and not whether the Euro infringes DMC's patent. The infringement trials are what would determine any potential pay out to DMC, and unfortunately for shareholders, there exists troubling precedence against the potential for the Euro to be found infringing.
In 1995, the predecessors to DMC, sued the US Bureau of Engraving, claiming that the new US $100 bill infringed two of its US patents, 5,018,767 and 5,193,853, now owned by DMC. The new $100 bill contained a printed anti-counterfeiting technology known as a screen trap, designed to prevent counterfeiting by digital scanners. This feature appears as a pattern of thin, parallel, concentric lines behind Benjamin Franklin's portrait on the front of the $100 bill. These lines are so small, a typical desktop scanner or printer would have difficulty reproducing them causing bands of distortion (known as moiré patterns) to appear on illegal copies of the bill. The judge hearing the case found that while the US $100 bill was infringing the patents, both of these patents were invalid as obvious over prior art. This means that DMC's patents covered techniques that were already public knowledge at the time of the patent application, and should therefore not have been issued.
(See 3/13/00 Decision before the United States Court of Appeals for the Federal Circuit; 232 F.3d 907; 2000 U.S. App. LEXIS 3728.)
Below is an example of the concentric lines behind Franklin's portrait on the left, and next to it, an example of moiré distortions caused by the scanning of those lines behind the portrait.

From PBS special on security features of the $100 bill
This screen trap is created from the circular patterns printed directly onto the bill, and the area is set aside specifically for the purpose of producing moiré patterns when copied. Note the intended moiré effects in the right-hand example behind Franklin's portrait.
DMC's European Patent, EP 0455750, was originally identical to the invalidated US patents. DMC, in their initial application for a patent in Europe, made the argument that its patent was novel, in that DMC had developed a screen trap utilizing a specific frequency to battle digital scanners. The European Patent Office ("EPO") initially rejected the patent application because the EPO, like the US Federal Court, found these claims of the patent to be invalid as obvious over prior art. This should be especially disturbing to DMC shareholders because this same claim that was rejected by the European Patent Office (the use of a screen trap with a specific frequency to prevent digital scanning of images) is the same argument being used by DMC to claim that the Euro infringes their patent.
To view the document detailing the EPO's initial rejection of DMC's European patent application, go to the site here and click on the 'Load all pages' button.
To view a complete history of the documents involved in DMC's European patent application process go here.
Please note that the European Patent Office online database is only available between the times of 8:00 and 18:00 CET (between 2 AM and Noon in eastern US time zones).
After the initial rejection by the European Patent Office, DMC altered the claims of the patent application in order to get the patent application granted. However these alterations changed the claims covered by the patent in such a way that the patent no longer covers the types of printed patterns found on currencies such as the $100 bill and the Euro. According to the European Patent Appeal board hearing in which DMC was ultimately awarded their patent, DMC claimed that their patent covered a technology that would allow counterfeit prevention without requiring a banknote designer to set aside areas of the document for screen traps. "which are solely printed with lines" intended to prevent copying.
In the original patent application, DMC claimed the problem the patent addressed was the advent of new digital color copiers, and that the solution the patent provided was to create a screen trap with a specific frequency designed to produce moiré distortions when copied by a digital scanner. In the appeal which modified the claims of DMC's European patent, DMC claimed that the problem their patent addressed was the conflict between banknote designers' freedom and the need to place security features on the banknote, such as screen traps. DMC's patent solves this problem by using a grid pattern, and overlaying the pattern onto "an original image to produce on the document/banknote a printed image which comprises the original image having a superimposed transmitted or obstructed print pattern conforming to the grid pattern, and in which the print pattern normally is not discernible by the naked eye."
This is the key distinction between DMC's original patent application (as well as the US patents that were invalidated), and DMC's current European patent. The judgment in the DMC German validity case highlights this difference. The German judge examined a 10 pound British banknote from 1984 (before DMC's patent application priority date), which contains a screen trap, integrated into the portrait of the queen, that moiré distortions when scanned at 100 lines per inch (a common resolution of digital scanners). The German ruling concluded that this screen trap, as well as similar traps on other currencies that were examined, is produced by visible printed lines on the note, and are visible by the naked eye. The ruling concluded that these anti-counterfeiting techniques were not covered by DMC's patent claims, because DMC's patent covered protection that "cannot be seen with the naked eye." This excludes almost all known screen traps used in currencies today produced by visible patterns printed onto the banknotes.
Therefore, if the Euro is infringing, they should not have visible areas containing screen traps. This is simply not the case, as shown by the magnified image of a portion of the Euro below taken from a presentation on optical security. There is no overlayed grid present, and the visible, printed lines on the Euro themselves form the screen trap patterns much like on the $100 bill and other prior screen traps.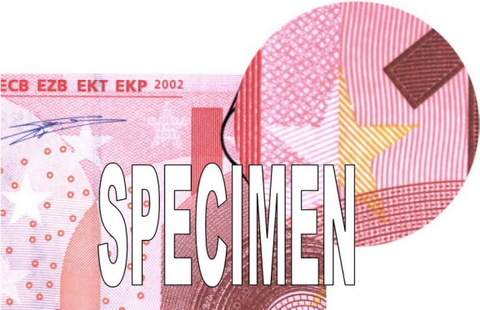 Image from "The Convergence of Anti-Counterfeiting and Computer Security" presentation by Steven J. Murdoch & Ben Laurie
It should be noted this modification in the claims of DMC's European patent (from claming to teach the modification of a traditional screen trap to thwart digital scanners, to teaching the creation of a grid through which an image may be screened) was also the reason the British and French judges have found DMC's European patent to be invalid (due to added matter).
The last update from DMC on a possible infringement trial, came from a press release on December 18, 2007. In the release DMC stated it would likely file an infringement lawsuit in 45 to 60 days (60 days after 12/18/07 would have been 2/16/08). If and when the case is filed, the outlook for success in such a trial appears remote at best.
Conclusion
Without unique products, a profitable business, or any hope of payment from the ECB, DMC shares cannot hope to maintain any value long term. Investors would be best advised to steer clear of DMC, a wildly over-valued company, on the brink of insolvency, with numerous operational red-flags.
Disclosure: Author has a short position in DMC