As I recently wrote in "The Fed's Rules Of The Road - TruP Stop Ahead", investors can expect banks to redeem trust preferred securities (TruPs) utilizing a "regulatory capital event" redemption when it makes sense from a rate and capital perspective. As TruPs have essentially lost their tier 1 capital status, banks will now be assessing their ability to optimize their capital position and take advantage of low rates when possible.
June 18th saw just such a capital transaction taking place within the capital structure of TCF Financial (TCB). The bank (bank holdco) issued non-cumulative perpetual preferred stock (tier 1 eligible) at 7.50% and is using the proceeds to redeem their 10.75% TruPs. A perfect example of capital optimization - Tier 1 remains the same, but costs the bank less.
Details of the offering are (prospectus):
| | |
| --- | --- |
| Issuer | TCF Financial |
| Series | Series A (perpetual preferred) |
| Ticker | TCB-A |
| Coupon | 7.50% |
| Rating | BB+/BB- (S&P/Fitch) (neg outlook both) |
| Shares | 1,400,000 (210,000 greenshoe) |
| Dividends | Non-cumulative, paid quarterly 3/1, 6/1, 9/1 and 12/1 |
| Optional Redemption | June 25, 2017 |
| Use of Proceeds | Redeem all $115,010,000 of the 10.75% Capital Securities, Series I TruPs |
The Issuer
TCF is a Wayzata, Minnesota-based national bank holding company with $17.8 billion in total assets. The BHC is the 36th largest bank by assets. TCF has over 430 branches in Minnesota, Illinois, Michigan, Colorado, Wisconsin, Indiana, Arizona and South Dakota, providing retail and commercial banking services. TCF also conducts commercial leasing and equipment finance business and leverage lending in all 50 states, commercial inventory finance business in the U.S. and Canada, and indirect auto finance business in over 30 states.
One of the things that differentiates this bank from most other mid-cap banks is its emphasis on leasing and equipment finance rather than the traditional consumer lending of similar sized banks.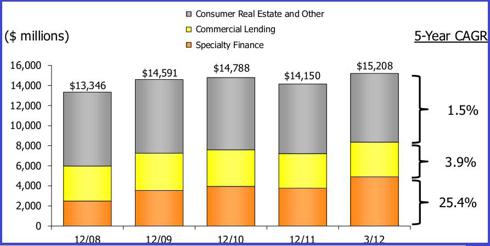 From the above graph, it is somewhat easy to see what loan type the company is focused on growing. This model is similar to CIT (NYSE:CIT) trying to use bank deposits to fund a finance operation.
Some data on the issuer:
Capital: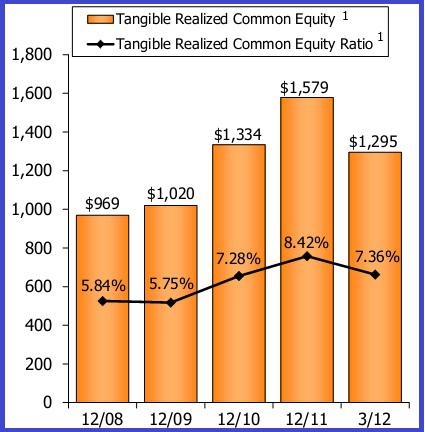 Capital levels at the holding company are moderately strong although they have fallen off 106bps during the first quarter. The company has recently "restructured" its balance sheet by selling $1.9B in MBS and prepaying $4B in debt. The net effect of these transactions is to increase their net interest margin to approximately 4.7%. This "repositioning caused a hit to capital North of $200MM, which is why their capital ratios fell.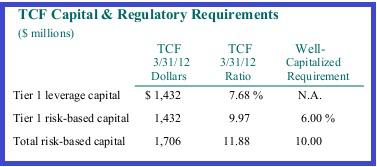 On a regulatory basis, the company is well capitalized, but I would prefer to see more of a cushion on their risk based capital ratio.
Tidbits/Errata:
The bank is in the middle of closing the acquisition of $805MM of Prudential Bank & Trust's deposits, which will decrease the loan-to-deposit ratio.
Wholesale funding has decreased to 19% of total deposits and borrowings. Still a bit high, but manageable.
The relationship with Bombardier Recreational products (OTCQX:BDRBF) is interesting as the relationship is with the manufacturer, not the dealer. If the bank has to repossess a recreational product, they put it back to BRP at par.
Equity Performance: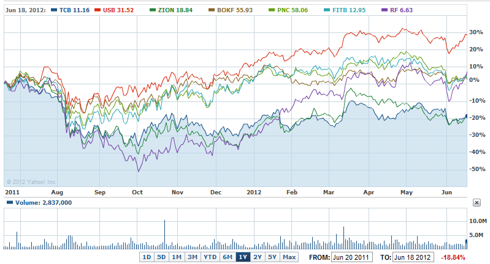 As the above chart shows, TCF Financial has underperformed regional peers such as Fifth Third Bancorp (NASDAQ:FITB), Regions Financial Corp. (NYSE:RF), PNC Financial Services (NYSE:PNC), U.S. Bancorp (NYSE:USB) and BOK Financial (NASDAQ:BOKF) and has matched the performance of Zions Bancorporation (NASDAQ:ZION). I would expect the bank to get some traction as a result of the changes made to the balance sheet, asset mix and increased deposit base.
Bottom Line: This institution is interesting as the liability side of the balance sheet resembles a typical regional bank, while the asset side of the balance sheet resembles more of a finance company. The rationale behind this is that the bank has been in the financing field since 1999 and there is less competition for these assets and ultimately less risk than the common bank alternative of consumer and commercial loans which have a different risk and duration profile. The bank's equity has underperformed most of its peers over the last year, but I would expect that it should regain some ground with their new deposits and restructured balance sheet. I find the preferred attractive relative to many of its peers due to the call protection, non-TruP nature and yield. This is a preferred stock that investors should consider for a lower beta, income producing part of their portfolio.
Disclosure: I have no positions in any stocks mentioned, and no plans to initiate any positions within the next 72 hours.
Additional disclosure: This article is for informational purposes only, it is not a recommendation to buy or sell any security and is strictly the opinion of Rubicon Associates LLC. Every investor is strongly encouraged to do their own research prior to investing.