It's time for my mid year review of my December 2011 '4 Must Own Dividend Stocks And 3 To Avoid For 2012' recommendations. I believe in accountability. I do not believe in excuses. We can hedge our investments with numerous methods, so there isn't any reason to suffer significant losses. I presume I did not hedge the 7 below dividend stocks.
3 Dividend Stocks to Avoid
1. Avoid General Electric (NYSE:GE)
I was wrong to recommend avoiding General Electric. The stock is up 9.68% half way through 2012. I do not own any shares. I respect the employees, but I do not believe in the company's business model. The reliance upon the finance unit is excessive in my view. Clearly I was wrong for the first 6 months.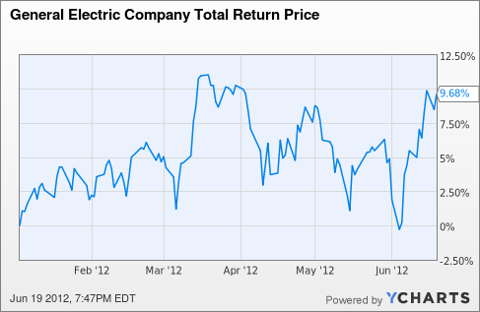 GE Total Return Price data by YCharts
2. Avoid Kinder Morgan Energy Partners LP (NYSE:KMP)
Kinder Morgan Energy Partners is down 6.78% for 2012. I did expect the general partner to perform better than the country's largest midstream master limited partnership. I do not own shares in Kinder Morgan Energy Partners. I do own warrants in the general partner.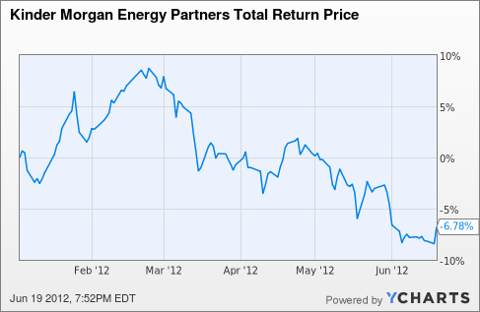 KMP Total Return Price data by YCharts
3. Avoid Terra Nitrogen Company, L.P. (NYSE:TNH)
I was wrong to recommend avoiding Terra Nitrogen. The partnership, for 2012, is up 19.83%. I was clearly on the wrong side of this recommendation. I do not own shares in Terra Nitrogen. I do own shares in Terra Nitrogen's parent. CF Industries (NYSE:CF) owns approximately 75% of Terra Nitrogen units.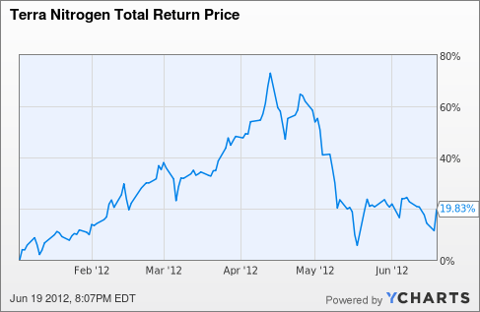 TNH Total Return Price data by YCharts
4 Dividend Stocks to Buy
1. Buy American Capital Agency Corp. (NASDAQ:AGNC)
American Capital has returned, in 2012, 20. 18%. Management was fortunate to operate in a declining Treasury Bond and Government Sponsored Entity (NYSE:GSE) Mortgage Backed Security (MBS) environment. I continue to hold the stock. The annual dividend is 14.9%.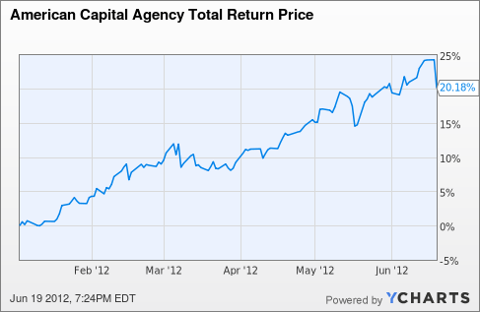 AGNC Total Return Price data by YCharts
2. Buy AT&T, Inc. (NYSE:T)
AT&T has outperformed my expectations. The total 2012 total return is 20.31%. I do not own AT&T. I believe the utility sector and telecom sector's yields are stretched due to investors reaching for yield.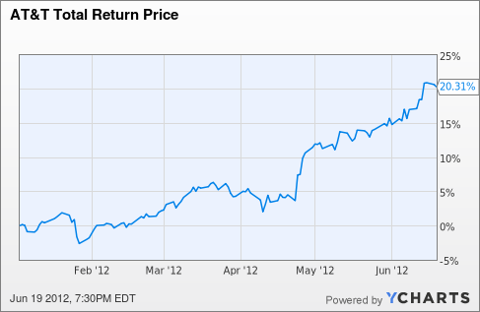 T Total Return Price data by YCharts
3. Buy Enterprise Products Partners LP (NYSE:EPD)
Enterprise Products Partners returned, for 2012, 7.17%. This is a decent return as many midstream master limited partnerships have had a tough couple months. I currently own this name and have a collar option to protect downside losses. I believe a $40 - $43 share price is an attractive entry point.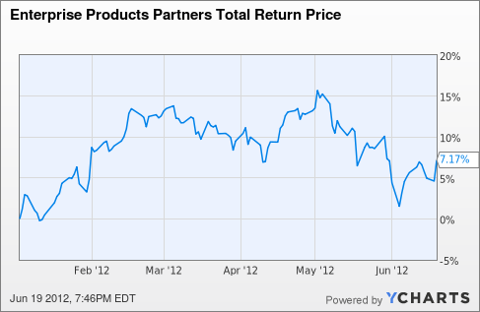 EPD Total Return Price data by YCharts
4. Buy Kinder Morgan (NYSE:KMI)
Kinder Morgan, for 2012, has produced a 1.48% return. Per the below chart, the return was above 20% at one time. Kinder Morgan has successfully closed on a key acquisition. This stock is the one disappointment in my buy recommendations.
I currently do not own Kinder Morgan shares. I do, however, own warrants with a lifespan of 5 years and a strike price of $40.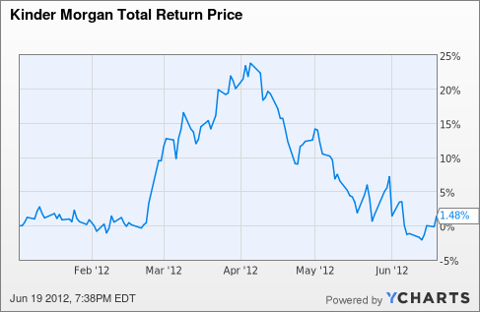 KMI Total Return Price data by YCharts
Action
I seek to learn from every mistake. My key goal is to make money and improve as an investor. My current focus is upon mortgage real estate investment trusts. These provide mid teen dividend yields. Secondly I am focusing upon blue chip brand names, such as Coca Cola (NYSE:KO). Thirdly, I believe the global printing of money will cause inflationary pressures. I believe oil, gold, fertilizer will outperform in the short term and long term. I do hedge about 70% of my positions.