HCFC-22 (also known as R-22) has been the refrigerant of choice for heat pump, cooling, and air-conditioning systems for more than four decades. The Environmental Protection Agency (EPA) has recently found that R-22 is bad for the ozone layer and contributes to global warming. In January, 2012, the EPA issued a rule to producers and importers of R-22 that, until the EPA's issuance of a final rule, limits the amount of R-22 that can be manufactured and/or imported in 2012 by approximately 45% from the amount allowed in 2011. This rule was a game changer to Hudson Technologies (NASDAQ:HDSN) and has not only provided it with blowout revenues and earnings, but has also given it a chance to greatly expand in the United States and worldwide.
The price for R-22 refrigerant, also known as Freon, has gone through the roof this year. The EPA's rule has shrunken supply and, with hotter than normal weather, demand is higher than normal. R-22 prices have gone up as much as 400 percent. This allowed Hudson to have a great first quarter of 2012.
Kevin J. Zugibe, CEO of Hudson, said:
"We believe a final rule from the EPA establishing the actual production and consumption limits for 2012, 2013 and 2014 will be issued later this year. Increased R-22 pricing contributed to our ability to achieve record revenues and gross margins of 40%."
By my calculations, the current fair value of Hudson Technologies is $5.06 per share. Right now the stock trades for only $3.55 per share. 2012 will turn out to be a huge year for the company as shown in the discounted cash flow (NYSE:DCF) analysis below:

After only $1.034 million in net income last year, Hudson will likely make at least $5.3 million this year. This is primarily because of what will be a dynamite second quarter of 2012. The second quarter is always the Company's biggest because it's the spring and summer and people need their air conditioners working. Watch the stock rise in anticipation of the second quarter earnings report.
As shown in the above DCF spreadsheet, in Q112, gross margin was a whopping 40%. That's compared to an only 27% gross margin in Q111, and a 20% gross margin in Q211. The reason for this rise in gross margin is the rise in R-22 pricing. This current quarter, Q212, there is even more of a frenzy for R-22. There are even occurrences of illegal smuggling into the United States. This current quarter is the one where Hudson is really catching its stride. The company should hit about $17 million in revenues, with a 40% gross margin would put gross profit at $6.8 million. This will give the company about $3 million in net income. Then with Q312 slowing down, and the Company experiencing a loss in the slow Q412 season, that would put net income at give or take $5.3 million for the year.
After 2012, Hudson will continue with its aggressive growth ambitions. It secured a $27 million credit facility to capitalize on anticipated opportunities in the industry. The refrigeration industry is in a sweet spot right now. There is plenty of growth potential for Hudson in the United States. The company has excess capacity in its Champaign, IL facility which can ramp up quickly.
Worldwide, the company has a strategic join venture that bring its products and services to Europe, the Middle East, and North Africa. Europe is ahead of the US in refrigerant phase-outs and there's significant opportunity there for Hudson.
The Company is looking to grow in all four areas of its business platform which are: Refrigeration, Reclamation, Energy Optimization, and Carbon Credits: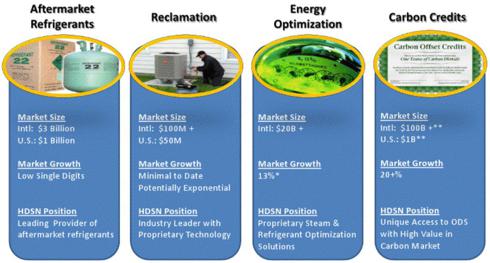 Reclamation
Hudson is the biggest reclaimer of R-22 in the United States with a 20% market share. Hudson also reclaims other types of refrigerant. The largest segment of this market are residential contracts and light commercial customers. In the past, when R-22 was cheaper, contractors didn't bother saving the "dirty" gas because of the dangers of them. Now that it's more valuable, it's worth the risk. Contractors now save the "dirty" gas and sell it to Hudson who can then reuse and resell it for a profit.
The EPA is looking to make the transition out of R-22 smooth and by 2015 R-22 production should end. The EPA is promoting recovery and reclamation and encourage the transition to non-ODS (Ozone Depleting Substances) alternatives. Being the leading reclaimer in the US, Hudson is best positioned for the EPA transition. The Company will also be able to transition to non-ODS alternatives.
Aftermarket Refrigerants
For the Aftermarket Refrigerants segment, Hudson doesn't sell refrigerant to original equipment manufacturers (OEMs), but only to existing systems. This can be for grocery refrigeration at grocery stores, for water coolers, or air conditioning units. The following picture is one of Hudson's bulk refrigerant transport: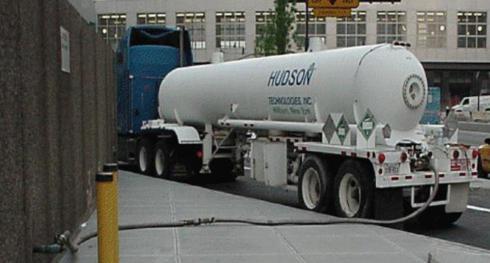 Energy Optimization
Air Conditioning Systems are the first or second largest users of energy. Estimated annual energy costs are about $35 billion.
The estimated annual energy costs of steam energy usage is about $200 billion.
Hudson has diagnostic services, and four US patents for measuring, modifying, and improving the efficiency of energy systems such as air conditioning and steam.
Carbon Credits
Hudson, with its international partners, is able to reclaim used refrigerants and turn them into carbon credits. These partnerships also provide worldwide access to emerging markets, increasing Hudson's market share.
Hudson Technologies is a company that is experiencing lots of success and growth. From researching lots of small cap technology stocks, I learned that success is more important than at a bigger company, because it breeds more success. More business creates more opportunities to make contacts and referrals. Business also creates cash flow to give the company space to pay off debt and go towards marketing and expansion. As Hudson is uniquely positioned in four attractive markets, this current boon in R-22 pricing will allow it to grow quickly in the US and internationally.
Disclosure: I am long HDSN.