The Chinese service sector is poised for great advances, writes Dan Su in Morningstar, and hence provides an excellent vehicle for foreign investors seeking to ride the Chinese economic boom. As their economy powers ahead, Chinese consumers have seen their wages soar, and with their new-found wealth are more likely to spend it on services, whether leisure, travel or entertainment. Companies in these sectors could be facing unprecedented growth in revenues and profits.
Su mentions three stocks in particular - Ctrip.com International (NASDAQ:CTRP), Home Inns and Hotel Management (NASDAQ:HMIN), and Sina Corporation (NASDAQ:SINA) - though be warned: None of these has been granted Morningstar's 5-star status, which means that their analysts do not regard the stocks as screaming buys at current prices.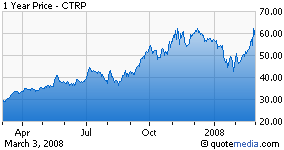 Ctrip.com International, the dominant player in the Chinese online travel market, targets the up-to-now neglected midtier business and frequent leisure traveler.
Morningstar analyst Iris Tan believes that impressive execution records, an extensive supplier network, and strong brand recognition should enable Ctrip to further gain from the rapid expansion of China's travel industry.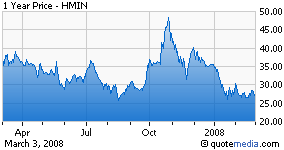 Home Inns & Hotels Management operates economy hotels, catering to the middle class traveler. Su writes:
The concept has been very successful; the firm's hotels are 95% occupied, and new properties are opening at a rapid rate. Although competition has been heating up, Morningstar analyst Jeremy Glaser thinks the Chinese market is big enough to accommodate several major hotel chains and that Home Inns will be one of them.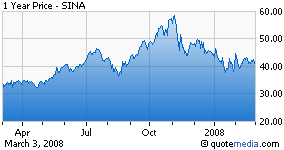 Sina Corporation is one of the most influential Internet media companies in China. As Morningstar notes:
The company earns about 70% of its revenue from online advertising, while the rest mainly comes from wireless value-added services. Having earned its reputation as the most attractive online brand advertising destination in China, Sina is well on its way for robust profit growth, according to Tan.
Furthermore, as services are mostly local, these companies, along with others operating in the sector, will benefit from any further strengthening of the yuan. Su concludes:
There's no doubt that many risks and uncertainties still exist when investing in China, a country still transitioning into a vibrant market economy. However, we believe investors can uncover attractive opportunities by sticking to areas that stand to benefit from China's economic transformation for decades. For investors whose time horizon extends past the next quarter, we think Chinese service providers have the potential to deliver solid returns for patient, long-term investors.