Over-used buzz words can fool some into thinking they are in with the latest concepts, but unless a company is involved in food production, using the word ecosystem is simply pretentious. Unfortunately, we find more and more people throwing this term around. To some investors, this term is the new "bling". What they really mean is the availability of choices, and integration across devices.
Obviously, these are important aspects of any technology company selling to consumers, but there is rarely the uniqueness that "ecosystem" seems to imply. We are unlikely to find a tech company "ecosystem" profiled on National Geographic or the Discovery Channel. However, despite this seemingly over-used buzzword, product reviewer Joshua Topolsky of The Verge now has an "ecosystem" scale for tablets and smartphones. So for now, let's go with the flow, and see what drives content creation, and enables growing those "ecosystems".
While individual smartphone vendors do have their own native Software Developer Kits, or SDKs,and there are advantages to creating native apps, the need for larger development groups, or the need for programmers over designers, limits the accessibility of these tools. The internet began with programmers who could code HTML, then experienced subsequent shifts towards packaged solutions creative professionals could use, even though we still see some specialist web coding experts still generating revenues.
So as programming needs shifted towards creative emphasis, that shift enabled any company to launch websites. As we watched this shift happen in web content creation and deployment, I think we will see a similar shift in app creation and deployment. One of the worst trends now is the idea that everyone needs to learn how to write code, including Mayor Bloomberg. This is getting away from wider content development capability, unless you are already a programmer.
Apple (NASDAQ:AAPL) has an iOS Developer Program, which it pushes forward as "the fastest path from code to customer". The emphasis is still on code, much like the early days of HTML. Microsoft (NASDAQ:MSFT) launched its developer program late 2011 with the idea of "People vs. Icons" to showcase the change in Windows Phone. While Microsoft does have its own native Developer Tools, prominent Windows Phone vendor Nokia (NYSE:NOK) adds to that with its own Developer Tools.
Google (NASDAQ:GOOG) provide a wealth of resources for Android Developers, though the emphasis is still on coding. Samsung (OTC:SSNLF) offers separate developer tools for Android, and for its own Bada Operating System. While Samsung emphasizes the developer tools, and technical assistance, it also offers business services geared towards larger developers.
Many other Android vendors offer similar developer programs to emphasize the customization of their individual platforms above the basic Android offering. Research In Motion (RIMM) offer native developer tools or HTML5 for building apps, but also inform content developers of a range of development platforms for BlackBerry BB10. Arguably, Research In Motion needs to offer developers more choices than other platforms to entice content developers, though the $10000 incentive to create certified apps might also draw in smaller content developers. While individuals do use these development tools, the process is more like Windows or Mac OS X software development, with coding and programming the primary focus.
Click to enlarge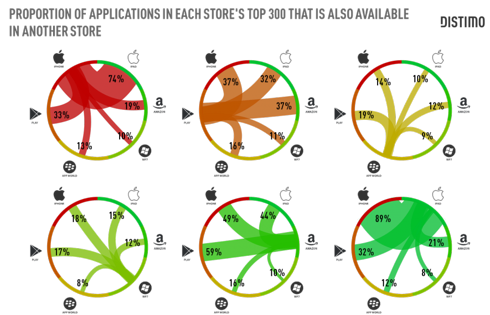 Privately held Distimo is one of the companies that enables publishers and content developers to launch apps across multiple platforms. It also provides market insight, like the chart above, to show app trends. While some developers choose to stick with one or two platforms, there is an increasing trend towards optimizing for multiple App Stores across platforms. Despite increasing HTML5 usage, the trend for the next year or two will continue to be app development, and distribution remains platform specific for now.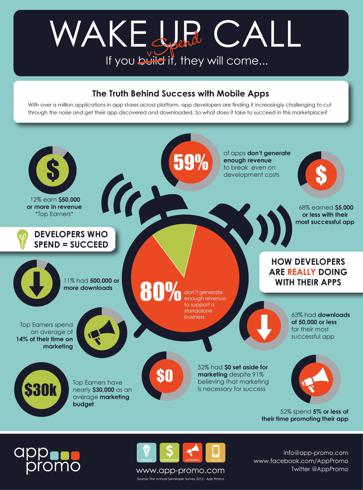 Google Play and Android still lead in free to download apps, which makes Apple iOS the dominant platform for developers to monetize their efforts. Unfortunately, many app developers struggle to get a return on investment. I think this points out a need for easier app creation. If the tools remained accessible only to coding experts and programmers, the future of apps would eventually be left to only the largest companies.
Trends would follow what we have already seen on the desktop with application development for Windows and Mac OS X. Small companies like Mippin address the early stages of this need to move away from a programming centric environment, towards a more free flow creative design environment, by providing easy to use HTML5 centric tools.
We saw this trend with the internet, as early coding centric companies gave way towards software tools that enabled more individuals to develop and launch content. The coding and programmers were not eliminated, but they no longer were the bulk of the workforce.
This is not without some precedence. Originally publishing was the reserve of skilled operators of machinery. Apple helped launch a change in the industry with a graphic user interface computer. The first great revolution with the development of the Mac was from a company called Aldus, who developed a product called PageMaker. This was later bought by Adobe (NASDAQ:ADBE), who further developed the product until releasing its own desktop publishing application, called InDesign. What was once the domain of layout artists and highly skilled press operators, become accessible to a wide range of creative individuals. The printing presses are still running, and they do need skilled operators, but the primary labor force has shifted away from the printing presses.
Printing is still important, and we are a long way from a paperless world, but the fastest growing segment of content consumption is now the internet. Increasingly that is moving towards mobile internet. In the early days of the internet, Adobe bought a company called Seneca, who produced one of the first What You See Is What You Get, or WYSIWYG, editors for HTML, called PageMill.
It only took a few years for competitors to enter that market, with one of the better offerings being CyberStudio, from a company called GoLive. Adobe eventually bought GoLive Systems in 1999, then re-branded the product simply as GoLive. Around that time a competing company called Macromedia produced a WYSIWYG web editing software package called Dreamweaver. Macromedia also produced software capable of animating the internet, called Flash, while Adobe tried to push Scalable Vector Graphics, or SVG, as a standard.
Originally, SVG technology was developed in cooperation with Microsoft, though it failed to gain as much traction in the market as more proprietary Macromedia Flash, which was arguably easier to work with and more accessible to content developers. In late 2005, Adobe completed its purchase of Macromedia, and not long afterwards discontinued development of Adobe GoLive. What Adobe had become to print publishing, with few rivals, it was now on its way to becoming with internet publishing.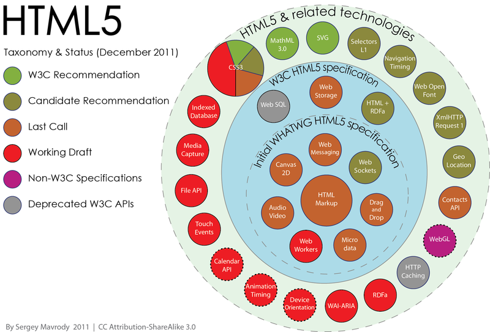 Adobe is all about content development, distribution, and management. Its software products aim to make these processes as seamless as possible, and strive to do the heavy lifting in the background. While Dreamweaver was a success for a while, and it seemed Flash usage was expanding, the introduction of the Apple iPhone and iPad, and negative comments from Steve Jobs, sent Adobe Flash technology into a downward spin. The new push for content developers became HTML5 and related technologies. The term HTML5 has become another overused buzzword, which refers to several related technologies, and not just one specific thing. The emphasis is now towards HTML5 capabilities, and away from Flash.

One interesting Adobe offering that leverages Flash technology, yet allows content creation without Flash in the final output, is the Adobe AIR environment. This is still somewhat coding and programmer centric, but content developers familiar with content creation using Flash can make use of Adobe AIR to move their content onto most mobile platforms. This makes use of open source Flex technology, supporting Google Android, BlackBerry BB10, and Apple iOS. So far, support for Windows 8 content development has not been announced. One prominent company making use of these tools is SAP (NYSE:SAP), through its Crystal Solutions business intelligence tools.
To address the growing demand for more mobile content, Adobe recently purchased Nitobi Software and Typekit. Typekit allows great text, or font, control of HTML content. Nitobi developed an interesting technology called PhoneGap, which allows creation of device native mobile applications using HTML, CSS, and JavaScript. Adobe is making PhoneGap available as an open source project, so the real reasoning behind the Nitobi acquisition is to integrate PhoneGap within Dreamweaver.
Rather than let the technology fall into the hands of any competitor, Adobe is moving to make this technology more standard, which should help sales of Dreamweaver. Content developers can build apps without the need of platform specific Software Development Kits, or SDKs. Adobe will be launching PhoneGap Build as a Cloud based subscriber service, which will allow content developers to get ready-to-launch native apps by leveraging HTML5.
Another recent HTML5 tool that is launching as a subscriber Cloud service is Adobe Muse. Content developers familiar with Adobe InDesign for creating printed pieces, may find it easy to use. Adobe have a few examples, which have been created with Adobe Muse, though to me it seems a bit like a variation on WordPress, which is a free and open source competitor. WordPress offers up content management, while Adobe Muse is more of a controlled environment for content development. Ease of use does not seem like much of a draw for content developers.
Just over a month ago, Adobe rolled out its Creative Cloud. While it still offers a package deal with a non-ending license, the main idea of the Creative Cloud is using the various software offerings on a subscriber basis. If you look at the history behind Adobe, and its enabling of independent content developers, then Creative Cloud seems like a U-turn.
Creative Cloud subscribers get up-to-date applications, but must download them as needed. There is also a security issue, in that Adobe will be handling content created by independent developers. Historically, many users of Adobe software do not update with each version, and when they do it is often less than on an annual basis. There may be some backlash from longtime users not willing to be forced into an upgrade cycle.
While Creative Cloud addresses some piracy issues for Adobe, it creates new headaches for end users, who must now be connected to the internet to update their software each month. Given that Adobe has a history of bugs in their various software packages, it may seem to be an advantage to get more regular updates, but one downside may be that end users are forced by subscription to deal with issues and bugs until Adobe is ready to release an update. An informal poll held at GraphicDesign.com found that around two-thirds of current Adobe software users would consider Creative Cloud, though over half felt the pricing structure was expensive.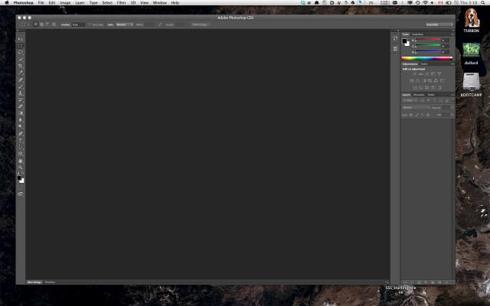 Adobe Photoshop is so well known it is even used as a verb, as in someone photoshopping an image. The newest version, also part of the Creative Cloud, is CS6. This will become one of the biggest tests of Adobe's Creative Cloud, since Photoshop is often the application that creates the largest files. Users wanting to transfer content across devices may find serious bandwidth limitations to be a major issue. If the subscription model works, we may see the indications first with Photoshop.
Subscriber based software is not a new idea, and one of Adobe's competitors, Autodesk (NASDAQ:ADSK) makes use of it for its high end content creation software. The main difference is that Autodesk markets more to content development businesses, and not independent creative professionals. The high-end software that Autodesk produces is less price sensitive than Adobe software, though it is also more of a niche market amongst a limited user base.
I am certainly not the only one unconvinced by Adobe's move to the Creative Cloud, as indicated by a recent downgrade from Jeffries Ross MacMillan. Early indications suggested that users were not upgrading at a rate seen in past Adobe Creative Suite launches.

Adobe does offer some Touch Apps, including Photoshop Touch, optimized for Android and iOS tablets. So far there are only a few tablet software products from Adobe. The main idea behind this is further integration with its Creative Cloud, allowing the ability to pull up content files on tablets, and transfer files between desktop, laptop, and tablet while working through various Adobe software applications.
Adobe enables content developers to create, distribute, or launch publications, websites, and apps, without knowing how to write code. The problem is not the software tools, which make content creators more efficient with each new version. What really is at stake is the pricing model, upgrade structure, and change in direction ushered in by the Creative Cloud. The discounts offered now are an indication that Adobe is not selling upgrades, nor new products, at a pace enjoyed with previous major product launches. Adobe still offer stand-alone versions of its software, but it is now up to end users to decide whether an upgrade is a good value. Low introductory Cloud pricing for existing users may lure some, though the downside for Adobe is reduced revenues early in this product cycle.
I have been investigating the latest changes at Adobe for a while, and I held off this article until the 19 June earnings report. My feeling was that the changes to a subscription model may cause growing pains at Adobe. Previous major product revisions came in around every 18 months, and many long-term users would skip every other version in the upgrade cycle. Those ready for an upgrade may pause a bit at a continual payment system, no break for bug fixes, and being locked in to future updates. Often, the changes in various software packages require learning new ways to use them, which actually hinders productivity.
The revenue and earnings reported 19 June 2012 by Adobe were close to analysts estimates. Adobe provided forward looking guidance for lower revenues, earnings, and growth in the future. Its aggressive early pricing may have earned it some converters to the subscription model, but it is now seen holding them back. Eventually, users of various Adobe software packages will want to upgrade, and they may find their only choice being a subscription model.
Adobe is in the driver's seat with some of its software offerings, due to a lack of competing companies for some of its products. This does give it some advantage, but I think eventually it will need to remodel the subscription Creative Cloud, or it may find competitors moving into segments Adobe previously dominated. At this point, I am cautiously optimistic that Adobe can figure this out, though I expect it to struggle a bit over the next few quarters to find the right balance.
Disclosure: I am long RIMM.
Additional disclosure: I previously held shares in ADBE and may initiate a new long position within the next six months.