SanDisk (SNDK) shares have declined 24% over the past 3 months and are currently trading at $37.17, not far away from its 52-week low of $30.99. The plunge is primarily owing to the disappointed earnings in Q1 2012 and management's downbeat guidance. However, I believe a buying opportunity has emerged amid the recent dip based on the following reasons:
SNDK is trading at a reasonable valuation relative to its growth prospects. Analysts predict revenue and EPS to drop by 12.1% and 53.4% in the current fiscal year, but to recover by 19.9% and 71.0% in the next fiscal year. Taking those estimates into consideration, the stock is trading at a 3-year expected PEG of 0.9x.
At $37.17 per share, SNDK is trading at 3.1x the LTM EBITDA, 1.3x the book value, and 1.6x the LTM sales, suggesting an attractive valuation in my opinion. For comparison, firms that engage in the data storage businesses such as EMC (EMC), NetApp (NASDAQ:NTAP), Western Digital (NYSE:WDC), and Seagate (NASDAQ:STX) are trading at a LTM EV/EBITDA range between 3.7x and 9.7x.
SNDK has a very liquid balance sheet. As at Q1 2012, the firm has $2,669M in cash and $1,627M in debt, amounting to a net cash position of $1,042M or 11.5% of the current market capitalization. Its current and quick ratios are extremely healthy at 4.5x and 3.4x, respectively, and the LTM FCF margin of 7.5% and the LTM interest coverage ratio of 9.7x indicate the firm has ample resources to service its debt.
According to the chart below, there has been a technical price support at around $35 since September 2010.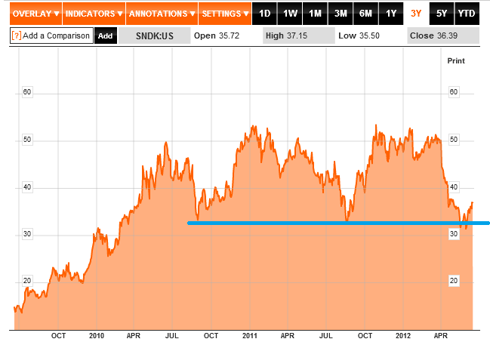 Analysts are generally bullish on the stock. Of the 27 ratings, there are 5 strong buys, 11 buys, 10 holds, and 1 underperform. The mean target price is $43.88, implying an 18% upside potential.
Recent rumor regarding the company being a potential acquisition target is not without merits given that 1) the stock has been beaten down substantially; 2) the enterprise value of $5.2B represents an affordable size for many tech giants, even with a substantial takeover premium; 3) the cash-rich balance sheet and the firm's strong FCF generating ability allow for a possible LBO scenario; and 4) SNDK's fast-growing SDD business may attract large tech players who are experiencing slow growth in some of their core businesses.
As such, I believe the low valuation, solid balance sheet, technical price support, and potential acquisition story should provide a fair margin of safety for investing in SNDK. I have been gradually adding positions at around $36 and encourage investors to do the same.
Chart is sourced from Bloomberg and financial data is sourced from company 10-Q, 10-K, press release, Yahoo Finance, YCharts, Wall Street Journal, Thomson One, Bloomberg and Morningstar.
Disclosure: I am long SNDK.