By Murray Coleman
Bill Schultheis used to meet friends on Saturday mornings at a Seattle coffee shop to chitchat and discuss issues of the day.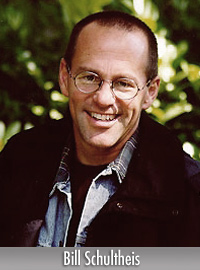 Inevitably, someone would ask about his views on the market. At the time, Schultheis was working at a local Smith Barney office focusing on municipal bond investments.
"Even though I was a broker, I hardly watched the market," he recalled with a laugh. "So I'd tell them to find a low-cost fund and tune out Wall Street."
That was more than two decades ago. But as cheap index mutual funds grew in popularity, Schultheis became an ardent adopter. In fact, indexing became such a strong theme in his investing philosophy that in 1991 he got out of the brokerage business altogether.
A Call To Publishing
Besides branching off to form a smaller independent advisement shop, Schultheis became known as an early advocate of index funds. In an effort to educate investors, he began writing a book.
"I got turned down by countless publishers and hundreds of agents," Schultheis said. "It took me until 1997 to find a publisher."
The next year, his first book came out. It was called appropriately enough, "The Coffeehouse Investor." Since then, it has gone through numerous reprints and spawned newsletters and a Web site to further the investment strategies suggested in the book.
In a nutshell, the Coffeehouse approach is to boil investing down to its most common elements. Those sort of universal truths, Schultheis says, reduce the significance of short-term market trends.
"So many people have such busy lives. They want to do right with their investments. But it's hard with Wall Street yelling in their ears all of the time," he said.
In the past few years, many fans have told him they'd never read an investment book before picking up "The Coffeehouse Investor."
"We're just starting to scratch the surface of helping people educate themselves about how to protect and build their wealth," Schultheis said.
Creating Portfolios For Clients
His day job is putting together client portfolios and providing financial game plans as founder of Sagemark Wealth Management in Kirkland, Wash.
Schultheis suggests a starting point for investors is a total stock market index fund. He adds a total bond market and a total international stock market fund to the mix. "There are a lot worse things you can do than investing through a three-index-fund portfolio," Schultheis said.
Investors who understand market risks and want to try to diversify their portfolios more can try a seven-fund lineup. Schultheis suggests dividing the U.S. market into value and blend sleeves in large-caps and small-caps. Those four funds would combine with a real estate investment trust fund.
In a 60% stock and 40% bond portfolio, an investor might put:
10% into a large-cap value fund.
10% into a large-cap blend fund.
10% into a small-cap value fund.
10% into a small-cap blend fund.
10% into a REITs fund.
10% into a total international fund.
The bond portion would be made up of a total bond market fund. But Schultheis has started to add a bit of TIPs in some client portfolios. "We're still not sure what can happen to TIPs on the downside," he said. "They've had a very strong run up to this point. So we want to take a look at how they do in less favorable conditions."
He adds that TIPs only pay off if inflation beats market expectations. "Treasuries trade with inflation figured into their pricing," Schultheis said. "The question is, if inflation falls below those expectations, what will happen to these TIPs funds? So we're very cautious about putting someone on a fixed income into that type of fund at this point."
A typical client he works with has a portfolio in multiple accounts and need those returns to supplement their Social Security income. "It can be a challenge to philosophically put six or seven accounts together in a tax-efficient manner that makes sense," Schultheis said. "It's like putting together a jigsaw puzzle."
Getting More Personal
His seven-fund portfolio varies greatly across the firm's client base. Schultheis will tilt for more aggressive investors strongly to value stocks and smaller names. For others, he'll use emerging markets index funds and international small-cap value.
Schultheis favors exchange-traded funds for foreign small-caps. He uses iShares MSCI EAFE Small Cap Index (NYSEARCA:SCZ). "It's a pretty straightforward small-cap international fund and it does a good job of tracking its MSCI index," he said. "It's also pretty cheap for an international fund."
More and more, Schultheis is using ETFs in taxable accounts. He also suggests Vanguard's tax-managed index funds and those run by Dimensional Fund Advisors.
Whatever funds he uses, his game plan is to keep investing simple and to closely monitor which different asset classes are going into which accounts. "Tax efficiency is a key decision to make for protecting long-term returns," Schultheis said. "We also encourage people to be disciplined in rebalancing their portfolios along their individual risk-return profiles."