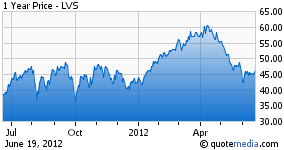 The bears would have you believe that multi-billionaire Sheldon Adelson's Las Vegas Sands (NYSE:LVS) was massively overvalued at 24.5x past earnings and not enough positive secular trends. In my view, and increasingly the Street's, they are dead wrong. The current price target on the emerging market-focused casino chain is $61.69 -- a 33% premium to the current value. At the same time, the company is also highly liquid at a quick ratio of 2.3 and structurally well positioned to outperform at a beta of 3.7.
EPS is expected to grow annually at 31.3% over the next 5 years, and this bullish outlook is backed by an impressive track record. Three of the last four quarters have beaten expectations for an average of 14.4%, so I don't buy claims that the Street is too optimistic. Adelson is a results-driven guy and has the brains not to sell when the fundamentals are all pointing up. If the company grows just at expectations and trades at 16x earnings, the stock would merit a 2016 value of $91.21. Discounting backwards by 10% would yield a $56.63 target price, which means more than a 20% margin of safety on top of a 2.2% dividend yield.
In my view, it is unlikely for the stock to not hit $56.63 within the next 6 to 12 months in light of continued growth that will occur after the 5th year. Annual 31.3% EPS growth may be expected up to the 5th year, but perpetuity growth is also likely to be well above the broader market. Combined with trusted management, growth expectations will limit downside.
Wynn Resorts (NASDAQ:WYNN) is also a winner. 16.8% annual EPS growth is expected over the next 5 years and yet the firm is only valued at 14.9x forward earnings. EPS growth was 63.7% and 44.9% in 2Q12 and 3Q12, and the amount that management has beaten expectations has dwarfed misses by nearly 10,000 basis points over the last 5 quarters. The market has become overly focused on weak performance in 1Q11 and this has resulted in an absurd 19.2% decline in shareholder value over the last 3 months. Investors who put their faith in the fundamentals are likely to recover much of this lost value when Wynn returns quickly to beating the market.
MGM Resorts (NYSE:MGM) is the riskiest company to back right now in light of past losses. The stock has lost nearly a quarter of its value over the last 3 months despite signs of momentum. The partnership with Boyd Gaming (NYSE:BYD) has well positioned the firm for domestic online poker. Debt refinancing has also reduced credit risk while declines in oil prices will raise disposable income to feed continued growth.
Disclosure: I have no positions in any stocks mentioned, and no plans to initiate any positions within the next 72 hours.