Monsanto Company (NYSE:MON), together with its subsidiaries, provides agricultural products for farmers in the United States and internationally. It operates in two segments, Seeds and Genomics, and Agricultural Productivity. The Seeds and Genomics segment produces corn, soybean, canola and cotton seeds, as well as vegetable seeds, including tomato, pepper, melon, cucumber, pumpkin, squash, beans, broccoli, onions and lettuce seeds.
It is scheduled to report its Q3 2012 results on June 27, 2012, before the market opens.
Recent EPS Actuals vs. Estimates
The company has met or beaten analysts' estimates in the last four quarters. In the last quarter it reported $2.28 EPS, beating analyst estimates of $2.12.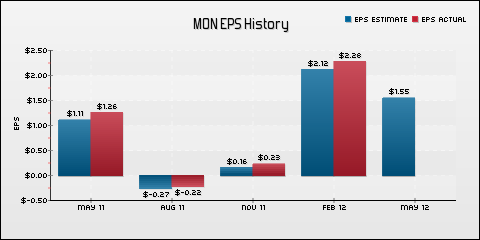 The consensus EPS is $1.55 based on 18 analysts' estimates, up from $1.26 a year ago. Revenue estimates are $4.00B, up from $3.59B a year ago. The median target price by analysts for the stock is $90.00.
Average recommendation: Overweight
Source: Marketwatch
Analyst Upgrades and Downgrades
On May 16, 2012, Canaccord Adams upgraded the company from Hold to Strong Buy.
On April 5, 2012, Deutsche Bank reiterated Buy rating for the company.
Key Metrics
Market Cap: 41.49B
52-week trading range: 58.89 - 83.95
Trailing P/E: 21.98
Forward P/E: 18.43
Price/Sales: 3.18
Price/Book: 3.46
PEG Ratio: 1.82
Total Debt: 2.23B
Annual dividend yield: 1.50%
Return on Equity: 16.77%
Return on Assets: 9.29%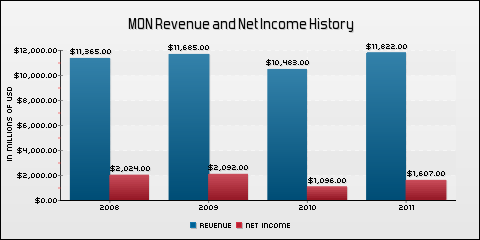 Latest Developments
Competitors
Monsanto Co. operates in Agricultural Chemicals industry. The company could be compared to Archer Daniels Midland Company (NYSE:ADM) and Bunge Limited (NYSE:BG). Below is the table comparison of the most important ratios between these companies and the industry.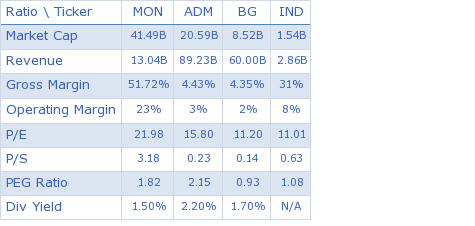 Below is the chart comparison with the stock price changes as a percentage for the selected companies and S&P 500 index for the last one year period.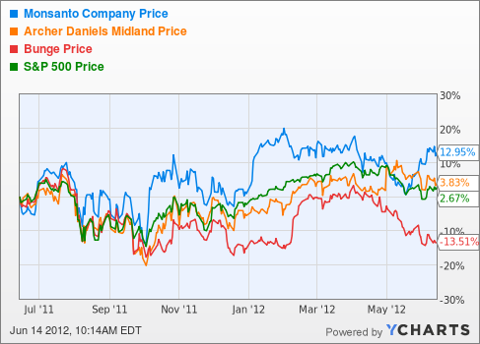 Competitors' Latest Development
Technical Insight
The company is currently trading in a range environment. It is close the top of the range and is trading above 20, 50 and 200 SMA on the daily chart. Looking from the broader weekly perspective, it is in an uptrend and has recently (in the middle of May) tested the bottom of it.
Sources: Yahoo Finance, Google Finance, Marketwatch, Finviz, Reuters.
Disclosure: I have no positions in any stocks mentioned, and no plans to initiate any positions within the next 72 hours.