Citigroup Inc. (NYSE:C) has an unparalleled global footprint, coupled with a strong and growing capital base. Its renewed focus on reducing costs and improving efficiency to self-fund new investments has proved to be very productive. The move is aimed at concentrated expansion in low penetrated regions of the world, like emerging markets, which are also a major contributor to its earnings growth.
Investors, however, need to be on the lookout for the capital plan that the group submits in 2013. A hike in dividends or share repurchase if allowed by the Fed has the potential to increase its stock price. Also, its partnerships with Google (NASDAQ:GOOG) and MasterCard (NYSE:MA), aimed at providing mobile payment services, are a source of new revenue and potential long-term stock drivers. Therefore, we recommend a long position in Citigroup. Investors can hedge the long position in Citi by selling short the Financial Select Sector SPDR ETF (NYSEARCA:XLF).
Industry Introduction
Although the U.S. banking industry has not quite recovered from the 2008 financial meltdown, it has continued to post a modest turnaround. Increased loan demand, the Housing Industry recovery and stringent regulations by authorities are among the key drivers of this modest turnaround. Interest rates play a key role in the profitability of a bank. Net interest margins dropped in 2011 and they are expected to drop further. Results from the Federal Reserve's senior loan officer survey depicts that demand for prime mortgage loans has moderately strengthened, favoring the Banking Industry. New home sales have risen by 3.3% in April, while median home prices climbed by 4.9% from last year. In addition, the result indicates that demand for all other consumer loans, including auto loans, improved, which translated into future growth for banks.
The benefits of tighter regulations after the implementation of Basel III will result in a banking system that is more resilient, and banks that are stronger and better equipped to face a financial meltdown, similar to the one witnessed in 2008. This will also boost customer confidence in the financial system.
Citigroup Inc.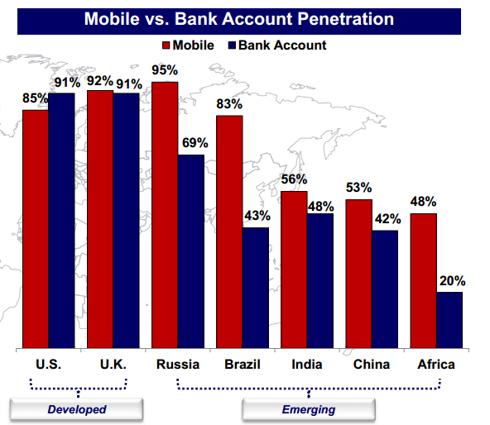 Citigroup's history dates back to 1812. The group provides a broad range of global diversified financial services to customers, institutes and governments. The group, with an asset base of $648bn, is divided into three segments; Citicorp, Citi Holdings and Corporate/ Other. Citicorp is further divided into sub-segments of Global Consumer Banking (GCB) and International Clients Group (ICG). The group has continued its commitment towards the creation of a successful geographical footprint, which is difficult to replicate. For this purpose, its operations are divided into region; North America, Europe and Middle East and Africa (EMEA), Latin America and Asia.
Drivers of future growth
Low penetration of banking services in emerging markets, and the rising demand from those regions.
Renewed focus on reducing costs and improving efficiency.
Collaborations with technology companies to create a viable next-generation mobile payments system.
Financial Review
The group reported first quarter revenue in 2012, net of interest expense, of $19.4bn, down by 2% when compared to the same period last year. Net interest revenues were $11.9bn, down by 1% when compared to the same period last year, due to continued declining loans and lower interest earnings assets.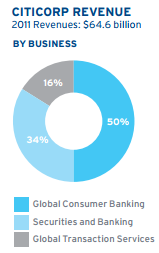 The group posted 1Q2012 earnings of $2.9bn, resulting in a diluted earnings per share (EPS) of $1.11. It was, however, $68mn short of what it made in 1Q2011. This shortage was largely due to net negative credit valuation adjustment (NYSE:CVA) and debt valuation adjustments (DVA). The EPS, excluding the effects of CVA and DVA, is $1.11 for 1Q2012. The EPS for the second quarter is expected to drop by 10% to $0.99.
Operating expenses for the group remained relatively the same at $12.3bn. However, net credit losses were down by 37% from 1Q2011. The group has a new focus towards reducing expenses and improving efficiency coupled with its re-engineering program. In line with this, the group plans to reduce its expenses in 2012 by $2.5-$3.0bn, so that the group's goal of self-funded investment is met. In 1Q2011 alone, the group saved $600mn from efficiency progress and made new investments of $400mn.
The group's Tier 1 capital ratio was 14.3%, while its total capital ratio was 17.6%, up by 1% and 1.2%, respectively, in the current quarter. They are also safely above the 6% and 10% Federal Reserve Board requirements. The total allowance for loan losses remained at 4.5% of total loans at $29.0bn, compared to 5.8% of total loans in the first quarter of 2011. This decline reflects continued improvement in the credit quality of the loan portfolio.
The group's cash in hand balance climbed by 14% during 1Q2012, driven largely by an 18% increase in deposits with banks. Loans, being the largest asset category, dropped by 1% when compared to year-end 2011, reflecting a seasonal decline in Citicorp's credit card loans, which outpaced the growth in corporate loans. Loans were still up by 2% when compared to the same period last year. Consumer loans, which are 64% of total loans, continue to represent a major portion.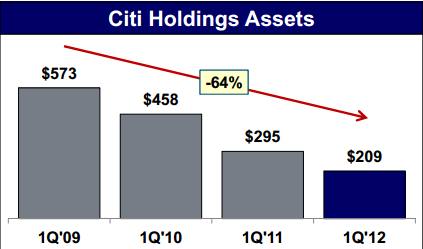 The group's tangible common equity was $149.2bn by the end of 1Q2012, up by 2.6% compared to year end 2011. Both the book value per share and tangible book value per share saw an increase of 2% to reach $61.9 and $50.9, respectively.
The group, through its Citi Holding division, is making successful efforts of winding down its risky assets through sale. Its assets are down by 29% YoY at $209bn by the end of 1Q2012.
The group's North American region stands to be the largest in terms of retail branches and customers it serves. With 1,020 retail bank branches and 12.5mn customer accounts, Citigroup's North American consumer banking segment witnessed a massive 41% growth in 1Q2012 as compared to 1Q2011. This was primarily attributed to higher revenues from gains on sale of mortgages and lower credit losses. Expenses climbed by 3% over 1Q2011, largely driven by the higher investment spending in cards marketing, new branches and technology.
The EMEA region comprises of 286 retail bank branches with more than 4mn customer accounts. It witnessed a net income decline by $65mn YoY, primarily due to higher operating expenses and credit costs, and lower revenues resulting from the sale of Akbank. Expenses climbed by 13% due to continuous acquisition investment spending, and repositioning charges in Poland and Egypt.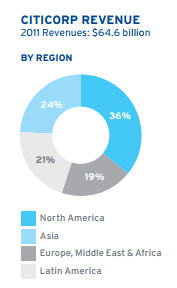 The Latin American consumer banking segment is represented by 2,201 bank branches with 31.1mn customer accounts. Even though revenues from the segment climbed by 6%, as compared to 1Q2011, earnings declined by 21%, owing to higher credit costs. The revenue growth was largely driven by a surge in personal and credit card loans in Mexico. Expenses remained flat during the quarter.
The Asian region in consumer banking consists of 643 branches with 16.5mn customer accounts. Earnings from this market segment experienced a growth of 11% YoY. This growth was due to lower credit losses and higher revenues. Expenses climbed marginally by 2%.
Strong growth in Latin America and Asia Consumer Banking is expected in the future, since penetration is also low in these segments.
Loan Growth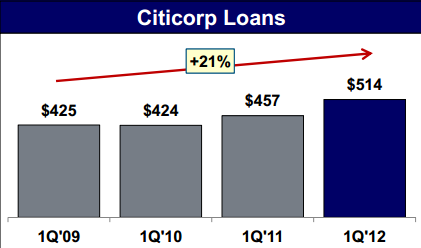 Loans, Citigroup's largest asset, witnessed a marginal growth of 0.2% from year-end 2011 to reach $648bn as on March 31, 2012. Corporate loans of Citicorp for the first quarter increased by 4%, while consumer loans remained flat, resulting in an overall loans growth for Citicorp. On a YoY basis, total loans grew by 12%. This growth was primarily driven by the Asia and Latin America global consumer banking segments, reflecting its investment sending coupled with economic growth in these regions.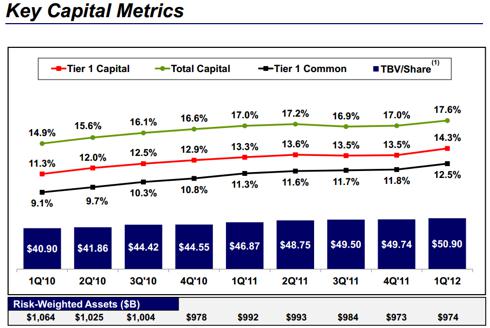 Relative Valuations
The group offers a similar return on asset (ROA) of 0.57, as does the average industry peer coupled with a return on equity (ROE) of 6.08. The ROE is lower than the average industry peer of 8.62. The stock is trading at a significant discount of 56%, 75% and 73% to the average industry peers, as far as its price-to-earnings (P/E), price-to-sales (P/S) and price-to-tangible book value (P/TBV) are concerned. The stock offers a dividend yield of 0.2%.
Recent Developments
Citigroup announced recently that it will not seek an increase in share buyback and dividends when it re-submits its 2012 capital plan, after the Fed rejected a stress test of its capital plan in March. This means lesser capital return. This development leaves the stock unattractive for investors who were looking at a capital return. Investors need to be wary of the 2013 capital plan that Citigroup submits, since it could seek for an increase in dividends and share buyback resulting in a favorable capital return to investors.
Citigroup has been part of several near-field communication (NFC) trials, including the one with Google (GOOG) and MasterCard (MA). However, none have been developed commercially. This technology has the potential to bring a secular change in consumer payments and Citigroup is well positioned to capitalize on it and gain a market share in mobile payments.
Vs. Bank of America (NYSE:BAC)
Living up to its name, BAC makes almost all of its money from the United States. On the other hand, Citigroup has an unmatched strong global footprint from which it is driving its growth. BAC has Tier 1 common equity of $131.6bn and a Tier 1 common ratio of 10.78%, compared to Tier 1 common capital of $126.4bn and Tier 1 common ratio of 15.46% at Citigroup. BAC's staff reduction is the key to lowering its costs.
Vs. JP Morgan (NYSE:JPM)
JPM has a Basel I Tier 1 common ratio of 10.4% and Tier 1 common capital of $128bn. Outside the US, JP Morgan is largely concentrated in Europe. Going forward, JPM will not be able to capitalize on the robust growth that Citigroup is witnessing from its emerging market regions. Besides this, it will also be hit by the Eurozone debt crisis. Investors also need to look at the outcome of the ongoing inquiry of a $2.0bn trading loss.
Vs. HSBC Holdings PLC (HBC)
HBC's international network covers six geographical regions; Europe, Hong Kong, Rest of Asia-Pacific, the Middle East, North America and Latin America. Its core Tier 1 capital ratio is 10.1% as of December 31, 2011.
Disclosure: I have no positions in any stocks mentioned, and no plans to initiate any positions within the next 72 hours.