The allure of a high dividend yield is often matched with an incessant concern for sustainability. What good is a high income payment when share prices plummet or the yield is quick to deteriorate? For additional safety measures, many investors often turn to the diversification of exchange-traded funds (ETFs) that have recently shown their ability to make large distributions.
Yet as such ETFs become ever more specialized, investors should continue to exercise ongoing caution in their due diligence. Some ETFs are constrained to a very few number of public entities in a particular sector. Some ETFs remain at risk in light of ongoing global events. The following companies are a few names that should be looked at with cautious scrutiny. While they may currently offer high income returns and indeed could be worthy investments for some, they also carry above average risks that investors should take into consideration.
iShares FTSE NAREIT Mortgage Plus Capped Index Fund (BATS:REM)
As a fund made entirely of mortgage REITs in its holdings, REM has been a very lucrative income investment over the past few years. A low interest rate environment has allowed these companies to sustain very high margins which have translated into higher yields. REM currently maintains a 30-day SEC yield of 13.57%. Yet there remain some thoughts of concern. For REM, the two largest holdings found in Annaly Capital (NYSE:NLY) and American Capital Agency Corp (NASDAQ:AGNC) make up a whopping 40.7% of the portfolio as of June 14. In total, the fund also only has a mere 28 companies in its portfolio, and the top 10 make up over 75% of the funds holdings. Also considering the unlikely ability for interest rates to stay at these historically low rates over the long-term, this ETF may be best viewed as a short-term play with a very concentrated holdings portfolio.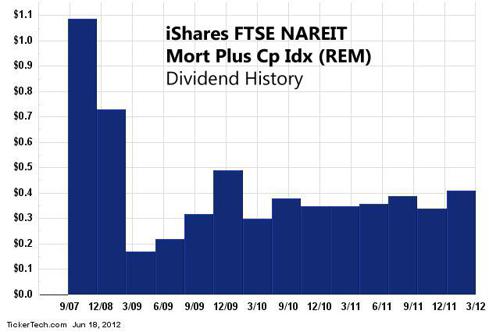 WisdomTree Middle East Dividend Fund (NASDAQ:GULF)
Over the last 12 months, GULF has returned 6.5% to its owners. Yet the Arab Spring did little to ensure lasting stability in the region. With conflicts in neighboring regions of Iran and Syria along with unresolved political issues in Egypt, it's difficult to believe that the region has seen its last bouts of volatility. GULF's holdings lie predominantly in three countries, although their influence stretches across the region. As of June 15, the UAE, Qatar, and Kuwait housed a little over 75% of the portfolio's holdings.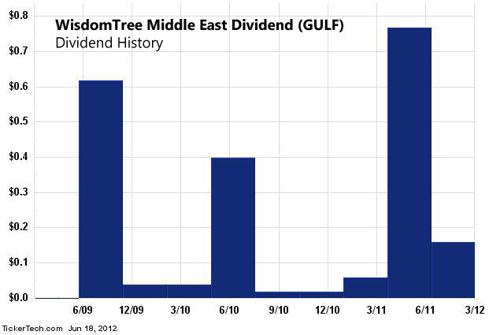 SPDR S&P International Telecommunications Sector ETF (NYSEARCA:IST)
While telecommunications are often seen as stable high-yielding investments, IST finds itself concentrated primarily in a region of economic uncertainty. As of June 14, the ETF has roughly 67% of its holdings in companies located in European nations. The ETF also disproportionately has 23.07% of its holdings in Vodafone Group (NASDAQ:VOD), its largest holding. With a lack of clarity on the economic outlook and the possible collapse of the Euro itself, investors should at least bear in mind the relatively centralized exposure found in this fund. IST carries a current dividend yield of 7.33%.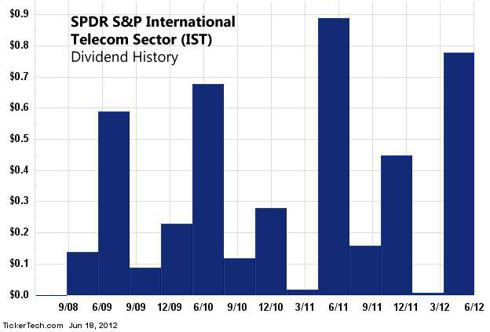 iShares MSCI Spain Index Fund (NYSEARCA:EWP)


The ongoing concern of European contagion, has brought Spain's name to the forefront of global market woes. As the fourth largest economy behind Germany, France, and Italy, Spain's importance to the European Union has made its most recent troubles somewhat alarming. Having denied the need for a bailout for months, the country finally conceded it needed international help last week. And while the eurozone finance ministers were quick to act, even providing a much larger level of support than was anticipated, investors in Spain's economy must inherently be wondering how safe their investments truly are.
For EWP, the risk also lies in the highly concentrated nature of the portfolio. As of June 14, the top ten holdings accounted for 76.77% of the holdings. Compounding this limited diversification, the top three companies account for a little over 51% of the entire portfolio's assets. The current 12-month dividend yield for the company is 13.77%, but with Spain's issues far from behind it one has to wonder if such performance can be maintained.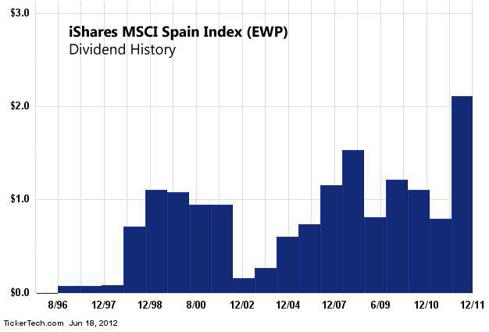 Market Vectors Uranium+Nuclear Energy ETF (NYSEARCA:NLR)
While the portfolio itself may be of sound construction, NLR finds itself victim of ongoing global trends. Nuclear energy as a sector has been on a steep decline since the tsunami hit Japan in March 2011. And while the three nuclear reactor failures found there raised concerns around the world, what's really been difficult is the correlated consequences of negative publicity. Germany's subsequent nuclear phase-out was just one such expedited concern that translated into tangible business results.
As an expensive operation to construct, the ability for nuclear companies to obtain financing for their projects may just as easily be hindered by a brewing negative sentiment. Nuclear energy has never been entirely embraced with open arms, but with the steady decline in the share price of NLR, a high-yielding dividend may not be enough to justify ownership. Year-to-date, the funds performance is down 24%. The current dividend yield is still relatively new as seen in the picture below. Yet at its current price, the company's last distribution would suggest a current yield of approximately 14%. Time will tell if this can be supported by Wall Street.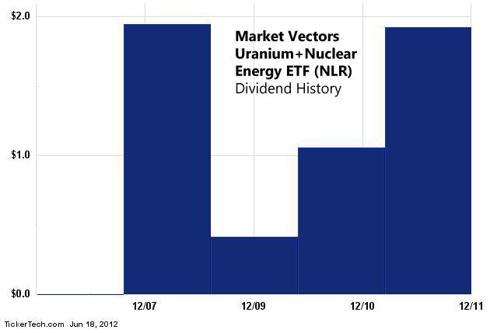 Disclaimer: Please refer to my standard disclaimer statement found here.
Disclosure: I have no positions in any stocks mentioned, and no plans to initiate any positions within the next 72 hours.