Still Looking for Direction
The FOMC decision later today will likely furnish a trigger for the near-term direction of gold. We would merely note two things: the long-term chart still looks good to us - the triangle that has formed since the 2011 high continues to look like a routine consolidation:
---
Click to enlarge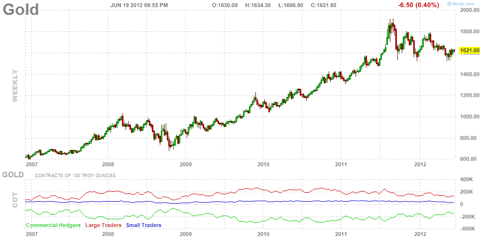 Gold, weekly - a routine consolidation seems to be underway, but it may still take a while for it to fully play out. In the short term, it is a coin toss in which direction it will break.
---
At the moment, people seem not quite sure whether they should buy gold due to the escalating euro area crisis or sell it. There are also those who would probably buy if more monetary pumping were announced by the Fed and sell if no fresh measures are forthcoming. Which group will retain the initiative remains to be seen.
Sentiment is lately coming off the floor a bit, but not by a whole lot just yet:
---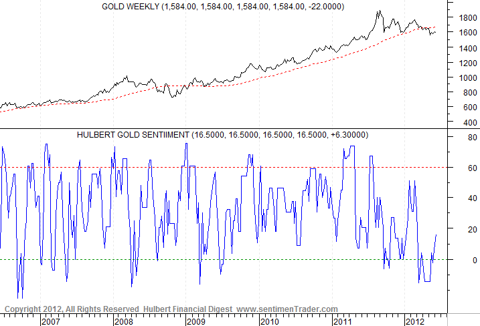 The HGNSI (Hulbert Gold Newsletter Sentiment Index, chart via sentimentrader) has moved back into positive territory, but at 16.5% remains very low.
---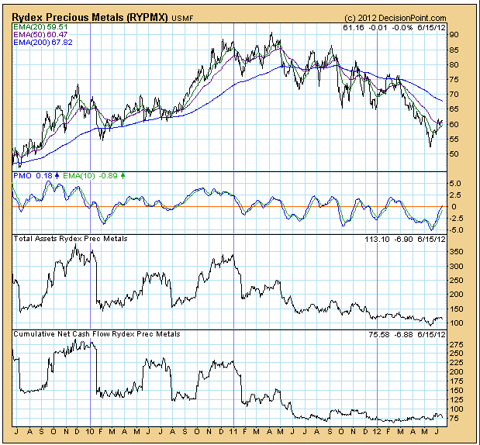 Rydex trader remain very cautious (via decisionpoint.com).
---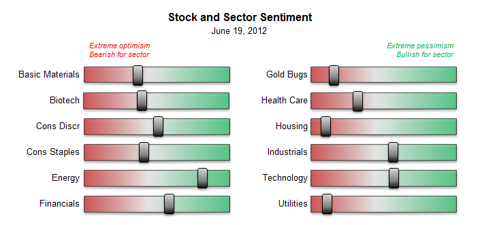 Sentiment of different market sectors compared: there is still a lot of pessimism on gold stocks, although they have lately moved up smartly from their recent lows.
---
In short, the sentiment backdrop for gold and gold stocks remains constructive at this time. However, we would expect the FOMC statement to be followed by a period of heightened volatility.
Addendum: FDIC Recommends Zero Risk Weighting for Gold Bullion

According to the latest proposals by the FDIC on regulatory bank capital rules, gold bullion is to be included in the list of 'zero weight risk assets', i.e., it will henceforth be as good as gold. The list of items considered to have a zero risk weighting:
The following exposures would receive a zero percent risk weight under the proposal: Cash; Gold bullion; Direct and unconditional claims on the U.S. government, its central bank, or a U.S. government agency; Exposures unconditionally guaranteed by the U.S. government, its central bank, or a U.S. government agency; Claims on certain supranational entities (such as the International Monetary Fund) and certain multilateral development banking organizations Claims on and exposures unconditionally guaranteed by sovereign entities that meet certain criteria (as discussed below).
This seems an official reaffirmation of gold as an important monetary asset.
Addendum 2: German Business Confidence Wanes
One confidence indicator that has recently weakened markedly is the German ZEW economic sentiment measure. It has decreased by 27.7 points to minus 16.9 points in June.
---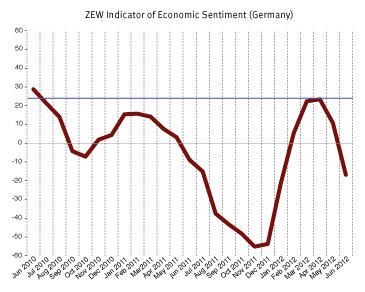 German economic confidence is turning down sharply of late.
---
Charts by: Finviz, sentimentrader.com, decisionpoint.com, ZEW.