By Emily Lambert
It didn't take long for the troubles in Spain, which got a banking bailout last week, to replace the Greek elections as the issue of the day. On Monday morning market watchers were oohing and aaahing over Spanish bond yields that were blowing up records like fireworks - up to 7.29% for 10-year bonds, at one point.
But if you want to see a chart that encapsulates a different (admittedly lesser) kind of crisis in Spain, here it is:
Click to enlarge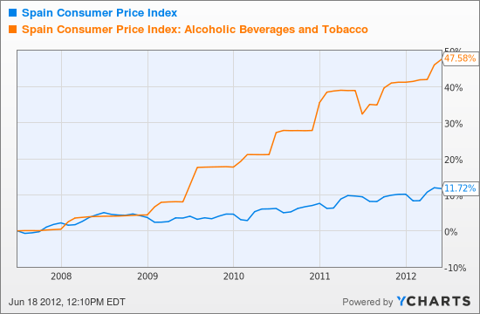 Spain Consumer Price Index data by YCharts
To be clear about what we're looking at, the rate of inflation is up 11.72% in the past five years for a standard package of goods and services. But the rate of inflation on just alcohol and tobacco products, one component of that standard package, has grown four times as fast. That means drinkers and smokers are not only suffering through fiscal catastrophe, they're also paying a whole lot more to drink and smoke their troubles away.
Economically speaking, this makes perfect sense. When governments need revenue, they look to alcohol and tobacco taxes for it, knowing full well that people aren't going to give those things up. Spain upped its tobacco taxes back in 2010 in an attempt to raise an extra $1 billion a year, although now it's dealing with more cigarette smuggling, according to a Bloomberg report from February.
Of course, sin taxes aren't going solve Spain's fiscal woes. Drowning those sorrows in cerveza and Rioja just got more expensive.
Disclosure: None.