Semiconductors Industry
The Semiconductor Industry, being highly cyclical and seasonal in nature, has grown slowly in the past two years as a result of sluggish demand and excess supply. Nevertheless, we foresee strong growth in the industry in the near future, primarily driven by a surging demand for mobile communication devices, such as smartphones and tablets, and smart electronic devices. Companies that are appropriately positioned, such as Samsung (OTC:SSNLF), Toshiba (OTCPK:TOSYY), Taiwan Semiconductors Corporation (NYSE:TSM), Qualcomm (NASDAQ:QCOM), and Micron (NASDAQ:MU), are expected to derive the most benefit from this growth. Investors can use the Semiconductor ETF (NYSEARCA:SMH) for hedging the long positions in Qualcomm, Micron and Taiwan Semiconductors Corporation
Semiconductors are an integral component of electronic and computing products. The performance of the global economy is the single largest driver of the Semiconductor Industry. Economic growth enhances the purchasing power of the consumer. As a result, the consumer spends more on electronic products; thereby increasing the demand of semiconductors. In addition, the demand of semiconductors is seasonal due to a similar nature of demand for electronic products.
Semiconductors Future Revenue Outlook (Source: SIA)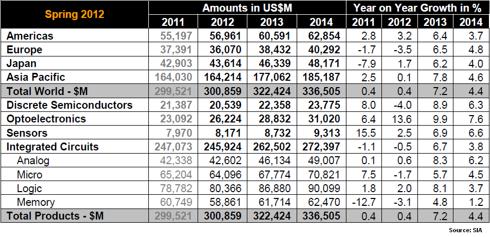 Semiconductor revenue posted across the globe showed modest growth of 0.4% in 2011, owing to constrained consumer spending on electronic products in a sluggish economic environment. However, semiconductor revenue is expected to rise in future, as demand for smartphones, tablets, thin notebooks (Ultrabooks), and other consumer equipment devices increases.
Approximately 40% of the demand for semiconductors is attributed to PC manufacturers, 20% to communication equipment and device manufacturers, and approximately 20% to consumer electronic devices including smart TVs.
| | | |
| --- | --- | --- |
| Semiconductor Demand Breakdown | Market Share | Outlook |
| PC | 40% | Saturated, Slow Growth, Ultrabooks |
| Communication Devices | 20% | Robust, Low price smartphones and introduction of LTE in EMs. |
| Consumer Applications e.g. TVs | 20% | Somewhat Saturated, Growth in Smart TVs |
Demand for semiconductors in communication equipment is escalating as a result of robust worldwide demand of smartphones and tablet computers. It is expected that increasing demand for smartphones, as a result of low-priced smartphones and introduction of 4G technologies in emerging economies, will drive the demand for semiconductors. Therefore, investors should keep an eye on major semiconductor suppliers to the Mobile Communication Industry, who can take benefit from the rise in demand. Furthermore, the evolution of smart TVs can further drive up the demand for semiconductors in future, as this new breed of TVs offers advanced features requiring intensive processing abilities. IC insights, a semiconductor market research company, has predicted robust growth in the PC market in the future.
The Semiconductor Industry, once characterized by high entry barriers due to intensive capital investments, has shown a gradual shift in industry dynamics. Formerly dominated by vertically integrated companies, the Semiconductor Industry is increasingly seeing the emergence of independent fabrication and design companies. Fabless companies, e.g. Qualcomm, design semiconductor chips and give orders to foundries, like TSM, to fabricate semiconductors. The whole change in the industry dynamics has lowered entry barriers for new firms and accelerated the technological advancement in semiconductors, as companies get a chance to focus on internal competences e.g. design or fabrication. Moreover, the whole shift has lowered the cost of semiconductor production, as fabrication companies operate plants in cheap labor countries, e.g. TSM operating in Taiwan.
Currently, Intel is the leader in semiconductor sales with $11,819 million sales in 1Q2012. Intel has captured the major market share of the PC Processor Industry and is diversifying in other areas such as NAND Flash, MPUs, and Communication Equipment. Intel recorded 28% more sales than its rival Samsung in 2011, as the company further distanced its lead from the latter by acquiring Infineon's wireless IC business.
The Global Foundry Market is not very concentrated, with the top five players capturing 80% of the existing market. The foundry market is characterized by having high barriers to entry because of significant capital expenditure required. The top player, TSM, accounts for more than 48% share of the foundry market.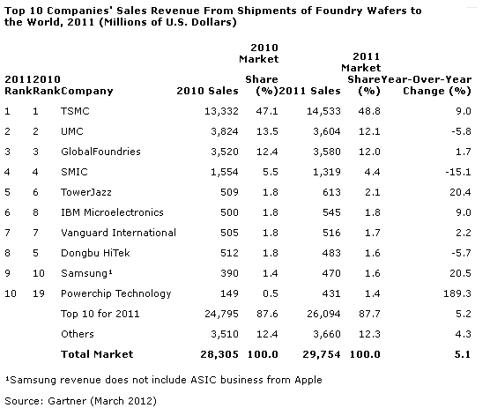 In future, there are three major growth areas in the Semiconductor Industry: 1) Mobile Processing Units (MPUs), Memory Modules (DRAM) and Flash storage (NAND).
According to Gartner, microprocessors were the fastest-growing segment in semiconductors in 2011, which grew by 14.2% year over year due to strong ASPs. MPUs are used in smartphones, tablets, e-readers, handheld gaming consoles and many other consumer electronic products. The market for mobile processing units (MPUs) is forecasted to reach 1.9 billion units annually by 2016. ARM is currently the leader in mobile processor architecture in smartphone and other advanced communication devices with a 73% share. Intel is dominant in the mobile PC segment of MPUs. Apple (NASDAQ:AAPL), Qualcomm and Samsung are also leading players in some consumer electronic devices. Smartphones and Tablet computers are expected to drive the demand for MPUs in future. However, with the entrance of major players in the mobile computing market, smaller and existing players will face pressure on revenue and market shares.
Flash Storage, or NAND, is another fast growing segment in the Semiconductor Industry. NAND is used in smartphones, tablets, memory modules, and recently, has been actively used in desktop and mobile computers in the form of Solid State Drives (SSDs). SSDs are becoming popular among computer users with each passing day as they are faster and more reliable than traditional Hard Disk Drives. In addition, SSDs consume less power than HDDs, making them more suitable for mobile devices. The NAND flash storage market is facing declining prices as a result of excess supply. However, global NAND Flash revenue is expected to grow by 8% in 2012 due to rising demand. Also, the recent decline in NAND prices is going to add to the increase in the demand for NAND, as it is expensive compared with traditional HDDs.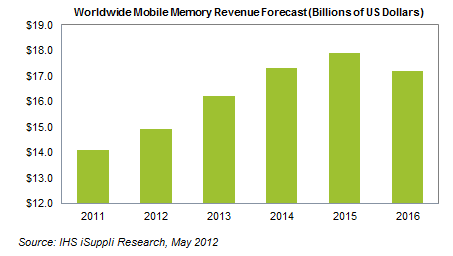 Samsung is the leader in the NAND market with an estimated 37.4% market share at the end of 1Q2012. Toshiba is the second-largest player with an estimated 34.2% market share. Micron is the only U.S. manufacturer of memory chips and is the third-largest player in the NAND market with an estimated 17% market share.

DRAM is the third segment in the Semiconductor Industry, which has growth potential in the coming years. Even though the DRAM Industry faced declining prices from excess supply and falling demand as a result of slower PC market growth, it has an upside potential in the form of high demand for smartphones, tablets and other electronic devices in future. DRAM is used in a variety of devices ranging from smartphones, tablets to PCs, and other electronic consumer devices.
The recent bankruptcy of Japanese memory module giant, Elpida (Market Share 12%), is going to balance the oversupply with demand in the DRAM Industry in the short run. Over the long run, both demand and supply are expected to flourish for the previously mentioned reasons.
Samsung and Hynix dominate the DRAM market with market shares of 40% and 24% respectively. In the midst of falling prices, excess supply, and moderate demand, only players with strong balance sheets can survive the DRAM market.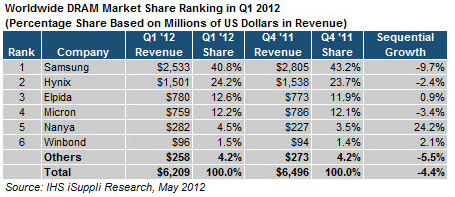 The Semiconductor Industry may have been facing a downturn recently, but we foresee very bright prospects of rising demand in the future, which will be primarily driven by growth and advancement in electronic communication devices, such as smartphones and tablets, and smart electronic devices.
Investors can also have a look at other leading semiconductor companies like Broadcom Corp. (BRCM), NVIDIA Corporation (NASDAQ:NVDA) and Advanced Micro Devices, Inc. (NASDAQ:AMD).
Disclosure: I have no positions in any stocks mentioned, and no plans to initiate any positions within the next 72 hours.