According to David Huether, senior vice president of economics and research at the U.S. Travel Association, "The U.S. travel industry continues to be one of the prime drivers of our nation's economic recovery, adding 7,000 new American jobs in April, bringing total direct employment to 7,581,000. Travel job growth was driven by the restaurants, lodging and airline sectors, offsetting declines in amusements, gambling and recreation." Huether provided this analysis in response to employment numbers from April 2012. In addition to job growth the travel industry is also seeing a higher number of travelers this year, responding to lower gas prices and higher job stability. The U.S. Travel Association forecasts a national 3% gain in travel this summer season, May through October.
HomeAway (NASDAQ: AWAY) is one company that is well positioned to take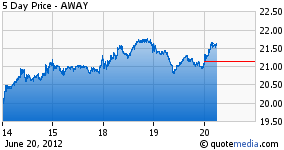 advantage of the summer travel season. The company, based in Austin, Texas, is the leading online marketplace for vacation rentals, with sites representing approximately 700,000 paid vacation rental home listings throughout 168 countries. The websites' performance has been positive, with renewals at 100%. The U.K. and Europe account for 15% and 20% of revenue, respectively. After some weakness early in the 1st quarter, European business improved in March and April, and was steady in May. HomeAway is busy making steady improvements and changes to its technology platforms, websites, service offerings, and pricing plans. This should result in faster growth in the 4th quarter and in 2013. Analysts believe that HomeAway is positioned to sustain 20% to 25% revenue growth and earnings growth over the next several years. In addition to strong fundamentals, the company's valuation is also attractive, trading at a discount to its expected growth rate.
One of HomeAway's perhaps largest competitors is Expedia (NASDAQ: EXPE), though it is somewhat akin to comparing apples to oranges. Instead of providing access to posh vacation rentals, Expedia allows the user to book their flight, hotel, and car rental at the same time in one place. This process can make planning a summer vacation a little simpler. However, Expedia can sometimes be more focused on the savings than on the experience. Some people prefer to book things separately so that they can pick exactly what they want on their vacation. For that reason, travelers might prefer logging on to Starwood Hotels' (NYSE: HOT) website to take a look at what its many hotel brands have to offer. Through its website travelers can sign up for its rewards program and see exclusive deals. This type of setup can make it easier for someone concerned with the overall experience.
However you prefer to plan your summer vacations the travel industry is ready to assist, fully staffed and primed for growth. And if you are looking to invest in the travel industry, HomeAway would make a great start. It is a unique company with continued growth potential. Of course, the fact that it is currently trading at a discount doesn't hurt things either. Either way you choose to enjoy the summer, whether by traveling or investing, the industry is ready.
Disclosure: I have no positions in any stocks mentioned, and no plans to initiate any positions within the next 72 hours.