Not a good start to the week week for those holding on to hopes that the U.S. will avoid a recession.
Start with autos. Every sales category was down-- imports or domestic, cars or light trucks-- relative to February 2007. But the sharpest drops were seen by domestic light trucks, a category that includes the SUVs and still accounts for more than half the number of light vehicles sold. Domestic light truck sales last month were down 12.4% compared with February 2007. The graph below records the sales for each month over the last 5 years so that you can simultaneously see both the seasonals and trends. To make year-over-year comparisons, look across the adjacent columns for any given month. The most recent drop looks like a significant deterioration.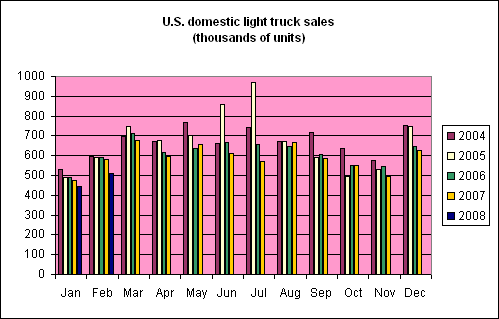 Data source: Wardsauto.com
Perhaps Detroit's woes are related, and perhaps not, to an apparent recent break in the behavior of U.S. gasoline demand commented on by the Wall Street Journal on Monday. Apart from the effects of the 2005 hurricanes, U.S. gasoline consumption has remained remarkably resilient to the steady increase in price over the last several years. Although there is a lot of noise in the weekly series, the most recent four-week average is running 1.1% below that for the same period last year: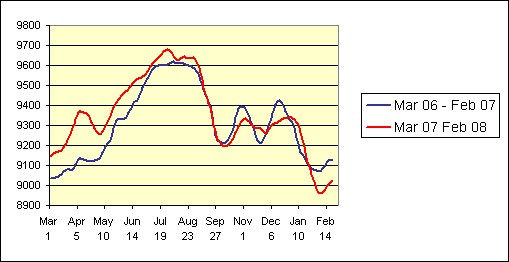 U.S. finished motor gasoline product supplied, 4-week averages, in thousands of barrels per day. Most recent year in red, previous year in blue. Data source: EIA
Taken together, the auto and gasoline data may signal that American consumers are finally starting to adapt their behavior to record crude oil prices. If so, given historical patterns, it's likely also showing up in cutbacks in a number of other categories as well. Or perhaps it's not the price of gasoline so much as loss of income and worries about the economy that are bringing both car sales and gasoline purchases down. In either case, it does not bode at all well for an economy that is struggling to avoid a recession.
Also on Monday we learned that the Institute for Supply Management's PMI index fell from 50.7 in January (indicating that manufacturing was still expanding at that time) to 48.3 (meaning that more plant managers are reporting decreases than are reporting increases in key categories). Slipping below 50 is a pretty good indicator that manufacturing is at least experiencing a slowdown.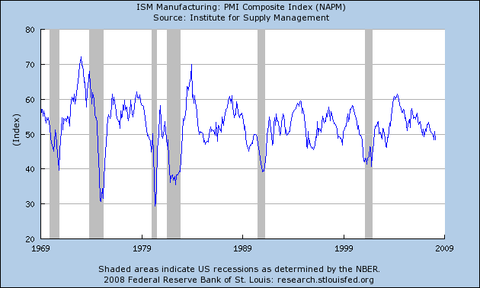 Source: FRED
And if that's not enough good cheer for you in one day's news, growth in nonresidential construction, which had previously remained positive even as residential housing was battered so badly, slipped into the red in January. Here's what Calculated Risk thinks of that development:
Over the last couple of years, as residential spending has declined, nonresidential has been very strong. This is additional evidence-- along with the Fed's Loan Officer Survey and other data-- that suggests the slowdown in nonresidential spending is here.
We'll be watching the BLS employment numbers on Friday to see if the bears can make a clean sweep for the week.