Zacks senior alternative energy industry analyst Jon Kolb was on hand to give us an update on his coverage in the growth-oriented space. As fate would have it, we discuss his Buy recommendations on a day where the market is pulling back. Could this be a major buying opportunity?
We had been hearing great things about the solar industry over the past couple months. Are things progressing as expected?
The growth potential for the solar industry as a whole is very promising. The market is rapidly evolving and is experiencing technological advances and new market entrants. In fact, the investment outlook for the alternative energy industry in general is bullish, in our view, with significant growth potential over the next 5-10 years.
As with any burgeoning industry segment, there will likely continue to be rapid changes within individual names as new technologies continue to evolve, although the longer-term trend is favorable for diversified long-term investors. Those investors seeking to capitalize on the ongoing efforts to reduce both domestic and global dependence upon the dominant oil and natural gas producing regions of the globe may wish to focus on emerging and established firms engaged in wind power, solar/photovoltaic, solar thermal, geo-thermal, hydro, marine and biomass-based energy sources.
What types of names make the strongest Buys at this point?
Dozens of such companies exist within the U.S., and many more internationally, ranging from micro-cap ventures to large-cap multinationals. Individual names will likely continue to experience high volatility in securities prices, although a well-diversified portfolio of alternative energy names would be well-positioned to profit from rapid growth in the sector.
Which are a few of your top Buys at the present time?
In late November of last year, we upgraded shares of Chinese solar panel maker JA Solar (NASDAQ:JASO) from Hold to Buy, and put on a target price of $22.50. JASO's significant upswing following its February 2007 IPO remains a compelling growth story in clean energy, although the stock was down over 5% in a down day in the market Friday.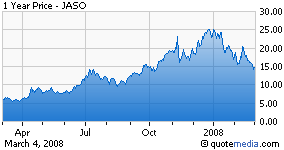 Capacity expansions and committed supply of key raw materials at JA Solar will continue to fuel growth. Strong earnings growth, coupled with a well-diversified customer base makes JASO one of the fastest-growing alternative energy stocks. Material cost savings through the company's long-term supply agreement will also boost margins.
The company has seven fully operational solar cell manufacturing lines with annual installed capacity of 175 MW, with plans to expand its annual capacity to 425 MW by year-end 2008. The company's principal customers are solar module manufacturers, who assemble and integrate its products into modules and systems. It sells its products primarily to customers in China, as well as customers in Germany, Sweden, Spain, South Korea and the United States. Major competitors in its industry include BP Solar International Inc., Schott AG, Sharp Corporation, and Mitsubishi Electric Corporation.
The solar market remains an emerging industry, and to a great extent, JA Solar's success depends greatly upon the ongoing expansion and commercialization of the photovoltaic marketplace. While the aggregate solar power industry continues to be essentially sold out, sales are typically made through purchase orders without long-term commitments, which decrease the company's visibility into long-term product flow. JA Solar s sale of approximately $280 million in shares consisting of 6.33 million American Depositary Receipts in October 2007, further diluted earnings to shareholders.
Very interesting. What other names are also noteworthy in this space?
Well, on the same day we upgraded JASO, we upgraded Canadian Solar (NASDAQ:CSIQ) to a Buy. Generally, it was for many of the same industry-wide strength reasons, but in Canadian Solar's case, precipitous decline following its November 2006 IPO have reversed course strongly upward. After a gap of 3 consecutive quarters, the company reported positive operating income.
Going forward, on the back of solar panel sales growth in various global markets, material cost savings through the company's more vertically integrated production structure, long-term supply agreement and silicon reclamation program should collectively generate significant earnings growth. However, its requirement for funds to finance its expansion plans may put pressure on its profitability in the short-term.
So two alt-energy Buys, but neither are U.S.-based companies.
Well, there's always Michigan-based Energy Conversion Devices (NASDAQ:ENER). We remain optimistic about this company's long-term potential success in the industry, given increased activity in solar power projects and progress towards sustainable profitability in late 2008. The company is developing and expanding its solar business while exiting other non-core businesses.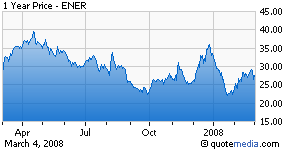 Energy Conversion Devices technologies have the potential to replace certain existing energy storage, energy generation and information technology products. Hence competition for the company's products based comes from new technologies, improvements to current technologies and improved products from current technologies. ENER also competes with companies that currently manufacture and distribute products based on well-established technologies in the fields of energy generation and storage and information technology.
Jon Kolb is a senior analyst covering the alternative energy industry for Zacks Equity Research.