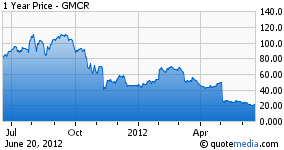 Two weeks ago, I analyzed the current position of Green Mountain Coffee Roasters (NASDAQ:GMCR). Green Mountain shares had closed the previous Friday at $22.42, a new low for the troubled coffee name. In my above linked article, I said that the stock was trading as if it wanted to drop below $20, and that I would re-analyze the name at that point. On Friday, Green Mountain shares closed at $19.82, down $3.31 for the week, a drop of 14.3%. Friday was obviously a new 52-week low for the company, whose shares are below the key $20 level for the first time since 2009. After rebounding a bit on Monday and Tuesday, shares are back at $21.20, but can they hold it?
The afternoon that my article was published, there was a flurry of speculation regarding Green Mountain after Starbucks (NASDAQ:SBUX) had stated that they were making a major announcement after the bell. Green Mountain bulls were hoping that the announcement would be a positive for the name, but Starbucks announced it was buying a bakery. The news was hardly thrilling to many. However, since that time, Starbucks did start selling Green Mountain k-cups in its more than 10,000 US stores. Starbucks reiterated the belief that its relationship with Green Mountain remains "strong".
But the bigger news came just a few days later, when supermarket giant Kroger (NYSE:KR) announced it was planning to launch store-branded single serve coffee cups that would compete with Green Mountain. Analysts fear that Kroger, which could sell the products under its own private label brand, could offer their K-cups at a much lower price than Green Mountain does. Not only would Kroger be able to take away market share from Green Mountain, but it would force Green Mountain to lower their prices. Margins would definitely be hurt. Green Mountain shares fell nearly 8% that day on the Kroger news, and have continued lower since then.
The news got even worse the following day, when Safeway (NYSE:SWY) also announced it was launching five types of filtered coffee pods compatible with Keurig brewers. Safeway's product was seen on sale at a California store for $6.99 (a 12-pack), where many other similar K-cups of that quantity were selling for $8.99. Again, some of Green Mountain's patents are expiring later this year, and Safeway joined Kroger in jumping on the Green Mountain killer pile.
But that wasn't the end of the bad news. Just two days later, a Boston based research firm reported that US office sales of K-cup coffee pods were experiencing a "noticeable slowdown" in May. The report stated that this year's summer slowdown was occurring earlier than usual, and is forcing distributors to look at their autumn forecasts, and perhaps to look at alternatives as well. Also, the research firm noted that as more of the private label brands, such as Kroger and Safeway, enter the market, supermarket shelf space gets tighter and more competitive. This could lead to higher "slotting fees", which are the fees vendors pay for shelf access. Any rise in these fees would have negative consequences for Green Mountain's margins.
Despite all of the bad news I've described in the past two weeks, analysts have not changed their forecasts for the current quarter (fiscal third) or for the fiscal year (ending in September). Currently, analysts are still projecting 21.5% year over year revenue growth to $871.63 million. Green Mountain guided to a range of $861 to $897 million for the quarter. Earnings per share estimates for the quarter still stand at $0.50, compared to last year's $0.49, and the guided range of $0.48 to $0.53. These are non-GAAP earnings per share numbers.
For the fiscal year, analysts are still looking for 45.8% revenue growth to $3.87 billion. Green Mountain guided to a range of $3.8 to $4.0 billion. That is still well below the nearly $4.3 billion analysts were expecting just a few months ago. Earnings per share estimates still stand at $2.38, up nicely from last year's $1.64, but down from the $2.67 expected just two months ago. Green Mountain guided to a range of $2.40 to $2.50 for the fiscal year.
Analysts still rate the name as a slight buy. 6 of 13 analysts rate the name as a buy (4 strong buys), with 6 holds and one sell currently. However, just a few months ago, 9 analysts had buys (5 strong buys), against two holds and a sell. Green Mountain's terrible quarter had a lot to do with that. The average price target stands at nearly $52 right now, well above the $20.70 shares currently trade at. I think some of these analysts need to rework their math.
Green Mountain's troubles have continued to knock down shares of small cap name Coffee Holding Co (NASDAQ:JVA), which saw its shares drop to a 52-week low last week as well. Shares of Coffee Holding Co also reported weak revenues and stated that it believed customers were holding off on purchases as they wait for coffee prices to come down. Coffee Holding Co had just 4% gross margins in the quarter and reported an operating loss. It is clear that Green Mountain's troubles may have spread to this name, and could continue going forward.
Given the bad news recently, I would still recommend Green Mountain as a short candidate for now. With many of these large supermarkets taking aim at this space, Green Mountain's troubles are piling up. Add that to the fact that analyst estimates have not come down despite the bad news, and the potential for another quarterly miss rises even more. Remember, Green Mountain has missed tremendously on revenues in two of the past three quarters. I will stand by my statement that I would not buy this name until quarterly revenues estimates come down to $860 million at the earliest, or yearly revenue estimates fall to $3.8 billion. I'm not calling a revenue miss at this point, but the chances seem to increase if estimates stay at these levels. Green Mountain has a much better chance of hitting estimates if they are at $850 million than at $870 million. They could still miss at $850 million, but bullish investors would be a little more comfortable. For Green Mountain, the hits just keep on coming, and that means that the stock will have a hard time holding the $20 level. To me, the recent rebound back to $21.20 could be short lived.
Disclosure: I have no positions in any stocks mentioned, and no plans to initiate any positions within the next 72 hours.