There seems to be some life left in BroadVision, the enterprise software producer with a decade of slumping sales. This is nothing short of astounding. When the stock of BroadVision (NASDAQ:BVSN) surged on promotional activities from Lebed and the "National Inflation Association" (NIA) from $8 to $50+, we warned (here and here) that this was all hype and the stock would come back pretty soon.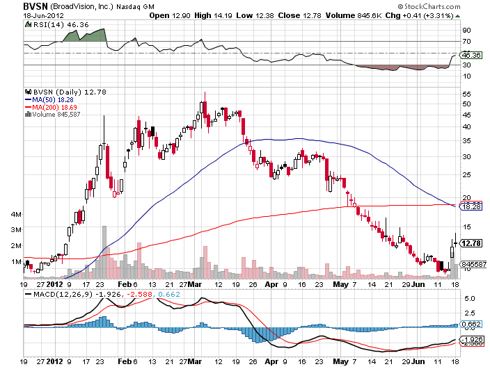 It did. But after briefly being back under $10 again, the stock surged 25% once again on high volume last Friday, this time not on any stock promotion but on the Microsoft (NASDAQ:MSFT) buyout of a (private) competitor Yammer:
The gain appeared linked to news reports that Microsoft was set to spend $1.6 billion to bid for Yammer, a maker of social networking applications for businesses. The news follows the June 4 announcement that Salesforce.com (NYSE:CRM) agreed to buy Buddy Media for an estimated $745 million in a deal expected to close in the third quarter. Oracle (NYSE:ORCL) and SAP (NYSE:SAP) are also acquiring smaller, social media software firms.
A number of other network solution stocks posted big gains behind BroadVision. Support.com (NASDAQ:SPRT) spiked 8%. Digital River (NASDAQ:DRIV-OLD) and Rackspace Hosting (NYSE:RAX) climbed 4% each. Equinix (NASDAQ:EQIX) and SolarWinds (NYSE:SWI) added 3%, F5 Networks (NASDAQ:FFIV) and Web.com Group (WWWW) ended with 2% gains.
It continued to rise on Monday, although it closed well off its highs. Once again, hope has taken over from rational investing, we don't think there is much, if any, reason for that hope.
Business model
The reality is that "social networking software for business" isn't, and won't be a particularly profitable industry. Despite all the hype and despite combining it with concepts as the cloud, or Saas (software as a service).
The realities are that the industry characteristics will prevent this from becoming very profitable. The quote above already indicates that the space for social networking applications for business is quite crowded. There are dozens of offerings, it's a near commodity.
It isn't a terribly complex product so the barriers to entry are very low (witness the small private companies). There isn't much reason for a standard either, so you don't see a strong move towards one dominant player like Facebook (NASDAQ:FB) is in the consumer social network.
It's simply a tool for business, and while useful, there are many vendors selling this tool.
So even if there is strong growth (which is all that the hype ever mentions) in the use of social networking for business, this growth will be on low margins. The facts bare that out. Jive (NASDAQ:JIVE) a company that, unlike BroadVision, actually has a social networking product for business that generates sales growth, it makes no profit, and isn't expected to make a profit anytime soon.
Jive is quite ridiculously valued at $1.27B, while its (loss-making) sales are just a fraction of that ($77M last year). Actually the loss (almost $51M) was 2/3 of revenues last year. And Jive can be considered a success, they actually manage to sell their social networking software to an increasing amount of businesses.
BroadVision has yet to gain momentum for its Clearvale product while the company suffers from declining sales on its other products and losses accumulate. The Q1 figures published on April 25 this year were no exception. Revenues fell a whopping 25.4% compared to Q1 2011.
Jive might well be a takeover target, as stated by Rick Aristotle from Motley Fool back in December:
However, this doesn't mean that investors should bet against the company. Jive hits the market with crosshairs on its neck hairs -- and that's a good thing. Jive is a compelling acquisition target for a larger enterprise software company hoping to spice up its ho-hum organic growth.
But BroadVision, that seems a very long shot to us. Yet, in a space that is dominated by hype and hope over a simple consideration of industry characteristics, one can still hope. The company still has cash to burn to try to turn things around but we keep wondering how many disappointing quarters with falling sales and losses we need for investors to see the reality.
When Lebed and NIA started promoting this company, the shares were at $8. Since then, we had only more disappointing figures so we think the shares aren't worth even that anymore.
Disclosure: I have no positions in any stocks mentioned, but may initiate a short position in BVSN over the next 72 hours.