While it may be a bit too early to call at the moment, I am going to go out on a limb and say that the current bloodbath in the financials is far from over. Here's why:
First of all, just look at the indexes. Technically, every single one is now firmly in a down-trend. So why bother fighting that? For every new high that was was made last week, there were 9 new lows made. The point is that most stocks tend to follow the direction of its underlying index. Thus, it can be said with some certainty that the financials will continue lower, especially since they are at the pinnacle billion-dollar credit crisis.
Secondly, just look at the actions of the Fed. Do you think they are cutting interest rates by 75 basis points because the economy is growing exponentially? No. They are frantically cutting rates because they have been behind the curve. Sure, in the long run, these rate cuts will benefit the financials hugely, but here and now, the economy IS slowing. Consumer spending has been flat three of the past four months and I would not be surprised to see this continue into the year. Look for the U.S. GDP numbers to follow suit, as they will be the confirming factor.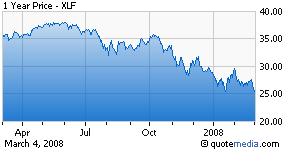 Finally, let's look at the charts: the XLF traded as low as $24.11 and closed at $26.05 on Jan. 22, 2008. Currently, the XLF is sitting at $25.30 and trending lower after hitting resistance at its 50-day moving average. If it breaks through $24.11 on heavy volume, watch out below, because such a selloff will be ruthless, putting many long positions deep in the red. The market is a bit oversold currently and I am looking for something of a rally this week so I can start building a short position in the XLF with a tight stop loss to prevent any dead-cat bounce from doing me in. Simply put, the current damage simply cannot be undone overnight and I think it may be foolish to think otherwise.
Disclosure: none