Commodities and Weather having a big impact
Coffee prices remain under pressure due to big supplies coming out of Brazil, no frost potential and a potential good crop for Vietnam. This is consistent with our longer term bearish attitude, following world weather woes and higher prices a year ago. In addition, we continue to see great rains returning to key west Africa cocoa areas the next 2 weeks, in contrast to some other forecast services out there, that keep touting up EL Nino. El Nino may result in lower 2013 cocoa production, but right now, the West African mid-crop needs more rain and this could still have a bearish impact on cocoa for a while.
The big weather market and story is the Midwest drought for grains. However, very volatile and sometimes confusing weather forecasts may be the rule during this critical time of the year, the next 6-8 weeks.
Click to enlarge.
Grain Markets---Midwest Drought (below) will be monitored by the trade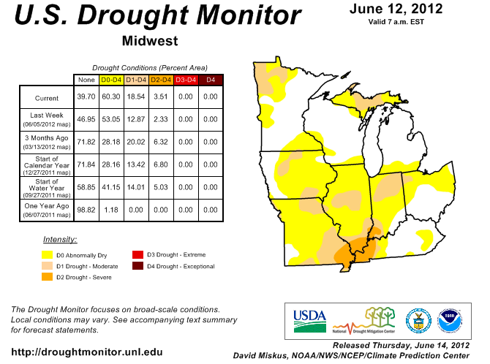 Source: USDA.
Grain markets have been on a volatile tear higher this last week, due in part to the worsening drought situation in the heart of the Midwest croplands. Soybeans in particular have absolutely no room for "any crop problem this summer," as an historical winter drought (South American Summer), left soybean stocks at precariously tight levels.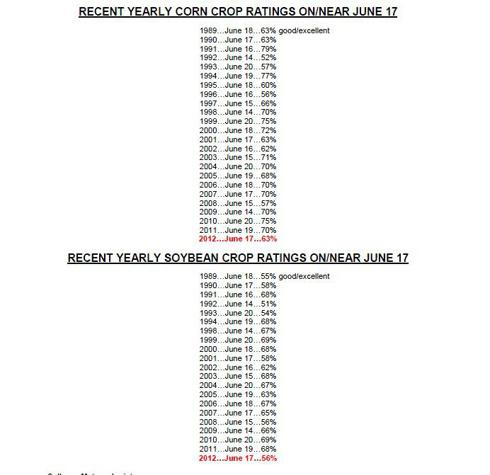 Source: FC Stone.
U.S. soybean ratings are the now some of the lowest in recent memory (56% good-excellent). Corn ratings have dropped at well, meaning prices below $5.00 are quite unlikely and after bearish spring planting weather, this summer's weather will be volatile with feast or famine across the U.S. grain belt.
But the weather forecast for July and August is one of the most difficult that I have seen in recent years. What happens between now and then will have a huge impact on corn and soybean prices, in the days ahead. The cooler forecast ahead for much of the nation next week, combined with drought easing rains for China (at least for a week or so) are more bearish weather aspects for corn, versus what I still see are soil moisture deficits in the U.S., for at least 40% or more of the belt. However, I doubt we are going to see U.S. corn yields exceed 160 Bushels/Acre now. Hence, the corn market will likely stay above $5.00 for the rest of the summer and if heat arrives later, prices could explode.
Why is this summer's Midwest forecast so difficult? We have conflicting long range signals, in my opinion:
1) Bullish----History says that record warm winters and springs like we have had this year, suggest a hotter than normal summer
2) Bearish---Pre-El Nino years suggest adequate summer rainfall over 70% or more of the corn belt, 80% of the time.
3) Neutral-Bearish---The map below showing the block over Canada that may mean that Midwest heat moves too far to the west for the next 1-2 weeks.
4) Bullish--Midwestern soil moisture levels at some of the lowest readings in recent memory.
Nevertheless, we have a potentially explosive grain situation, if rains do not return soon.
With regards to wheat, earlier drought in China, worries over Australia's weather, problems to the Russian crop, could all be potentially more bullish weather issues if they continue.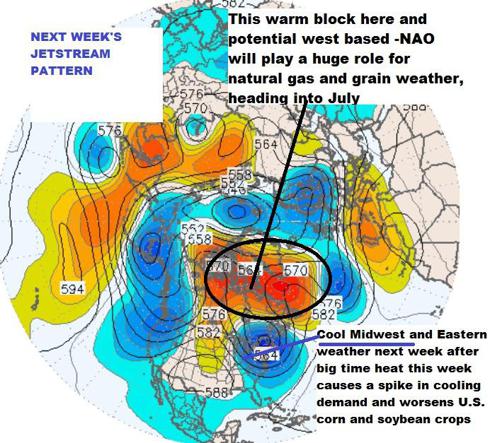 The cooler weather next week (above) may be having an impact in natural gas prices selling off again. While we predicted sub $2.00 prices last year, based on our forecast for a warm winter and huge supplies, production cutbacks and the chance for some heat later this summer, make medium term direction, more difficult to predict. There will be lots of short term trading opportunities on the weather. Nevertheless, we do not see any end in the huge glut situation in supplies.
Map source: Earthsat Corp.; Ananlysis and comments: Jim Roemer.
Indian Monsoon and its Effect on Some Commodities
There are dozens of economists and traders who stick to the axiom that "As India's monsoon goes, so goes the global economy." Well, that is pushing things a bit too far in my opinion, as there have been plenty of sub-normal monsoon years, when the global economy did just fine. However, no doubt, such commodities as sugar, oilseeds and cotton will take note of the Monsoon weather, the next 4-8 weeks.
Right now, we see pre-El Nino conditions forming and Sea Surface Temperatures in the Bay of Bengal that may suggest no better than a normal and perhaps poor monsoon again this summer. Rainfall has been running well below normal over many key central and NW crop regions and this could be a bullish factor sugar prices in the weeks ahead. I became bullish sugar about a week ago to clients, also due to some dryness in Ukraine and wet weather in Brazil to the harvest. Also, NE Brazil had a bad drought this past winter.
Sugar prices fell some 30% since last summer, due to a combination of factors related to Ethanol, increased world production and demand issues with global economic worries. However, over the last 2 weeks, I have become more bullish on world weather. An interesting ETF worth looking into, might be the iPath DJ-UBS Sugar Subindex Total Return ETN (NYSEARCA:SGG)--See chart below: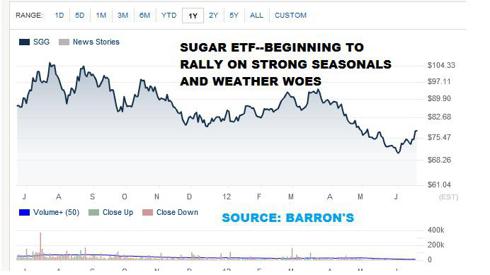 Also, the chart below shows the historical nature of Indian Monsoons. Strictly from a 'cyclical' standpoint, the odds of having 3 good monsoons in a row, is very unlikely. The last time that happened was in the late 1890's. The last red bar you see to the right (below) as the severe Indian drought of 2009. Not shown here are the last 2 good monsoon rains. Things may be shaping up similar to what happened in 2009. If so, it could cause huge problems for some crops this summer and keep the oilseed situation for soybeans tight and keep the cotton situation a bit less bearish. Most fundamentals for cotton are bearish (from a world production and demand perspective).
Fate of the Indian Monsoon Could be Partial Factor in gold/silver
Finally, believe it or not, the fate of the Indian Monsoon can have an impact on the lives of millions of Indians and whether or not they buy gold or silver. Come late summer or fall, if Indian citizens end of losing billions of dollars of revenue due to a poor monsoon, then sometimes precious metal demand comes to a screeching halt. If so, then it is possible that this could be one negative for gold and silver prices later this summer/fall, though of course many other factors are at play.
Just watching market action lately, I doubt we are going to see gold prices get above $1800 again, anytime soon. It's certainly not a complete weather play, but just a hunch looking at market psychology, too many mom-and-pop investors long, and market action.
There's a lot of uncertainty in the world economy and many potential bullish factors for gold longer term. It may be risky putting on a longer term short gold position, but given market action and the potential for a weak Indian Monsoon, gold prices could possibly drop below $1400-$1500 over the next 6 months or so.
Powershare DB Gold Double Short ETN (DZZ) and ProShares UltraShort Gold ETF (NYSEARCA:GLL) may be risky, of course, but a trading idea that may work in coming months, especially if India demand slackens for a number of reasons, not just the weather.

Disclosure: I have no positions in any stocks mentioned, and no plans to initiate any positions within the next 72 hours.