In this recent article I cautioned investors of Annaly (NYSE:NLY) that we needed to be mindful of the yield curve spread:
I also believe that this coming dividend is safe and we will see a solid dividend announcement in the coming weeks. After that, we should monitor this yield curve spread.

Annaly has made strong profits through thick and thin but that does not mean that we should not have a heads up here.
I was correct about the safety of the dividend, and as of now, the Fed has announced an extension of "Operation Twist" through the end of the year.
In the press release the Fed states:
The Committee also decided to continue through the end of the year its program to extend the average maturity of its holdings of securities. Specifically, the Committee intends to purchase Treasury securities with remaining maturities of 6 years to 30 years at the current pace and to sell or redeem an equal amount of Treasury securities with remaining maturities of approximately 3 years or less. This continuation of the maturity extension program should put downward pressure on longer-term interest rates and help to make broader financial conditions more accommodative. The Committee is maintaining its existing policy of reinvesting principal payments from its holdings of agency debt and agency mortgage-backed securities in agency mortgage-backed securities. The Committee is prepared to take further action as appropriate to promote a stronger economic recovery and sustained improvement in labor market conditions in a context of price stability.
Basically in plain English, the Fed will intentionally keep interest rates low on the longer end of the yield curve at least through the end of the year. That being said, the Fed also re-committed to its ZIRP (zero interest rate policy) through AT LEAST late 2014.
To support a stronger economic recovery and to help ensure that inflation, over time, is at the rate most consistent with its dual mandate, the Committee expects to maintain a highly accommodative stance for monetary policy. In particular, the Committee decided today to keep the target range for the federal funds rate at 0 to 1/4 percent and currently anticipates that economic conditions--including low rates of resource utilization and a subdued outlook for inflation over the medium run--are likely to warrant exceptionally low levels for the federal funds rate at least through late 2014.
What This Means For Annaly
Obviously if interest rates are lower on the long end of the curve it makes it more difficult to increase profits unless mREITs use more leverage and go further out on that curve.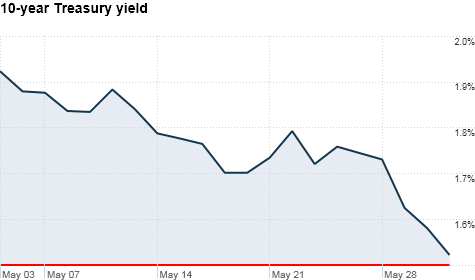 You can see in this chart how far the 10 year rates have dipped (since this it has risen to roughly 1.60% and given a .25% rate on the short end, Annaly still has about 1.35% to "play" with in this range.
NLY also have enough dry powder from the de-leveraging that it undertook in 2011 so that if the opportunity arises to pick up more basis points by using more leverage, Annaly is in a good position to take advantage of them.
Obviously, my more recent article could be off the mark a bit if earnings become impacted.
Since we do not own Annaly shares for capital appreciation (which has been quite good of late) we do need to monitor the ongoing impact that Fed actions could have on its dividends.
For now, NLY is solid, and the management team has navigated through all scenarios supremely since 1997, so it is my opinion that as we have seen this quarter with a dividend of .55/share just announced, I am confident that the next quarter will be stable and could possibly show an increased dividend, but going forward, the situation bears watching.
The bottom line is that if the Fed keeps its "ZIRP" Annaly will be able to profit but it could be a fluctuating dividend throughout the period.
Owning NLY here at these prices offers investors seeking higher yields is a sound investment for a portion (I use 3-7% allocation for myself) of a well balanced portfolio and should be monitored as a "risk core holding".
For now, we will most definitely enjoy the fine dividend next month!
Disclosure: I am long NLY.