Coach (NYSE:COH) has been putting up pretty impressive numbers over the last decade. With an easily identifiable brand and a management team executing on all cylinders, it's no wonder the fine handbag maker's stock has produced monumental returns with capital gains in excess of 750% over the last ten years. In 2009, Coach decided to sweeten the pot by returning a little bit extra to shareholders when it declared its first dividend. Pretty significant message made by management given the world was just coming off a major financial crisis. Figure 1 shows COH stock performance over the last ten years compared with its peer group which includes Fifth & Pacific (FNP), Jones Group (NYSE:JNY), PVH Corp (NYSE:PVH), Ralph Lauren (NYSE:RL), and VF Corp (NYSE:VFC).
Figure 1: Designer Men's/Women's Apparel Peer Group 10 Year Stock Performance (chart source Yahoo Finance)

In addition to strong stock price gains, the company paid its first quarterly dividend of $0.075 per share in 2009. It then went on to double that amount to $0.15 per share in 2010. It increased the payout again to $0.225 per share in 2011. In 2012, the company is now paying a quarterly dividend of $0.30 per share. The dividend has quadrupled in three years. The latest hike echoes management's belief that "the increased dividend reflects our financial strength and our confidence in Coach's future." (CEO Lew Frankfort, Q3 2012 Earnings Call)
Coach has a current dividend yield slightly less than 2%. This compares favorably to competitors Moet Hennessy Louis Vuitton with a yield at a little more than 1% and non-dividend paying Michael Kors (NYSE:KORS). Much of the competition faced by Coach is in the form of privately held companies such as Kate Spade and Dooney & Burke which do not present a dividend opportunity to public investors.
A natural question may be asked about COH's ability to continue raising dividends at such an impressive rate. The numbers show the capability exists. Coach has proven to be a cash generating machine, increasing free cash flow over 1,200% from 2002 to 2011. Dividends are paid from free cash flow and Coach has plenty of it. Free cash flow increased 14.5% in Q3 2012 over Q3 2011. Figure 2 exhibits free cash flow generated since 2002.
Figure 2: Coach Free Cash Flow 2002-2011 (data source Morningstar)

Financials also suggest Coach is getting back to being more efficient at making money. Asset turnover measures a company's ability to generate sales with its given assets. Coach has consecutively increased asset turnover each year for the last five years and generated $1.63 in revenue for every $1 in assets in 2011. This is far from 2002 levels but the trend is in the right direction. Figure 3 shows asset turnover ratios from 2002 to 2011.
Figure 3: Coach Asset Turnover Ratio 2002-2011 (data source Morningstar)

Coach operates over 600 stores worldwide with key markets in North America, Japan, China, and Taiwan. Growth opportunities exist both in North America and overseas markets, positioning the company for continued success and profitability. Over 85% of sales come from direct to consumer channels through stand-alone stores, store in store models, and factory stores and management is cognizant of the opportunities that exist through online marketing to increase sales through Coach's online factory sales programs. Wholesale operations involve sales through department stores including Macy's (NYSE:M), Dillard's (NYSE:DDS), Nordstrom (NYSE:JWN), and Saks Fifth Avenue (NYSE:SKS).
While Coach is primarily known as a woman's bag and accessory brand, the company has made strides in marketing products to men. These efforts have met with more success outside of North America and it will be a key measure of Coach's marketing ability to see if the men's line gains any significant traction within the United States. Currently, the men's line is set to double sales worldwide to $400M and Coach is upping the ante by introducing men's to an additional 68 locations in North America. This increases the product line's North American presence from 42 locations to 100 locations.
China offers a massive market for the Coach brand with a population exceeding 1.3 billion people. Coach has achieved large double digit growth in this market with the latest quarterly results showing a 60% gain in sales along with double digit same store sales. Branding is strong in this market with 9 in 10 existing customers indicating intent to purchase another Coach product. Management is also taking measures elsewhere in the region to maintain greater control over the Coach brand by taking direct control of stores located in Singapore and Taiwan. The company also has sights on taking over stores in South Korea. It seems reasonable to assume that stores directly controlled by the company stand to better brand the products and create customer loyalty than potentially less motivated third parties.
Coach is currently trading near the low range P/E ratio investors have been willing to pay in recent years based on current fiscal 2012 EPS estimates of $3.63. This may be presenting an opportunity to open or add to a position in COH. Figure 4 shows historical high and low P/E ratios investors have been willing to pay for COH since 2002. The low P/E bound has been trending up since 2009.
Figure 4: Historical high and low P/E trading range for COH (data source S&P Stock Report)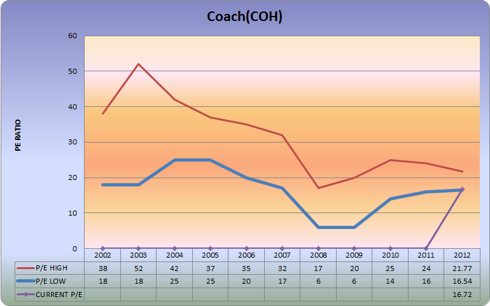 With tremendous sales growth and high profitability, Coach enhances shareholder value through dividend payouts and a history (albeit short) of strong dividend growth. Financials suggest the company is in a great position to continue paying dividends and the dividend growth history thus far may suggest more increases in the future.
Disclosure: I am long COH.