The Federal Reserve has decided to extend Operation Twist through year end.
The Federal Reserve will expand its program to replace short-term bonds with longer-term debt by $267 billion through the end of 2012 as policy makers lowered their outlook for growth and employment.

The continuation of Operation Twist "should put downward pressure on longer-term interest rates and help to make broader financial conditions more accommodative," the Federal Open Market Committee said today in a statement at the conclusion of a two-day meeting in Washington.
The effects of this policy are of interest to gold investors. The price of the SPDR Gold Trust (NYSEARCA:GLD) dropped sharply on the "Twist and Shout" announcement, but quickly recovered.
. Source: FreestockCharts.com)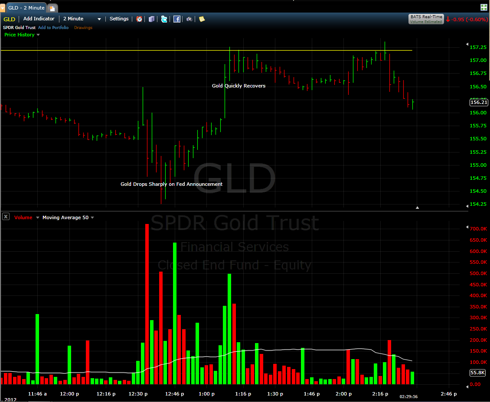 To date, Operation Twist has not been kind to gold. While quantitative easing (QE) provided a strong boost to gold because it is seen as inflationary (injection of a certain quantity of money into the system), Operation Twist doesn't change the size of the Fed's balance sheet. It simply swaps short term securities for longer term ones. This is why the initial reaction was negative -- as stated by Barclays Capital analysts:
While additional quantitative easing is likely to boost gold prices and provide the springboard prices have lacked this year, any announcements providing less than this are more likely to expose prices to the downside give market expectations priced in.
An overview of the gold price chart shows that gold suffered a steep drop when the original Operation Twist had been announced, and has been in an undeniable downtrend ever since.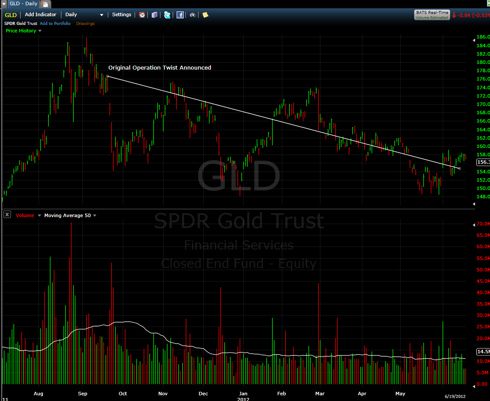 Will The Reaction Be The Same This Time?
While Operation Twist may have put a damper on hopes of a skyrocketing gold rally, I think the future for gold is still bright. There are several factors affecting the current gold price that weren't around last time.
Easing Bias
First, the Fed has an easing bias and is willing to step in with more QE if circumstances dictate. As gold has been somewhat of a risk-on asset in recent history, if the stock markets fall (and drag gold down likewise), the Fed could step in with more QE to boost the markets and gold. This option was not on the table with such certainty at the outset of Twist -- at that time, economic data looked far better than it does today.
Fundamentals Strong
Second, QE is not the only factor affecting gold. As stated by analysts at CoinWeek, the phenomenon that occurred today (a sharp selloff followed by a rebound) has been seen before:
Markets are not very good at digesting Fed meeting minutes and the utterances of Bernanke quickly. They tend to react at first in an almost mechanical way, but then after people have a time to think about what has happened, they often react differently. Too much focus on QE ignores not just long-term fundamentals like supply and demand but the whole panoply of factors that shape metal prices.

This happened on April 25 when gold and silver quickly sold-off because the Fed made clear there will be no more QE in the short-term. But then prices rebounded just as quickly when it sank in that one of the main points made that day is that interest rates will stay low for an extended period, and specifically though the end of 2014, if not later, depending on economic conditions.
I've previously discussed why market conditions are favorable for a gold rally. All of the contentions I mentioned there, including loose monetary policy in Europe, are fundamentally unchanged. In the current macroeconomic environment, gold will continue to be seen as a "safe haven" asset, even though it really isn't one.
Different Trajectory
Finally, gold isn't in the same place it was last time. Last summer, gold experienced a phenomenal run up as the result of fear trading on the U.S. credit downgrade and other factors. The excessively rapid gain led to a correction. Now, however, gold has returned to more technically supported prices. From the Chicago Tribune:
From a technical perspective, gold remains supported in the $1,580-$1,600 area, said analysts who study past price patterns for clues as to the future direction of trade.

"Gold is still rangebound within the confines of its major 1532.20/1522.48 support zone (September and December 2011 lows) and the 1641 current June peak," Commerzbank said in a note.
Conclusion
Gold should react favorably to overall market conditions. While Operation Twist is not the best scenario for gold, the possibilities of further easing as well as the strong fundamentals should set the stage for another gold rally in the near future. Gold investors should stand ready to buy on short-term weakness.
Disclosure: I am long SLV.