XO Holdings (OTC:XOHO) is currently worth only a small fraction of the stock Cogent Communications (NASDAQ:CCOI), this despite the fact both are in the same carriers industry, Cogent only generates a little more than 1/10 th of XO's revenue and less than 1/3 of EBITDA, and CCOI is losing money. Why can Cogent claim such a high EV/Rev ratio of 6 and EV/EBITDA ratio of 32 – which are 10 times and 4 times as high as XO's 0.57 and 8 respectively?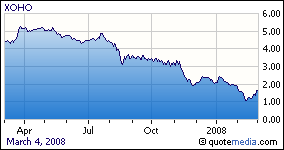 The answer might come from CCOI's high 23.80% quarterly revenue growth rate [yoy]. The value chain for video and rich content distribution on the Internet is broken and changes are inevitable. When a content and rich media provider pays a CDN to distribute its video, the CDN, in turn, will pay a transport provider, such as Level 3 Communications Inc. (NASDAQ:LVLT) and XO, to provide the backbone transport. The transport provider will then charge the ISP to receive the traffic.
"If you see an increasing number of traffic, the transit fees that ISPs are paying are through the roof," says Velocix' Dillon (source).
XO recently announced that it has completed its national network upgrade, deploying the Cisco CRS-1 at its network core to add the bandwidth needed to offer 10 Gigabit access links from its 83 major interconnection spots around the U.S. "Last year, we launched the MPLS VPN with them and we had great success in the small to mid-sized business space," Margiotta said. "Now we are moving it up into mid-sized and enterprise businesses. Cisco has a strong reputation with them and XO can leverage those relationships and that brand. We can talk about premise and core solutions in a way we couldn't before."
The XO network upgrade increased capacity in the face of exploding demand, said Eric Points, senior product manager in XO's carrier service group. By adding capacity, and making 10 Gig links available at the prime Carrier Hotels and interconnection spots, XO expects to be able to reach many more customers with higher speed links. "We have hit more than 83 key points, like Carrier Hotels, to support 10 Gig because these are the locations we need to build to and be at so customers can cross-connect to us at 10 Gig level," Points said. "We are finding the marketplace demand for 10Gig ports is so great, other carriers have not been able to deliver. It's a great opportunity to say, we are here, we have the capacity for you to serve your customers and that's for cable, DSL, and big content providers" (source).
With ten times CCOI's size and revenue, XO seems like it would have no problem expanding its business with vendor financing from large gear makers and strategic partners such as Cisco (NASDAQ:CSCO). And XO's current debt level is less than double CCOI's - both are considered modest among telecom service providers. Is XO now following Cogent's strategy? With more capital investment in equipment, revenue will grow faster; increasing EBIDTA and real profit may follow.
Disclosure: Long XOHO.OB