The market is saying Universal Health Services (NYSE:UHS) is a buy, and I'm asking why?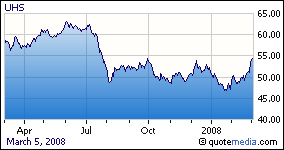 UHS, which closed Tuesday at $54.46, down from a 52-week high of $63.40 and up from its low of $46.21, is rising on slightly better than expected earnings that it announced last week. And the company didn't disappoint with its guidance. Most analysts have a hold on the stock, which Morningstar.com says has an estimated fair value of $54; the advisory service says consider buying UHS at $40.50 and selling at $70.20. Both Morningstar and Standard & Poor's give UHS three out of a possible five stars. S&P's target price for the stock is $65. Point and figure charts are targeting $69.
UHS October 50 call options suggest speculators think the stock will touch $57.70 before the contract expires. October 50 puts suggest the stock may fall to $47.15. Daily and weekly charts are flashing buy signals while monthly charts have been saying sell for about eight months. Click here for daily and weekly charts.
Long term, the bullish argument for hospital operators is that the aging population will require more of their services at higher prices. And most investor-owned chains have the capacity. The average occupancy of UHS's acute care licensed beds is only 54% and the average for its available, staffed beds has been 63% for the last three years. Most of its hospitals are in growing suburban markets. Further, investor-owned hospitals are paid under the same rules as not-for-profits, which are in older, less prosperous markets. All investor-owned chains have to do put their hospitals in growing communities and operate tighter, better marketed institutions. That's easier said than done, and UHS is considered one of the better investor-owned operators. In any case, the cash flow is historiclly ample and dependable.
In some ways the stock looks like a buy. It's forward PE is only 14.4 with a very low PEG of 1.42, which would be attractive in a bull market. Its price to book is 1.87 and its price to sales is 0.62. Return on assets are 6.55% and ROE is 10.87%. The company has a billion dollars worth of debt. Total debt to capitalization is a relatively low 40%. I ask some questions about that debt below.
With a beta of only 0.34, UHS is considered a defensive play in a bear market.
I'm asking why buy UHS, because I see several clouds on the short-term and long term horizons for the acute care hospital and behavioral health care industries.
Universal Health is barely a momentum stock. Investors.com gives it a composite rating of 65, or a "C" while its EPS rating is 69, relative strength is 75, group strength C+, profitability C and accumulation and distribution a B. The latter shows some institutions are buying the stock.
Institutions hold almost 84% of the shares outstanding while insiders hold about 17%. Alan C. Miller, chairman and CEO, controls 80% of the voting shares in four classes of shares according to Morningstar and 84% according to S&P. Ever since he lost his first hospital company to Humana back in the late 70s, Miller, 70, has maintained close control of UHS, which he started in 1978. His 37-year-old son, Marc, a senior vice president and director, looks like his heir apparent. Why institutions buy multi-class stocks where they have no voting power is a mystery. The only explanation is that they think the stock is going up, and they jump aboard.
Medicare and Medicaid spending is soaring. There is no easy way to slow the rate of increase in that spending, regardless of what the politicians may promise or try to do to save money for taxpayers while ensuring high levels of access for patients.
Because few politicians believe in "for-profit" health care providers, they're looking to take as much of their profits as possible. Most medical groups and individual practitioners are "for profit" while most hospitals are tax exempt. Since politicians know that not-for-profit (tax exempt) providers are as dependent on profits as the investor-owned companies, they'll be careful not to destroy hospitals. But as the Balanced Budget Act of 1997 showed, smart politicians do dumb things, and they can hurt providers' bottom lines and scare investors with very little notice. They can't be counted on to correct their frequent and predictable mistakes.
Medicare accounts for 27% of Universal Health's acute care revenues, Medicaid for 9% and HMOs and preferred provider organizations 46%. The self-insured (self-pay, uninsured) and indemnity insurers account for 18%. Acute care hospitals (31), surgery centers (11) and surgery and radiation oncology centers account for about 74% of UHS's revenues while 113 behavioral health centers account for about 24%. Medicare accounts for 15% of the behavioral health facilities' revenues, Medicaid 26%, managed care 41% and other sources 18%.
That payer mix makes it very difficult, if not impossible for UHS or other hospitals to control their pricing unless they dominate markets as UHS does in Las Vegas or operate in slow-growing, smaller metros where managed care organizations have little clout.
This is why Morningstar is predicting UHS will see its pretax margins cut almost in half over the next five years or so.
A reader of the UHS conference call on Feb. 29, which is posted on SeekingAlpha.com, may wonder why the Wall Street analysts didn't ask some critical questions. It may be because they know the answers or have asked the questions in previous conference calls or in private conversations with Miller and his staff. The questions are:
1. Are there any signs that despite your relatively strong credit rating the current credit crisis will make it difficult for UHS to borrow money or will increase its interest costs significantly during the next six to 18 months?
2. A criminal grand jury in Texas is investigating one of your acute care hospitals for violating various laws and for a possible obstruction of justice (failing to turn over all documents). Given that similar charges put Tenet Healthcare (NYSE:THC) on the ropes for years and it's still recovering from it's encounter with prosecutors, how are you planning for the worst? (In its 10k and conference call, the company says it's "communicating" with prosecutors but can't predict the outcome of the investigation.)
3. UHS securitizes its accounts receivables using the accounts receivables as collateral, according to the 10K. Given the soaring foreclosure numbers and the increasing number of bad credit card accounts, how good is your collateral. How big of a problem could this become?
4. Rising unemployment coupled with rising health insurance premiums will cause more people to lose their health insurance and become self-insured. According to comments on the conference call, UHS saw fewer uninsured patients in the fourth quarter, and it's doing a better job of collecting co-pays and what's owed by the self-insured. What's UHS's outlook for bad debt expenses over the next two to three years?
5. Nurse shortages are limiting growth at some UHS facilities and could pose even bigger problems as demand for it services grows. What are UHS and other hospital operators doing in terms of making their facilities more attractive employers for nurses, helping nursing schools expand to meet strong demand for nursing education and increasing nursing wages to attract more people into nursing? Does UHS have a competitive advantage or disadvantage when it comes to recruiting and retaining nurses?
6. During the conference call and in its annual report (10k), UHS discussed the negative impact that a new speciality hospital owned by physicians has had on the use and profitability of its facilities in that market. How many of UHS's acute care hospitals face new competition from specialty hospitals over the next few years? How will UHS meet that competition? Or will it build it's own specialty hospitals and acquire some?
Disclosure: None