F5 Networks (NASDAQ:FFIV) has for the past decade gradually taken market share from Cisco Systems (NASDAQ:CSCO). Although FFIV has grown in terms of both profits and revenues far faster than Cisco, Cisco is still the giant in the networking space with a $92 billion market capitalization to just $8 billion for F5 Networks.
Although Cisco has maintained a significant size advantage due to its broad scope of product and service offerings, F5 has focused on relatively few product lines and has developed an especially lucrative niche in the marketplace that has already overwhelmed Cisco for market dominance. That product line is Application Delivery Controllers. Although few non-technologists understand ADCs, all internet users have benefited from their contributions to network infrastructure. ADCs are network devices that free up resources on the server side by taking over and streamlining routine or frequently requested tasks. F5's products integrate load balancing into the advanced ADC arrangement, making for a powerful tool for increasing the efficiency of the web.
From a business perspective, ADCs have enabled F5 to take over this market from Cisco and other competitors through its Big-IP line of products. Although F5 and Cisco closely shared the ADC market through 2006-2008 with 30% each, F5's introduction of a best-in-category Viprion product led them to come to dominate the market. This dominance is reflected in the Gartner market share study, showing F5 with 44.2% of the market, followed by Cisco's 22.4%. In terms of trend, F5 has gained 17 points in market share (largely from Cisco) over the past 6 years.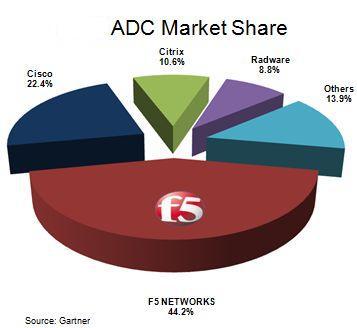 F5 has continued to expand market share In the higher-margin and more advanced line of ADC products, F5's dominance is even greater, with 61% of the market, followed by Citrix (NASDAQ:CTXS) and Radware (NASDAQ:RDWR). The development of cloud services are expected to greatly expand the market for ADCs, with some analysts anticipating the ADC market to double over the next 5 years.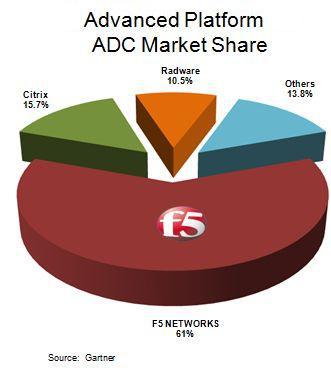 Although ADC's will likely generate the bulk of sales growth going forward, technological innovation and product extensions related to transformational web technologies have been key to F5's ascendence in this competitive market and will continue to be vital in competition with Cisco for market share going forward. F5's recent acquisition of Traffix signals its attention to the mobile web and 4G platforms. Another key platform for F5 going forward is likely to be security products, which is a large and growing opportunity for F5 that they have yet to leverage into.
It is well known that Cisco made its name in the 1990s by dominating the ethernet switch market, which has expanded to become a $20 billion market that is still dominated by Cisco. The ADC market holds similar promise for F5, which has parlayed growth in that space and increased market share into a premium competitive position in the market. Further, it is traded at a significant discount to its growth history and prospects.
F5 has a price-to-earnings-growth ratio of just 1.14 and a forward price-to-earnings ratio of 18 (trailing earnings 32). The firm has a sterling balance sheet, as it sits on nearly $500 million of cash and has no long term debt. F5 has also been tremendously consistent despite notoriously fickle technology spending cycles. F5 saw annual sales growth of 35% from '09-'10 and 31% from '10-'11 and incremental sales growth in all quarters going back to 2010. If, as many analysts and investors suspect, the ADC market becomes foundational for F5 Networks in the same manner that the ethernet switch market did for Cisco, F5 could be drastically undervalued at its current market capitalization.
Disclosure: I am long FFIV.