Commodity chart of the day
Daily Australian dollar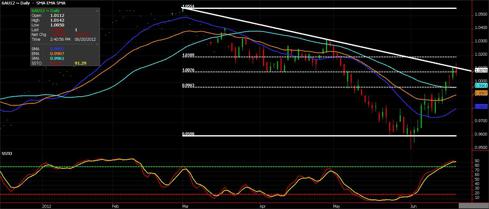 The chart above is the Australian dollar which has appreciated 5% in the last month as one can see. After a 50% Fibonacci retracement and running into upside resistance at the trend line I'm thinking prices maybe getting exhausted. Not to mention the heavy correlation to commodities and we could experience some retracements in commodities near term, in my opinion.
From overbought levels I could see in the next few weeks a trade back near the 20 day MA at .9800 in the September contract. My favored play would be a short futures while simultaneously selling out of the money puts 1:1.
Risk Disclaimer: The opinions contained herein are for general information only and not tailored to any specific investor's needs or investment goals. Any opinions expressed in this article are as of the date indicated. Trading futures, options and Forex involves substantial risk of loss and is not suitable for all investors. Past performance is not necessarily indicative of future results.
Disclosure: I have no positions in any stocks mentioned, and no plans to initiate any positions within the next 72 hours.