Spansion (CODE) declared bankruptcy a couple years ago. Based on 13F holdings showing a position and then no position, I imagine special-situation units like Magnetar Capital's conducted research on the company's finances, liked what they saw, made an investment in the risk post-bankruptcy, and have since exited that investment. They have exited because the company is no longer a special situation.
We're at the beginning of a transition from special situation to growth in the perception and demographics of CODE shareholders. Spansion is a cheaper way to buy into an emerging paradigm of user interfaces in popular technology.
I have been following voice recognition with much interest. The core consensus is "I'll believe it when I see it," as awkward transcription has characterized user experiences in the past.
However, Nuance (NASDAQ:NUAN) has been banging the table to let us know that the technology's quality is gaining traction. Plus, one cannot mention enough Apple's (NASDAQ:AAPL) smooth integration of Siri - or Google's (NASDAQ:GOOG) overall validation of the ability of big data to deconstruct human intelligence (in this case the reification and processing of auditory input).
I believe Nuance is a more than reasonable purchase despite its premium to earnings. But many are uncomfortable "paying what they get for." If you insist on bargain buying, consider averaging down the price of Nuance with some complimentary shares from Spansion.
(From Spansion,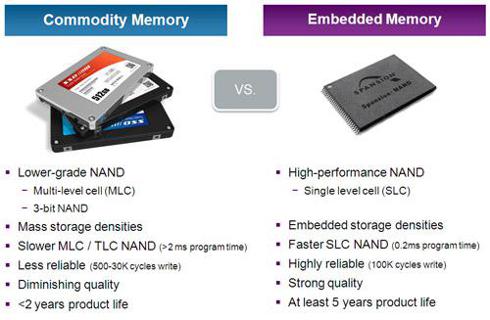 The above graphic conveys how Spansion can differentiate its products and maintain a design-based intellectual property moat. Commoditization challenges which pushed Spansion underwater a couple years ago are creeping into the entire chip industry. As Spansion has been forced to adapt into specialization early, it is positioned deeper than most to spring up ahead of the others.
Spansion's partnership announcement with Nuance, which woke shares up Tuesday, is not really a surprise, but the market's strong reaction signals a new wave of investment.
Much thanks to whomever runs Spansion's well-managed Twitter account for the tweet of my prior article, and the ongoing links to eye-opening resources such as the following from Antuan Goodwin at CNET:
Spansion claims, and demonstrated at an unveiling today, that its Acoustic Coprocessor comes with the dual benefits of both halving the response time for the recognition of voice inputs and halving the load placed on your car's main processor. At today's demonstration, a side-by-side comparison between voice recognition with and without the coprocessor showed that Spansion was able to reduce the main CPU load by 51 percent and reduce the response time from 8.7 seconds to 3.4 seconds (a 62 percent drop).

Additionally, always-on technology means that the Spansion processor is able to spring to life and begin tackling the audio processing almost immediately - a great claim to be able to make in the literally fast-moving world of cars.
Where does this all lead? A more useable, physically ubiquitous voice recognition system, pushing speech over the edge from "great feature" to central operating interface. Today's period of incremental improvement will lead to a revolution in the convenience of technology usage:
(Courtesy Vision Mobile,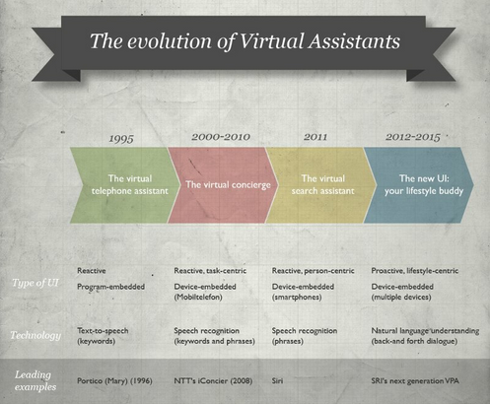 Fully actualized speech recognition (you know, like for luddites and people who don't talk like robots) is going to change the way we all work and play.
Get in on 2012's ground floor. Also check out Digital Domain Media Group (DDMG), as their visual simulations could integrate an interactive voice recognition component.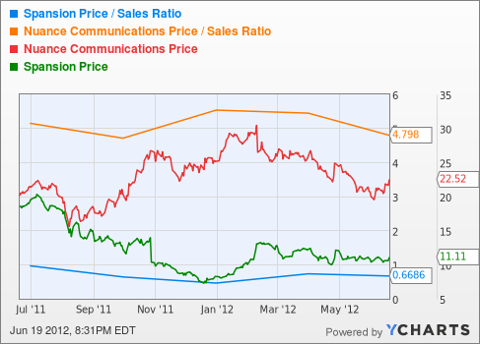 CODE Price / Sales Ratio data by YCharts
Disclosure: I have no positions in any stocks mentioned, and no plans to initiate any positions within the next 72 hours.