Micron Technology Inc. (NASDAQ:MU) earnings announced after market close on June 20th came in at a loss of $0.32 per share, twelve cents below estimates. This compares to a gain of $0.07 per share in the same quarter a year ago. Micron's revenue came in $200 million above estimates of $2 billion, a gain of 1.5% year-over-year. Revenue benefited from better inventory management, and the restructuring of the joint venture with Intel. This is the 8th straight quarter the company has missed earnings estimates.
The company believes to be moving through softness in the memory market, and should begin to benefit from improvements in the market in the second half of this year. Micron continues their attempt to acquire bankrupt Japanese DRAM manufacture Elpida Memory (OTC:ELPDF). Elpida is the 3rd largest maker of DRAM, with about 17% market share, and was recently reported to have won a large order for DRAM from Apple Inc. (NASDAQ:AAPL). Apple is looking to reduce dependence on Samsung Electronics (OTC:SSNLF) which has over 50% market share of the DRAM business. If Micron acquires Elpida the orders from Apple could help Micron grow its share of the DRAM industry that currently stand at just 4% but would past 20% with Elpida in the fold. This would make Micron a major player in this industry and could put pressure on market leader Samsung.
The company believes strengthening demand for PCs and improved pricing in the PC market will befit Micron in the second half of this year. It also believes that Microsoft's (NASDAQ:MSFT) launch of Windows 8 will drive strong growth in PC sales and pricing.
With repect to the NAND memory market Micron remains bullish despite recent oversupply and downward pricing pressure. Longer-term the company believes that increases in demand are outpacing increases in supply. Volume of NAND was up 40% in the quarter, however that gain was mostly offset by declining sales prices lending to revenue only up slightly. While prices continue to fall the company believes it is nearing a bottom and should see a rebound soon. Management believes the industry is working through high levels of inventory in this market and that shipments of NAND have been increasing.
Micron is trading at 11 times next year's earnings estimate. But the 27 analysts estimating next year's earnings fall in a range from loss of $0.82 per share to a gain of $1.53. Given the wide differences from analyst estimates and Micron's earnings over the past several quarters analysts don't appear to have a good feel for the business.
The successful acquisition of Elpida would be very positive for Micron, however analysts are worried Micron will overpay for Elpida. News of Elpida receiving an order from Apple could push Micron or others to pay more for Elpida then that would be ideal. Micron's bid of over $2.5 billion won them the exclusive right to buy Elpida. Micron had $2.3 billion in cash at the end of the quarter and almost $3 billion in debt. The company has said it does not want to issue significant debt or dilute current shareholders in acquiring Elpida.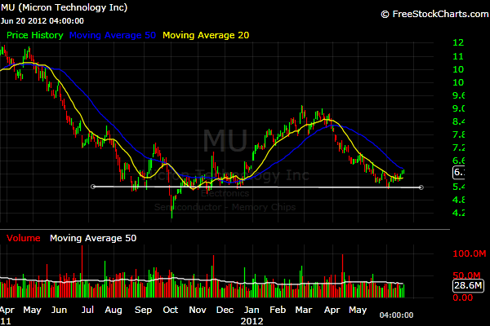 After trading up above $9 per share at the end of February Micron is now about 8% below where it started the year at $6.12. The stock recently responded well to strong support around $5.40, and has now moved up to right under the 50 DMA which is at $6.25. At current levels Micron looks attractive for a long position so long as the move down from earnings remains above support in the mid $5 range. This is a volatile stock with a 52 week range between $3.97 and $9.16 and I would consider it a speculative investment.
Data sourced from: Company filings, and Yahoo!Finance. Chart from: Freestockcharts.com
Disclosure: I have no positions in any stocks mentioned, and no plans to initiate any positions within the next 72 hours.