In this short write up, I will list a few bio pharmas that were on the move yesterday on increased volume. More often than not, in the bio pharma segment, this normally indicates that catalyst type news might be announced in short order. Many of my short term opinion picks are in large part based on keeping a close eye on stocks that begin to move upwards in this manner. Other strong factors to consider are upcoming anticipated catalyst events; many times a stock's chart tells the story on what we can expect in short order.
Medgenics (MDGN): Yesterday's closing price: 8.65 up

1.75(25.36%) After Hours trading: $8.91 up

0.26 (3.01%)
Sometimes I get really lucky making a near exact call, but that is what occurred yesterday with Medgenics. In my last article, I gave an opinion that I thought a short term pop to $7.50 was in order based on the bullish trading and volume the prior days session saw. I suspected news was on the way concerning the company's application for orphan drug status for INFRADURE, for the treatment of hepatitis C/D. The company filed for the Orphan designation on April 23rd, 2012 for the treatment of hepatitis D.
Based on the what I believed to be the reception of the market PR concerning gaining actual orphan status, I gave an opinion that a price near $9.00 a share was well within reach on the general market PR release of this news. Sorry guys for missing by $0.20 cents, I will try to do a better job next time.
I was caught off guard a bit as I certainly did not expect the news to be announced Wednesday, but pretty much knew that was possible based on the increased volume and bounce off the knee jerk sell-off we saw the day prior, with the stock sinking to around $5.80 a share before charging back on large volume, closing near $7.00 a share.
Perhaps the clue that news was imminent here is what can be found on the FDA website search engine:
Results for Orphan Drug Product Designations Search:


Return to Orphan Designation Search Page

Result Number:
1
Generic Name:
Interferon-Alpha Secreting Autologous Micro-Organ Tissue Converting Into A Biopump
Trade Name:
Infradure Biopump
Date Designated:
06-14-2012
Orphan Designation:
Treatment of chronic hepatitis D
Orphan Designation Status:
Designated
FDA Orphan Approval Status:
Not FDA Approved for Orphan Indication
Sponsor:
MEDGENICS, iNC.
555 California Street
Suite 365
San Francisco, CA 94104
If you do the hard and smart due diligence, you can find many things that are actually public that you might not know is public information. I have to give Medgenics a ton of credit here; the company could have released the news to the general market prior to releasing the news that it received fresh financing but waited. It is clear in my opinion that Medgenics did not want to release the news about the Orphan drug designation first only to release news afterwards concerning the financing which could have possibly caused a very big knee-jerk type reaction sell-off. Medgenics is going to be a huge winner in my opinion.
The management is stellar, and they have shown here that it puts the shareholder first - exactly the kind of company management smart small cap investors look for. Medgenics has more room to run in my strong opinion. As savvy experienced investors begin to look into how management operates here with its massive product potential, I expect the speculation in this company to increase. It is now my opinion that a stock price nearing $12 a share is definitely obtainable in the next 3 months.
Amarin (NASDAQ:AMRN): Yesterday's closing price: $12.69, down

0.04 (0.31%).
Amarin faces an FDA decision for the prescription fish-oil pill AMR101 on July 26th, 2012, which I believe the FDA will approve.
AMR101 is an investigational ultra-pure omega-3 fatty acid in a capsule, comprising not less than 96% icosapent ethyl (ethyl-EPA) in a capsule. Amarin is developing AMR101 for the potential treatment of patients with very high triglyceride levels and high triglyceride levels, or hypertriglyceridemia. Triglycerides are fats in the blood. Amarin's cardiovascular strategy leverages our extensive knowledge and experience in lipid science and the potential therapeutic benefits of polyunsaturated fatty acids in cardiovascular disease.
GlaxoSmithKline's (NYSE:GSK) competing drug, Lovaza has annual US sales of $1B, so an approval nod to AMR101 will be a massive win for the company and its shareholders. AMR101 seems to be superior on face value to Lovaza based on the data that it does not increase low-density lipoprotein cholesterol (LDL-C), also known as 'bad cholesterol' like Lovaza does.
GlaxoSmithKline sought approval for conditions with triglyceride levels as low as 200mg/dL, but was rejected by the FDA twice because it increases LDL-C. Needless to say, approval of AMR101 should be a massive win for both Amarin and its investors, not to mention in no small part, people inflicted with high triglyceride levels. If Amarin can find a way to shore up and fortify its patent protection for AMR101, we should see a stock price nearing $30 a share within a year - if AMR101 is approved and it is my strong opinion that it will be. The chart certainly seems to suggest to me that investors/traders feel as I do as well: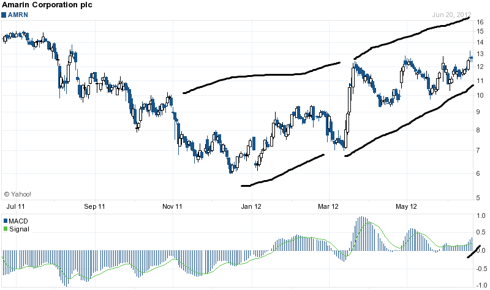 The Amarin chart is about as bullish as you will ever see. Without getting into too much technical jargon, the 2 black lines show a clear pattern. The chart here shows a clear and defined cup and handle, a tight wedge formation, and a strong continuing symmetrical triangle. It is my strongest opinion possible here that a move to near $16 a share, if not considerably higher, is virtually certain very soon with Amarin.
IntelliPharmaCeutics International Inc. (NASDAQ:IPCI): Yesterday's closing price: $3.05, up

0.25 (8.93%) on roughly 3 times its average volume.
ICPI engages in the research, development, and manufacture of novel or generic controlled and targeted release oral solid dosage drugs. The company's patented Hypermatrix technology is a multidimensional controlled-release drug delivery platform that can be applied to the development of various existing and new pharmaceuticals. It has a pipeline of products in various stages of development in therapeutic areas, including neurology, cardiovascular, and gastrointestinal tract, pain, and infection.
Intellipharmaceutics' previously announced development goals for 2012 included the completion of a pre-Investigational New Drug ("pre-IND") meeting with the Food and Drug Administration ("FDA") to discuss its Rexista™ oxycodone development plan. The meeting with FDA officials clarified the company's path going forward for its Rexista™ abuse-deterrent oxycodone development plan.
Intellipharmaceutics is planning to advance toward the next goals of its Rexista program, namely the manufacture of clinical batches of Rexista abuse-deterrent oxycodone product candidate under current good manufacturing practice ("cGMP") conditions and the commencement of definitive Phase I clinical studies.
This follows from the previous proof-of-concept Phase I clinical study completed on a pilot laboratory batch, which yielded positive results.
IPCI might be seeing the beginning of a run-up here in anticipation of news forthcoming on the commencement/progress of the Phase 1 clinical studies of Rexista. The price action I saw yesterday on IPCI is similar to the price action I saw with MDGN before Wednesday's massive pop.
| | |
| --- | --- |
| Shares Outstanding: | 15.93M |
| Float: | 7.99M |
| % Held by Insiders: | 39.16% |
| % Held by Institutions: | 0.60% |
| Shares Short (as of May 31, 2012): | 125.01K |
| Short Ratio (as of May 31, 2012): | 10.10 |
As we can see above, with 15.93M shares outstanding, IPCI's market cap comes out to $48.60M - yet another undervalued market cap. With 7.99M shares available to trade, IPCI is definitely a low floating stock.
It is my opinion the volume will increase here at least in the short term, to potentially move the price per share upwards over $3.50 in short order. $4.25 is within reach on a possible catalyst news release.
Honorable mention:
Orexigen Therapeutics (NASDAQ:OREX): Yesterday's closing price: $3.91 up

$0.01(0.26%).
Orexigen focuses on the development of pharmaceutical product candidates for the treatment of obesity. Its lead combination product candidates include Contrave, which has completed Phase III clinical trials; and Empatic that has completed phase II clinical trials for the treatment of obesity.
While the current focus is on both Arena Pharma (NASDAQ:ARNA) and Vivus (NASDAQ:VVUS) with their weight loss drugs nearing FDA approval decision dates Orexigen's weight loss drug candidate Contrave, has become lost a bit in the shuffle.
Orexigen, which makes naltrexone/bupropion in partnership with Takeda Pharma, is seeking for a 2nd time after being denied in 2010 by the FDA, approval for treatment of obesity and weight management in patients with a body mass index of 30 or above, or 27 or above and with one or more risk factors (e.g., diabetes, dyslipidemia, or hypertension).
Contrave works by combining naltrexone, an anti-addiction drug prescribed for opioid addiction and alcohol dependence, and bupropion, used to treat depression and smoking cessation.
While the original data presented to the FDA in 2010 on Contrave was less than stellar, the drug did show some promise. Orexigen might see a decent short term pop on news of what I believe will be an approval nod from the FDA for Arena's Lorcaserin. In relation to this, I believe a short term move to around $4.25 is certainly within reach for Orexigen.
My final opinions and pick:
Amarin definitely has the best long term prospects ahead. Medgenics still has a lot of gas left in the tank, and IPCI should see the largest percentage gain. Qnexa as well should see a decent percentage gain.
IPCI is my short term pick based on forward momentum and best short term percentage gain potential in my opinion.
Amarin and Medgenics are my longer term picks.
*Chart data sourced from Yahoo Finance.
Disclosure: I have no positions in any stocks mentioned, and no plans to initiate any positions within the next 72 hours.
Additional disclosure: Family members are long IPCI, and I receive no compensation from their position, or compensation to write this article. The only stock my money/account currently holds is Antares Pharma (NASDAQ:ATRS), 86,200 shares.