There are a few behind the scenes companies that are significant contributors to the economy. One such company is Georgia based Saia Inc. (NASDAQ:SAIA). With a market cap of $361 million, Saia has plenty of room to grow into a much larger business.
Currently, Saia is among the leading regional less-than-truckload (LTL) companies in the United States. The company handles fast, dependable, one, two, and three day delivery service. It covers 34 states with 147 U.S. terminals and handles service to Mexico and Canada. The company offers its Xtreme Guarantee service which guarantees total customer satisfaction from pickup through invoicing. The company operates a fleet of 3,389 tractors and 10,808 trailers.
Saia is attractively undervalued with a forward PE ratio of 11.02, a PEG of 0.95, and a price to book ratio of 1.6. The price to sales ratio is also low at 0.34. Although the stock is undervalued, it looks a bit overbought in the short-term, so patiently waiting for a pullback would probably be wise before jumping in.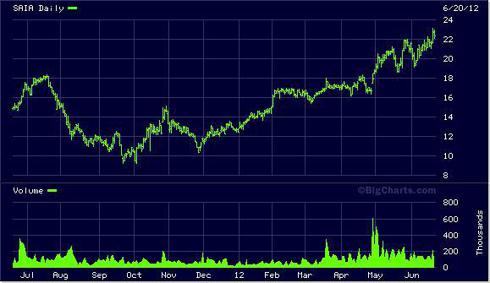 The company believes that the following differentiators keep it a step ahead of the competition: service quality & variety, price, geographic coverage, responsiveness and flexibility.
Saia's revenue increased 10.6% and earnings increased 676% for Q1 2012. The company has earnings per share of $1 and operating cash flow of $83.26 million.
The company has exceeded earnings estimates in the last 3 quarters. Its EPS estimate was surpassed by 88.9% for Q1 2012. Saia has 4 upward earnings revisions for 2012 and 3 for 2013. It is expected to grow earnings annually at 15% for the next five years. If this growth is achieved, the current stock price of $22 could easily double to $44 in five years.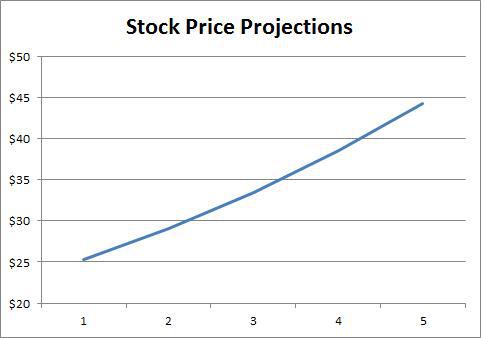 If you believe that the U.S. economy will continue to grow steadily in the next five years, then SAIA may be a solid investment. The company is trending well on exceeding earnings estimates and this should lead to higher stock prices if the trend continues.
Disclosure: I have no positions in any stocks mentioned, and no plans to initiate any positions within the next 72 hours.