Before taking a quick swig of apple juice the other night while preparing dinner, I thought to look at its provenance: China. And then, before chopping the onion and crushing the garlic, I looked to see whence they, too, came: China.
Well, I shouldn't really have been that surprised. Not only is China now one of the world's leading exporters of fruit and vegetables, but we here in the U.S. also import a good deal of those fruit and vegetables.
In fact, the U.S. is both China's largest market for exported apple juice (phytosanitary issues prevent the import of fresh apples from China into the U.S.) and a major importer of its garlic. (Indeed, in 1994, U.S. garlic producers successfully filed an antidumping petition against China for selling fresh garlic at less than fair market price, with the U.S. International Trade Commission ruling in their favor.)
As a quick look at the top five sources of U.S. imports of fruit and vegetables for 7/2006 shows, China is now way up there as a supplier of both (China does not feature in the top 10 sources of U.S. imports of fresh or frozen fruits.)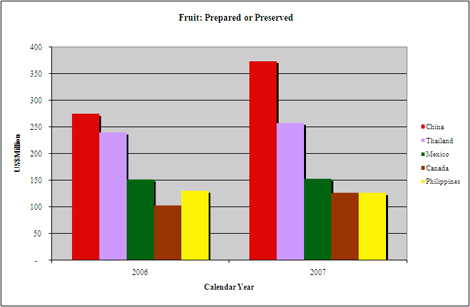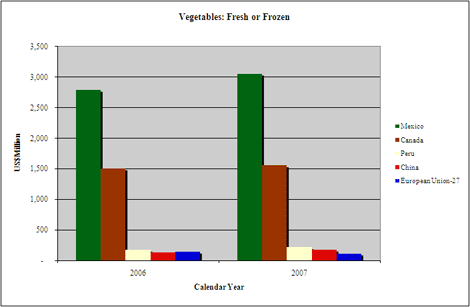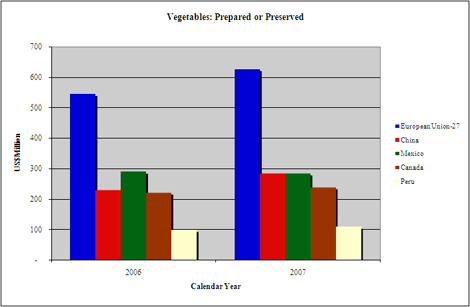 (Sources: Compiled by ERS using data from Census Bureau, U.S. Department of Commerce)
What Does China Export?
Over the last 10-12 years, China has raised its profile from barely visible to that of a leading exporter of fruit and vegetables in some of the world's markets. Comparative figures for the period 4/1992 to 4/2002 show that such exports (including fresh, processed and juiced fruit; fresh, processed and juiced vegetables; pulses; and tree nuts) grew some 122% from US$2.3 billion to US$5.1 billion. And, indeed, in 4/2002, 12% of the world's trade in fruit and vegetables was attributable to China.
Processed products, predominantly vegetables, constituted the bulk (60%) of China's fruit and vegetable exports in 4/2002. Currently, the main such export items are tomato paste, canned mushrooms, frozen vegetables and dehydrated vegetables.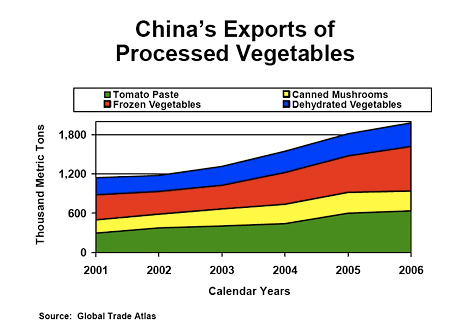 That said, over the same period, the country's exports of fresh vegetables grew nearly threefold. In 4/2002, they accounted for 16% of export value and 5% of the world's trade. Around half of current exports are now accounted for by garlic, mushrooms and truffles. Other vegetables include carrots, onions, radishes and turnips.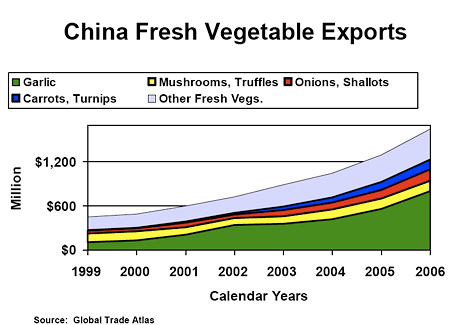 The value of fresh fruit exports over the same period (4/1992–4/2002), however, more than tripled and accounted then for 8% of all China's fruit and vegetable exports. China produces some 65% of the world's apples, and the fruit easily constitutes the country's leading export item–over half its annual fresh fruit exports by value. Apples are followed by pears and quinces, mandarins and all other fresh fruit.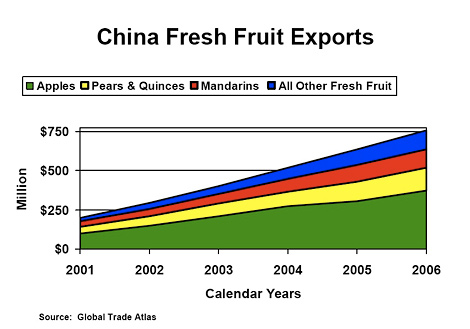 In the fruit juice market, China has become a leading contender. Since 2001, the country has been a global leader in apple juice exports. Apple juice now accounts for some 90% of all China's juice exports–with the U.S. its largest market. Currently, more than 40% of the apple juice consumed in the U.S. is made using Chinese concentrate.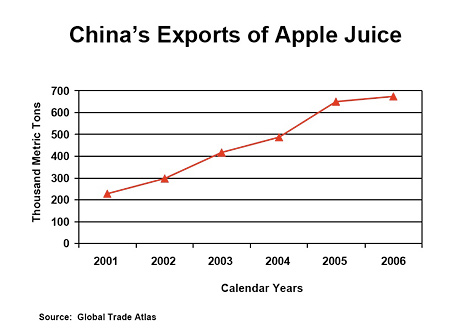 As China's fruit and vegetable exports have grown so significantly, so, too, has its production of both. And that production continues to grow.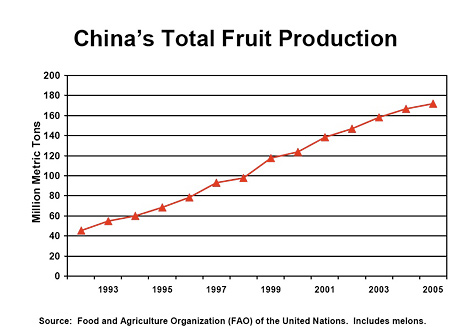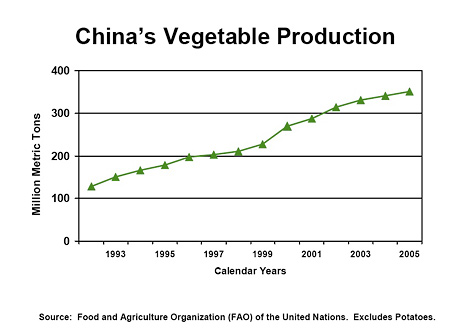 How Does China Do It?
While China may be the world's most populous country, with 4.5 times as many people as the U.S., it is still able to grow most of its own food and be a major exporter of foodstuffs. Indeed, even with its limited supplies of natural resources, arable land (9% vs. 13% in the U.S. in 2000) and water, in 2006 it produced 84% more crops and livestock than the U.S.
Over the last three decades, significant changes in the government's policies governing agriculture and agricultural trade have led not only to reduced centralized planning and official intervention, but also, as a corollary, increased exposure to market forces. Such policies have further included particular encouragement of both fruit and vegetable production.
Perhaps most importantly, liberalization in the farming sector has provided farmers with increased freedom as to what crops they can plant and grow. Taking advantage of this, land once used to grow low-return grains has now been turned over to fruit and vegetables with their high cash returns. Fruit and vegetable production has, therefore, increased dramatically.
Although arable land may be scarce in China, labor is not, and it is cheap, which is particularly useful when it comes to labor-intensive horticultural crop production. And herein lies China's competitive advantage: low production costs. Most of the work done by China's vast mass of small horticultural producers continues to be done by hand, with little need for investment in even basic machinery. On top of this, these same small producers also pay little by way of rent for the land they cultivate.
As important as has been this liberalization in the farming sector, so, too, has been the official encouragement given to the export of agricultural products. A 2004 policy statement, entitled "Number 1 document," laid down that exporting such products, in particular fruit and vegetables, was an important way of helping China's farm sector. Indeed, it set a target of some US$30 billion for agricultural exports within the following four to five years.
Where From Here?
China is, and will remain, a potent force in the world's fruit and vegetable markets. But, at the same time, its continuing success in these markets will be contingent upon the resolution of some significant issues.
Produce Quality And Safety
Issues concerning both the quality and safety of food exports from China have been around in the press for a long time. In 2002, for example, frozen spinach exported to Japan was found to contain high levels of a particularly nasty pesticide. And then, last year, contaminated wheat gluten imported from China and used in some pet foods killed and poisoned a large number of cats and dogs in the U.S.
To maintain the desired productivity of their scarce arable land, the millions of Chinese farmers growing fruit and vegetables are obliged to rely upon the heavy use of both chemical fertilizers and pesticides–each of which can adversely affect the safety and quality of their produce. (And these chemicals are quite apart from the many other contaminants, such as poisonous heavy metals and industrial chemicals, which often lurk in the soil, waiting to be absorbed by growing plants.) Such has been the recent concern over the issue in the U.S. that, on December 11 last year, China and the U.S. signed a "Memoranda of Agreement" to "Improve the Safety of Food, Feed, Drugs and Medical Devices."
Improved Distribution Channels
To remain competitive, China needs to both radically reform and restructure the existing distribution channels for getting its fruit and vegetables to their end markets, and to polish up the way it markets both.
Currently, not only is there significant wastage and loss before produce reaches consumers, but also, along the way, the markups charged by a superabundance of middlemen often leave Chinese produce with few price advantages over that from competitors.
On the marketing side, three factors especially vitiate China's exports: such basic practices as modern packaging and packing are sorely lacking; the use of standard grades (for, say, appearance and uniform product size), while vital for international trade, is not widespread; and, finally, only a few varieties of either fruit or vegetables are available in enough volume to export successfully.
Increasing Domestic Consumption And A Rising Yuan
In a significant study of the Chinese fruit and vegetable market, the U.S. Department of Agriculture ("USDA") noted: "As Chinese household incomes rise, fruit and vegetable consumption will rise." If such consumption does increase, and an attractive domestic market does develop, then such development will most probably be at the expense of China's export capacity. The country's ability to expand production remains finite if both quality and safety are not to be further sacrificed–an important consideration when the consuming sector of the population is becoming increasingly health and safety conscious with respect to what it eats.
Then, of course, there is the issue of an appreciating yuan. As the yuan rises and the U.S. dollar depreciates, exports of Chinese fruit and vegetables will face increasing competition on the basis of price. It remains very much to be seen, however, how the yuan will fare against the U.S. dollar.
Opportunities
As stated in an article in the Financial Times in April last year: "Agribusiness may have grown quickly but it has only begun to nibble at the edges of China's vast farming base." There appear at present, therefore, to be few significant opportunities to invest directly in the growing of fruit and vegetables within China.
Having said that, though, foreign companies have, in the past, invested both on the production and the processing sides. Around the turn of this century, investors from Singapore invested in both a Red Globe grape vineyard and greenhouse/packaging facilities in Shandong Province in eastern China. In both instances, the companies involved used their Chinese facilities to service their home and other Asian markets.
A number of large multinationals offer one approach to the market. Monsanto (NYSE:MON), for instance, has seen its sales in Asia double since 2003, as farmers try to get more production out of limited arable land. Similarly, both Deere (NYSE:DE) and Caterpillar (NYSE:CAT), two major players in the tractor market, have expanded in China recently. Deere in particular recently completed the acquisition of Ningbo Benye Tractor & Auto, a tractor manufacturer in southern China. Deere said that demand for small tractors has grown sharply in China as local rice farms become more mechanized. Unfortunately, there are few pure-plays on that market.
And as transnational and local - both Chinese and foreign - suppliers of fruits and vegetables source from China, the likes of France's Carrefour, Wal-Mart (NYSE:WMT) of the U.S., Canada's Metro and the Netherlands' Makro supermarket chains (each, except for Makro, publicly traded) all benefit enormously from China's currently booming fruit and vegetable industry market.
And that goes for us too, the ones consigned to making supper. For as long as the produce remains cheap and for as long as they remain safe (and probably unremarked, too, unless we look carefully at their provenance), we'll continue to benefit from the success of China's fruit and vegetable industry just by shopping in our local stores.