Tivo (NASDAQ:TIVO) has become synonymous in how we refer to recording our television shows just as Google (NASDAQ:GOOG) has become the cultural term for performing a search on the internet. The past three months of market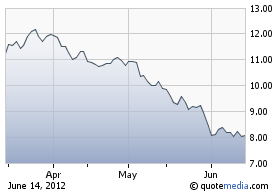 volatility have rewound Tivo's stock price to an attractive point for a nice buying opportunity. Patient investors taking a position at the current level of around $8 should easily earn a 25% - 30% return on their investment.
Below are listed seven reasons to go long Tivo at this level:
Conclusion: With the strong financial position, growing partnerships and numerous product offerings, TIVO should have no problem bouncing back up to $10-$12 a share when the markets settle down, rewarding patient investors with a nice profit.
Disclosure: I am long AAPL, INTC, UNXL, MVIS, MDU.
Additional disclosure: I may initiate a position in TIVO early next week.