There is little doubt that companies and stockholders have high levels of anxiety due to the dire situation in Europe. This has not stopped investors from maintaining a bullish attitude toward Abbott Laboratories (NYSE:ABT), however, and I expect this to continue. Abbott has many solid developments making the news that will keep investors bullish into the near future. Abbott continues to be a strong investment, and there is no reason to expect this to change.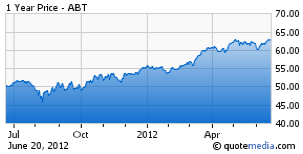 The stock has been receiving positive attention from those interested in the market. Not only has the stock been performing well, but analysts have displayed an overwhelmingly positive attitude about the company. This is a good atmosphere that will continue to benefit the stock and should provide some confidence for shareholders. Given the global nature of its business, furthermore, this says a lot.
One of Abbott's new global initiatives is the entry into the nutritional products market throughout India, which has acted as an area of high growth for Abbott. This is due to two main factors. First, India is the second most populated country on the planet and is in the process of industrialization. Second, India has a very high percentage of people suffering from malnutrition and diabetes. To put it simply, there is a large untapped market for nutritional products. Abbott intends to create supplements targeted for different regions throughout India. There will be a high cost for development in this market, but you can be sure that it will yield large returns.
In fact, this has increased the positive sentiment about the stock even more, as some have raised their price target on Abbott due in part to the expansion into India. The push into India is seen by many as a part of the overall goal of entering into emerging markets. If the expansion in India ends as well as Abbott expects, you can bet that it will use this same business model to expand into other emerging markets. If Abbott can enter emerging markets early, it can guarantee long-term traction in these markets. Becoming a dominant player early can only bode well for the company and the stock.
Abbott has not transitioned its core business though. There are many problems to be treated in its home market, the United States, and it is doing all it can to meet demand. It is attempting to extend the usage of its popular arthritis treatment Humira to other purposes. It recently announced that Humira yields significant results in patients who suffer from axial spondyloarthritis, which is rheumatoid arthritis affecting the spinal cord. This is good for Abbott, as its Humira product has already been through development. Thus, it would merely be entering a new market. The extension of an existing product into new treatments should allow the product to be more resilient, furthermore, as it will be less affected by patent expiration.
This is not a slam dunk though, as its competition is hot on its heels. Eli Lilly (NYSE:LLY), for example, has recently announced positive results for its Baricitinib, which treats rheumatoid arthritis. This shows the large amount of competition in relation to this kind of medication. This should have a small effect, however, only slightly improving Eli Lilly stock and slightly harming Abbott stock.
Roche Holding (OTCQX:RHHBY) presents an even greater challenge to Abbott. Its rheumatoid arthritis treatment is beating Humira in the tests to extend its usage. Since Humira is a wonder-child for Abbott, this is bad news, and I would keep an eye on these results. I am sure Abbott is racing to stave off this threat, but if Humira is defeated, Abbott will have to find another cash cow. This is not an easy accomplishment by any means. Once again, I believe this will have a negative effect on Abbott stock.
Other competitor GlaxoSmithKline (NYSE:GSK) is attempting the same horizontal expansion of current treatments. Its drug Horizant has been approved for the treatment of nerve damage due to shingles. The drug was first used to treat restless leg syndrome, so this shows just one more example of this horizontal expansion. The expansion of current treatments is a new trend in pharmaceuticals with the idea that costs will be cut significantly by reducing the need for development and trials. The companies that can take advantage of this will have huge potential to increase margins overall.
Despite this push for expansions of treatments, the development of new drugs should not suffer too much. For example, GlaxoSmithKline is developing a treatment for melanoma that significantly beat chemotherapy and treatments from its competition. Needless to say, this is great news for patients, and it will have a positive impact on GlaxoSmithKline stock.
Not every company will bring strong competition though. AstraZeneca (NYSE:AZN) has been struggling for the past few months and has little to announce recently. Other than its bidding for Amylin, it has been almost nonexistent in the news of late. It needs some sort of injection, and a lot is riding on Amylin. Due to its lack of action, however, I expect AstraZeneca stock to be falling in comparison to its many competitors.
Pfizer (NYSE:PFE) has also been struggling lately. With the upcoming expiration of its cholesterol drug Lipitor, it expects to cut 177 jobs. Pfizer sees patent expiration to be its main threat. A quick comparison with Abbott and GlaxoSmithKline makes this prediction a bit hollow. If the main threat is patent expiration, Pfizer has many problems. All of the major pharmaceutical companies are dealing with patent expiration, but Pfizer is handling this worse than the others. I would not expect Pfizer or AstraZeneca to pose much of a threat to Abbott in the near future, and I suspect that Pfizer stock will be struggling for some time.
What does all this mean for Abbott? In general, I believe Abbott is a safe, strong bet. It will face much competition from other companies, but it is moving at such a fast pace that I am not concerned by this. Expansion into emerging markets and horizontal expansion of existing treatments will allow Abbott to push its core business even further, allowing it to focus on developing huge new treatments. While there are many major pharmaceutical companies that are successfully competing with each other, Abbott is among the best.
Disclosure: I have no positions in any stocks mentioned, and no plans to initiate any positions within the next 72 hours.