Microsoft (NASDAQ:MSFT) unveiled its new Windows Phone 8 in California on Wednesday. After watching The Verge's live-blog presentation, there is no question in my mind that this phone is going to be a big hit with consumers of all ages.
The hardware: Nokia (NYSE:NOK), Huawei, Samsung, and HTC will have WP8 devices on "Next Generation silicon" from Qualcomm (NASDAQ:QCOM). And they will be available in 180+ countries in 50 languages. This is 25 more countries than Apple just announced...
Unless I missed something, it can do almost everything that the Apple (NASDAQ:AAPL) iPhone can do and more.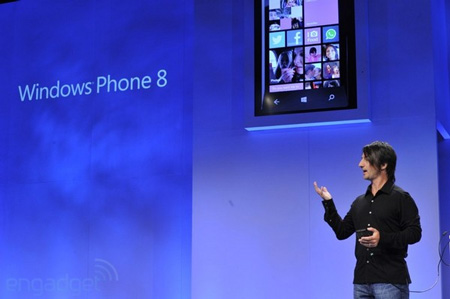 The more begins with the fact that it will run on the same Windows 8 as a PC. It will have a "shared core":
So what exactly does that mean? "Shared core?" That means a bunch of stuff: kernel, networking, multimedia, driver support - that stuff will be shared with the two platforms. So Windows Phone will get to use software that's already used by 1.3 billion people (aka Windows users).
The next question you probably have is "What about my apps?" The apps are already up to over 100,000 strong, and growing. And all of the Windows 7.5 apps will transfer. Due to the three different codes that developers can use, most apps for the new phone can be working within a few days or less. And it will come loaded with Internet Explorer 10. The WP8 will use Nokia's "mapping technology", NAVTEQ data, and turn-by-turn directions.
And then there is the most sophisticated electronic "Wallet" that I have ever seen. Your phone will be able to store all of your credit and debit cards, along with any online "offers" that you have saved, right at your fingertips. It will also have all of your membership and loyalty cards together in one place. Right now Chase is making a Windows electronic check deposit app, that is currently on other phones. You will be able to use the phone to pay bills with a swipe and a click, "tap and pay", and more.
According to the "live blogger" at the event, there will be a "tap and send" for all apps, which was demonstrated at the presentation live:
He successfully shares the contact with a (nearby) tablet...

"This is the riskiest part of my demo," Belfiore says.

He's showing a game called "Spell It."

The app on the phone can launch a session on the tablet when you tap the NFC element. It then opens a Peer-to-Peer connection.

Boom - the games are playing together head-to-head in real time.

Belfiore says it only took a couple days for the developer to port the app from Windows 8 to WP8.
Other exiting details include a removable memory card and:
NFC, dual- and quad-core support are all set, and Microsoft has shifted over to the NT kernel for Windows Phone 8 to make it even easier for developers to code for its mobile and desktop ecosystems. There's a new Wallet hub, deeper integration of Skype, and an updated Start Screen interface with support for small tiles.
All of the tiles on the start screen can be moved around, and you have the choice of making some small, medium, or large. After all this is your very own start screen. Skype calls will come through just like a regular call. And then of course there are games, and graphics that are super cool. It also can talk, and talk back to carry on a conversation. The speech is available to developers on all of the apps, and it started working for Windows 7.5 users on Wednesday. As you can see from the chart below, Microsoft, and Apple have been trending pretty close to each other over the last 3 months.
But, is all of this really going to deliver a blow to Apple? Some people are calling this a Tablet War, after seeing the new Microsoft Surface Tablet, that was introduced to the World on Monday night. One reporter at the event said that Microsoft's new Surface could take out the entire computer industry in a few years, if the companies don't come up with something equally wonderful. On Tuesday morning, ABC's Good Morning America anchors called Apple and Microsoft the "Two Titans" going after each other. But now after seeing this phone, I think Apple has got a whole lot of work to do to catch up. The true test will come in the Fourth Quarter with the Holidays. As you can see from this chart, over the last 5 days, Microsoft shot up above Apple, and the other indicators when they said there would be a big announcement on Monday night.
I personally have always wondered why there wasn't a phone that could act like a PC. I was so exited to get my new iPhone 4 last Fall. But now I would gladly trade it in for the Windows Phone 8. Time is going to drag waiting for my next "upgrade" in 2013. Before I saw this phone, I really thought the Cyber World was big enough for these two heavyweights. But the phone is the deciding factor, and it tips the scale for Microsoft. Many analysts questioned the timing of the Tablet Event. Why so sudden? Why now? Well now we see in hindsight this was just an old one-two punch.
I know there are lots of Apple Longs and Microsoft Bears reading this, that will disagree with me. And there are a lot of Windows Phone 7.5 "unhappy campers" who will need a whole new phone to experience Windows 8. However Microsoft is coming out with a separate upgrade for them called Windows Phone 7.8. But in spite of all of the nay-sayers, this is a very well calculated Microsoft attack. They caught the enemy off guard, and they will win this one. As they say: "You are only as good as your last hit!"
Disclosure: I am long MSFT.