I am not an M&A expert, so I can't make the case for a merger between eBay (NASDAQ:EBAY)and Yahoo (YHOO), that will be a better deal for Yahoo shareholders than the offer from Microsoft (NASDAQ:MSFT), but, in my opinion, a merger between eBay and Yahoo would be much better for Yahoo and, in the long run, much better for eBay.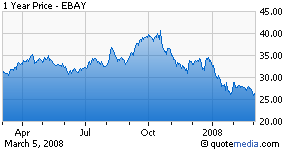 There have been rumors of a Yahoo/eBay merger for years, but the apparent roadblock to this deal, in the past, was that eBay (Meg Whitman) saw no value in the merger. How times have changed.
Meg Whitman, leaves eBay officially at the end of this month.
eBay's share price is near a 52 week low.
MicroHoo would not be a good partner for eBay.
eBay is in danger of becoming a takeover target.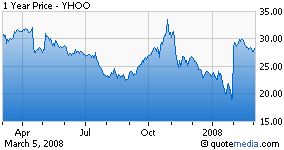 I've made my case for a Yahoo/eBay merger in previous posts, but now is the time for both management teams to sit down at the table and figure something out. Time is of the essence for Yahoo. The biggest problem I see with a merger at this time is who will run the company. John Donahoe hasn't even officially taken over for Meg yet and Jerry Yang is not the guy to run an independent Yahoo let alone a combined Yahoo/eBay. With Meg still an active decision maker on the eBay board this idea may be a non-starter, but I believe the two companies would be a much better pairing for shareholders, sellers and customers than a Microsoft/Yahoo deal.
Just my 12%.
Disclosure: none