Lithium
The Lithium market is expanding at a rapid pace and is dominated by a few large companies. These companies are well positioned to take advantage of lithium's growing demand due to its increasing use in batteries for smart mobile devices and electric/hybrid cars.
Lithium is the lightest and least dense metal. It is highly reactive, and as a result, never occurs freely in nature. Lithium is found in impure compound form and is extracted from either mineral springs or brine pools. Roskill reported that in 2011, approximately 81K Metric Tons of lithium was produced from minerals, 80K Metric Tons was produced from brine and 32K Metric Tons were produced from mineral conversion. Lithium was traditionally used in the manufacturing of Glass Ceramics, Greases, and Glasses, in addition to its use in industrial chemicals. With the advancement of technology, lithium-ion batteries have taken the place of conventional nickel-cadmium batteries in mobile devices. Also, with the recent large influx of smart battery powered devices, such as smartphones, tablets, portable music players portable computers, the demand for batteries, and hence, the demand for lithium has increased tremendously over the past few years. Talisman, in a recent presentation, reported that the lithium market had grown by 20% in the past decade and was expected to grow at a rate of 10-15% in near future.
Currently, 70% of the world's lithium is still used in industrials (glass, greases etc.). However, more and more lithium has been used in the production of batteries. Approximately 22% of the lithium produced worldwide is now consumed in the manufacturing of lithium batteries, which are considered more efficient than other forms of batteries. The proportion of lithium used in batteries for smart devices and electric cars is further expected to rise in future.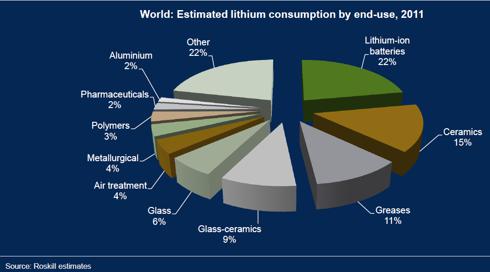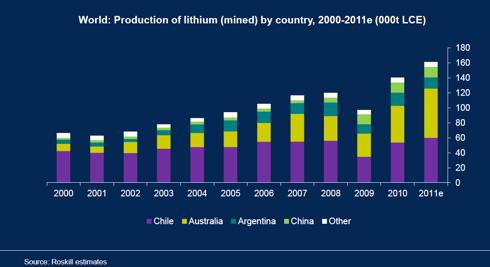 Historically, Chile has been the largest producer of lithium from brines. However, Australia has started producing equal to Chile and both countries together account for nearly 80% of total global production.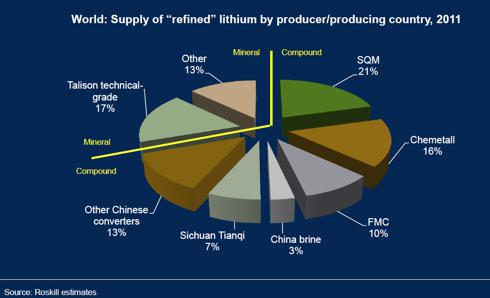 The lithium market is oligopolistic in nature with supply concentrated among four large producers: Talison Lithium Limited (OTC:TLTHF) is the largest producer of lithium from minerals, while FMC Corp. (NYSE:FMC), Soc. Quimica & Minera de Chile SA (NYSE:SQM), and Rockwood Holdings (NYSE:ROC) are the largest producers of lithium from brine compounds. Together, these four companies control nearly 95% of the lithium world supply.
Amid rising demand, the prices of lithium have stabilized after decreasing as a result of a global downturn. However, it is interesting to note that in the past 10 years, prices have increased threefold.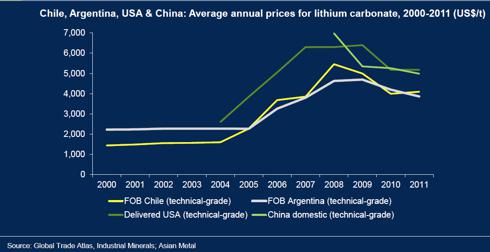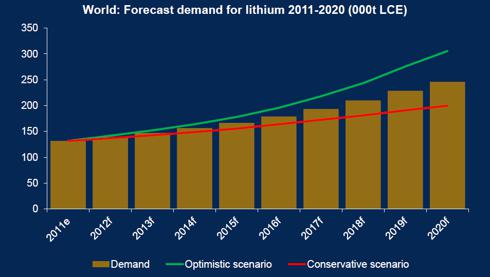 The demand for lithium is expected to escalate as a result of strong expected growth in sale of mobile devices (Notebooks, Tablets, Smartphones, Portable media players) in the coming years. The four big producers of lithium are expected to be the prime beneficiaries of growth in the lithium market.
SQM is the largest producer of refined lithium with a 21% global share. The company generates approximately 9% of its revenues from the sales of lithium. The company has a plant capacity of 48K Metric Ton (MT) per year. Credit Suisse estimates the operating cash costs of SQM to be equal to $1,500 MT/year versus $4,000 for the marginal cost producer in the industry.
FMC is another large producer of lithium in Latin America with a production capacity of 19K MT/year. Credit Suisse estimated total operating cash costs of $2,500/MT for FMC; higher than SQM.
ROC has experienced improving margins in lithium sales with an average 2005-11 CAGR of 5.3% in sales. Credit Suisse estimated an operating cash cost of $1,800/MT, less than FMC, but still higher than SQM. ROC has nearly 32K MT/year capacity. The company has announced an investment of $140 million to expand the current capacity to 52K MT/year.
Talison Lithium is a Canadian company with lithium extraction plant in Australia. The company extracts lithium from mineral ores and has shown a Sales CAGR of 15% in the past 10 years. The company supplies lithium to Chinese companies and is expected to add a further 20 MT/year to existing capacity.
Rio Tinto Group (NYSE:RIO) might enter the market in case its deal with the Serbian mine, which can produce 20% of the global output, goes through.
It is worth noting that nearly all the major players in lithium are operating at 100% production capacities, which signifies the strong demand of lithium in the market. The market for lithium is expected to further expand, as a result of rising demand for batteries, and the aforementioned four largest players will take the most benefit of it.
Disclosure: I have no positions in any stocks mentioned, and no plans to initiate any positions within the next 72 hours.