At Saibus Research, our investment style is focused on deep value companies, special situations and high-quality business franchises. One of the earliest influences for the principals of Saibus Research was the works of Mr. Warren Edward Buffett, the primary shareholder, Chairman and CEO of Berkshire Hathaway (BRK.A, BRK.B). We give Mr. Buffett much respect and admiration for his 60+ years of outstanding success in the investment industry.
However, just because we admire and respect Mr. Buffett's legacy doesn't mean that we always agree with him, even with regard to investment decisions. We already wrote a multi-part report series on why we disagree with Berkshire's choice of GM instead of Ford when we heard that Berkshire bought an automaker. Maybe Buffett would have preferred Ford instead of GM, but decided to let Combs and Wechsler go with GM, or maybe the reverse.
We also disagree with Buffett's recent investments in the newspaper industry. We remember that high-quality newspapers within local markets had a strong business franchise and the ability to generate healthy free cash flows to shareholders, especially if the competition was weak or nonexistent. We remember that he purchased 17% of the Washington Post Company (WPO) back in 1973, and it performed so well for Buffett that he declared that it was to be a "permanent holding for Berkshire." Up until 1988 it was definitely an outstanding business franchise, but since then it has certainly declined into an ordinary commodity business due to the recession and slow economic recovery of 1989-1993. EPS stagnated from 1989-2003, enjoyed a brief growth period from 2004-2007, then resumed its mediocrity in 2008. At least management has increased the dividend significantly since 1984 and bought back nearly half the outstanding stock since that time. If anything, WPO is stronger than many of its media peers because it diversified out of newspapers and into for-profit education (Kaplan), Cable TV systems and TV stations.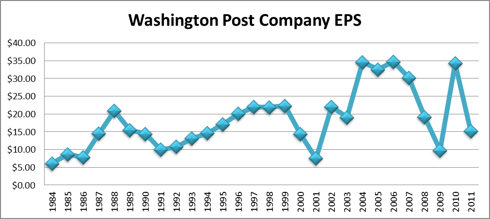 Source: Washington Post Annual Reports: 1993-2011
Berkshire also owns The Buffalo Evening News. As Berkshire owns it outright, we can't find any specific financial performance about it. We noted an interview Buffett gave in 2009 in which he said that continuing to own the newspaper is not totally rational. We wonder why if he wanted to own a newspaper, why a newspaper in Buffalo, NY? The Buffalo, NY central city has a dismal economy, high levels of poverty and crime, unfavorable demographics and rapid population declines since 1950. The Buffalo metro area has seen steady population erosion since 1970.
Berkshire also owns $26M in Gannett (NYSE:GCI) stock. Gannett's flagship property is USA Today, the widely read nationally distributed daily newspaper. Gannett also owns a diverse portfolio of local newspapers, television stations and Internet assets, including 53% of CareerBuilder.com. Berkshire bought 4.9% of Gannett in 1994 and has reduced its position over time. We are surprised that Buffett still has its position in Gannett considering that it makes up a small portion of Berkshire's investment portfolio and that its profitability crashed into a wall during the 2008-2009 financial crisis. Gannett had shown years of dividend growth up until 2008 and that it slashed its dividend by 90% in 2009 after reporting $7.4B in after tax asset impairment and other charges, mainly on its publishing franchise. Despite the fact that operating income, EPS and free cash flows are declining, GCI was able to restore its 2012 dividend per share levels to 50% of 2008 levels.
In November 2011, Berkshire bought the Omaha World-Herald for $150M in cash and $50M in assumed debt. We actually like OWH's editorial section. With the exception of syndicating the dreadful E.J. Dionne and Paul Krugman, we think that OWH has a top-tier editorial section carrying some of the finest op-ed columnists in the nation. We think that in addition to this being a sentimental legacy investment for Buffett (local boy does good, buys local paper), we believe that the Omaha World-Herald should have stronger operational performance than say The Boston Globe, due to the culture of ownership instilled by the Peter Kiewit Foundation and the employee stock ownership position of OWH. The fact that the Omaha-Council Bluffs metro area grew slightly faster than the US from 2000-2010 would also be a positive factor in our analysis of the deal, as well as the favorable demographics of Omaha and its metro area.
On May 17th, it was reported that Berkshire provided nearly $600M in financing to Media General (NYSE:MEG). As MEG reported Q1 stockholders' equity of $17K, it couldn't have come at a better time. Terms of the deal were as follows:
$400M term loan to Media General at an initial interest rate of 10.5%
$45M revolving credit line
The right to nominate a director to Media General's board
Warrants that represent 20% of Media General's stock (exercise price $0.01)
Berkshire buys 63 newspapers from Media General for $142M
Media General needed Berkshire to rescue it after it overextended itself by buying 4 TV stations from NBC Universal for $600M in 2006. Media General's stock skyrocketed by 60% the day the deal was disclosed from $3.14 to $4.97, before settling back to $3.56 as of June 8th.
In Q1 2012, Berkshire disclosed that it purchased 1.655M shares of Lee Enterprises (NYSE:LEE) and intended to keep this position confidential. The price of Lee Enterprises jumped from $1.15 on June 5th to $1.56 on June 6th upon Berkshire's reluctant disclosure before settling down to $1.39 on June 8th. Berkshire also bought $85M worth of loans to Lee Enterprises which were to be exchanged into junior debt and an at-least 4.1% stake in the company as part of its bankruptcy. Lee Enterprises is the fourth largest newspaper group in the U.S. and acquired Howard Publications in 2002 and Pulitzer, Inc. in 2005. Lee has seen a continued erosion of revenue since the Pulitzer acquisition and its losses forced it to file bankruptcy protection in 2011.
With the exception of the Omaha World-Herald, we recommend that investors not follow Berkshire Hathaway into the newspaper business. We believe that newspapers are seeing revenue and profitability erode not merely because of the rise of the Internet, but also because of the haughty, arrogant, left-wing elitist mindset of these boring broadsheets. The most visible piece of journalistic elitist arrogance and ignorance was an editorial from The Washington Post by Autumn Brewington (op-ed editor at the Post) who actually wrote that it would help the US to have a queen and that "monarchy has a lot to recommend it". We're shocked that someone in the American media would say that, especially because we fought two wars to get away from the yoke of European monarchy. Also, the First Amendment was established as a response to the John Peter Zenger libel trial in Colonial America. Brewington's op-ed was picked up by the Lincoln Journal Star, which is owned by Lee Enterprises. We can see why the Washington Post's newspaper division has lost money in 13 of the last 15 quarters when it publishes tripe like Brewington's article. We believe that if publishers provide consumers with a fair and balanced viewpoint, news companies will survive and thrive. News Corporation's (NASDAQ:NWS) publishing division is not only profitable, but has shown incremental growth since 2009. News Corporation is also the company that rescued The Boston Herald and ensured that Boston would be a two-newspaper town and for that all of Boston owes News Corporation a debt of gratitude.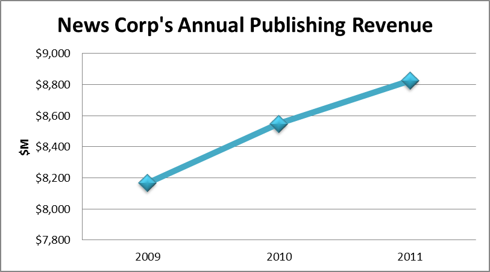 Source: News Corporation's 2011 Annual Report
Disclosure: I am long BRK.B. Saibus Research has not received compensation directly or indirectly for expressing the recommendation in this report. Under no circumstances must this report be considered an offer to buy, sell, subscribe for or trade securities or other instruments.