Cogent (COGT) and Embarg (EQ) were recently awarded Morningstar's 5-star status, reports Jeff Viksjo, meaning that the stocks trade at a suitably large discount to Morningstar's fair value estimate.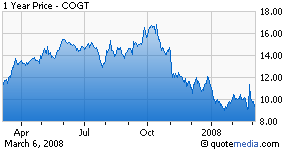 Cogent, a leading provider of automated fingerprint identification systems and other biometric systems, employs a unique biometric matching technology. This, according to Morningstar analyst Rick Hanna, not only gives it an edge but makes it expensive to replace the overall system. Among the company's contracts of border security and criminal investigation, Cogent provides the technology to the US-VISIT program, the largest biometric identification database operating in the world. On the downside:
The biggest risk facing Cogent's business is penetrating new customers and markets. The company's customer base is highly concentrated, with close to half of 2006 revenues being derived from the U.S. government and Venezuela... Political motivations can also affect contract awards. Hanna believes Cogent may have difficulty securing contracts in Japan and the European Union due to the governments' preferences for local suppliers.
In his analysis of the company, though, Hanna believes the market has undervalued the stock by failing to consider Cogent's widening client base and several imminent contracts. Indeed the company recently announced its ever largest backlog.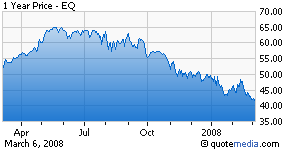 Embarq provides local phone services across 18 U.S. states, as well as serving Internet access wireless customers. Morningstar analyst Michael Hodel notes that Embarq's client base is a mix of rural and urban markets, and that by not committing to dividend payments, has "the ability to invest adequately in its networks to maintain its competitive position, which is critical as data services replace traditional phone service in importance." Hodel however does recognize that Embarq faces risks in an increasingly competitive field:
Technologies such as WiMax could make wireless an attractive alternative to Embarq's Internet access services. The firm may be forced to either spend heavily on network upgrades or cut prices sharply, either of which could hurt returns on capital. Though it isn't as exposed as pure rural phone companies, future regulatory changes could take a bite out of high-margin subsidy or access revenue.