As far as the market is concerned, "investing in America" remains a timeless colloquialism that has proven to be a successful strategy by those who abide by it. After all, our society breathes innovation, utilizes an elaborate infrastructure grid, encourages economic development, and finds strength in our abundant natural resources. Even in times of global crisis, the strong demand for the U.S dollar stands as another testament to the confidence the world has in America's ability to endure.
Therefore, in pursuing American economic strength, I thought it would be an interesting idea to try to formulate a balanced portfolio using just seven companies headquartered in America. Some of these names might surprise you. The goal was to establish a portfolio that balances between income and capital appreciation while simultaneously balancing between growth and value. Like the country itself, the portfolio must be able to endure hardship, but it must also provide ample opportunity for significant value in the years to come.
Upon review of the companies selected, one nagging thought remains. It is becoming extremely difficult to find established companies that operate solely within the United States or sell exclusively to the domestic market. Yet even with their partial international operations, the essence of the following companies operate largely to the betterment of the United States. With revenues coming back home, there is little question that these companies largely contribute to an American future. All values of the following portfolio were taken as of June 19, 2012.
| Company Name | Market Cap. | Price-to-Book Ratio | Beta | Fwd. Yield | Industry |
| --- | --- | --- | --- | --- | --- |
| Peabody Energy (NYSE:BTU) | $6.58 B | 1.11 | 1.92 | 1.40% | Coal |
| Solazyme (SZYM) | $778 M | 3.24 | n/a | n/a | Renewable Tailored Oils |
| Costco (NASDAQ:COST) | $39.72 B | 3.17 | 0.50 | 1.20% | Retail |
| General Electric (NYSE:GE) | $211.75 B | 1.74 | 1.50 | 3.40% | Industrial Goods |
| Annaly Capital (NYSE:NLY) | $16.51 B | 1.04 | 0.22 | 13.00% | Mortgage REIT |
| Hormel (NYSE:HRL) | $7.97 B | 2.83 | 0.38 | 2.00% | Meat Products |
| Lockheed (NYSE:LMT) | $27.65 B | 17.37 | 0.64 | 4.80% | Defense and Aerospace |
Peabody. It is an understatement to say that coal has been hit hard in light of environmental pressures and disappointing global industrial trends. Yet with a developing world and Peabody's enduring profitability throughout even these tough times, this American company's value begs consideration for inclusion into this portfolio. Coal provides half of America's energy at a fraction of the cost to competing fuels. And as a leading advocate for a clean coal transition, Peabody is likely to be a vanguard winner in coal's eventual price recovery to come.
Solazyme. As an exclusive leading innovator in the niche field of renewable tailored oils, Solazyme serves as this portfolio's primary growth play. The company's technology can not only effectively replace petroleum, plant oils, and animal fats, but it has the capacity to create new oils yet to be seen. Such an advantage will be essential for ongoing innovation and has already attracted partnerships with large companies such as Dow Chemical (DOW), Unilever (NYSE:UL), and Chevron (NYSE:CVX). Currently building out its commercial scale manufacturing capacity, the San Francisco-based company stands as a future gateway to commercially profitable renewable oils with current gross margins ranging between 30% to 80% depending on the oil profile.
Costco. Wide-scale American consumption can be no better defined then by the concept of Costco's business model. By introducing wholesale prices and quantities to your local consumer, Costco capitalizes upon a growing trend for discount prices and large bundled goods. With only 435 warehouses in the United States, it's not hard to imagine an abundance of expansion opportunity that lies in store.
General Electric. As the longest surviving member of the Dow Jones Industrial Average, General Electric serves as a stable conglomerate that seemingly best represents the American economy. Largely correlated to industrial goods, GE helps diversify this portfolio by offering access to American production. The company's dividend suffered during the Great Recession, but has since recovered and is on track to follow its upward growth trajectory.
Annaly Capital. As America's wealth is largely tied to its real estate, what greater way is there to capitalize upon this asset than through the "riskless" agency-backed mortgage securities financed by Annaly? The company is the largest public REIT financier of US residential mortgages, and has actively financed over a million homes. For our portfolio, the company serves as a stable high-yield income component.
Hormel. Hormel's chart is about as stable and upwardly consistent as they come. As a large meat producer with limited competition, the company's ability to profitably operate stands virtually unhindered. Like its dividend growth seen in the graphic below, Hormel's ability to operate in virtually any market environment allows for a stable win for its investors. Hormel's yield has steadily tripled in the last decade, and the trend appears eager to continue.
Click to enlarge.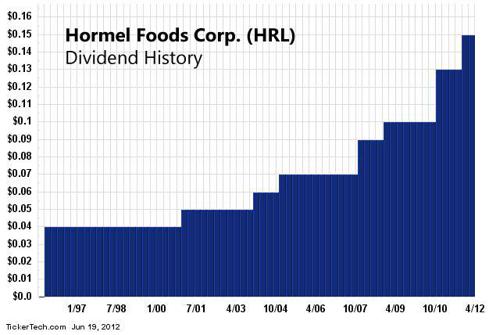 Lockheed. Lockheed provides a stable defense contractor with a very high yield, explosive dividend growth, large revenue backlog, and capacity for expansion. While the company's largest client remains the U.S. government, Lockheed has been pursuing more international sales in recent months to compensate for reduced domestic spending. The company's dividend history can be seen in the graphic below.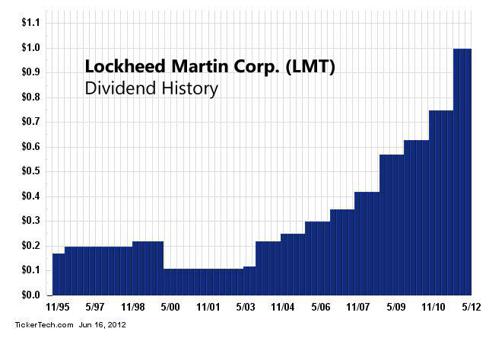 Disclosure: I am long SZYM.
Disclaimer: Please refer to my standard disclaimer found here.