The answer to the title question is: Maybe. The universe of closed-end funds offers a wide range of high-yield investment choices. My database of funds with more than $250 in assets and yields greater than 6% includes about 100 funds in 10 different categories. The list does nt include any tax-free bond funds. The question explored today is whether the closed end funds with double-digit yields - greater than 10% - actually allow investors to earn a 10% or greater return over time.
The methodology for today's comparison is simple: Compare the one-year and six-month share price returns of the 28 closed-end funds in the database which carry current distribution yields over 10%. All data is as of June 21, 2012. For a comparison, the S&P 500 is up 4% over the last year and 9% for six months.
Disappointing Share Price Results
For the one-year share price returns, 22 of the 29 funds are down more than 10%, completing negating any dividend earnings. Only three funds are break-even or better over the last year. The three closed-end funds which have are worth at least what they were a year ago are the PIMCO High Income Fund (NYSE:PHK), the Western Asset High Income Fund II Inc (NYSE:HIX) and the AllianceBernstein Global High Income Fund, Inc (NYSE:AWF). All three funds are leveraged bond funds and the best share price return is PHK, up 1.4%.
For the most recent 6 months, 17 out of 29 funds are in positive territory on their share prices. PHK is again the best of the bunch, up 11%. A couple of other funds with attractive half-year gains are the ING Emerging Markets High Dividend Equity Fund (NYSE:IHD) - up 10%, the ING Infrastructure, Industrials and Materials Fund (NYSE:IDE) - up 8.7% and The Gabelli Natural Resources, Gold & Income Trust (NYSE:GNT) - up 7.6%. The dividends earned on these stock market sector funds would be added on top of the gains.
An important point to understand is that many of these high yield closed-end funds are extremely volatile and the historic returns are very dependent on the time frame selected. Take a look at this 6-month chart for IHD.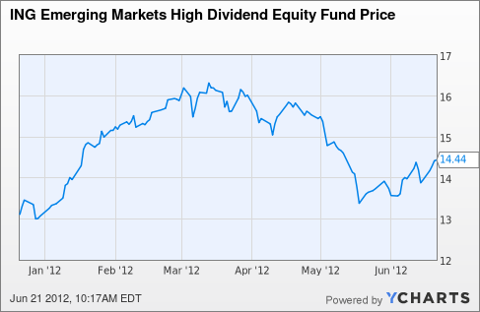 Going back a full year, this fund is down 21% and has been down over 30%, giving a greater than 50% price swing over the course of a year. Yet IHD has paid a 45 cent dividend every quarter since its inception, a little over two years ago.
Attractive High Yield Picks
For a stable 10% plus dividend yield and relatively stable share value, it would be hard to pass up on the PIMCO High Income Fund . This fund has paid a 12.188 cent monthly dividend since the beginning of time - June 2003. The two sector funds, IHD for emerging markets and GNT for gold and natural resources are paying steady distributions and investor should look for a low share price entry point.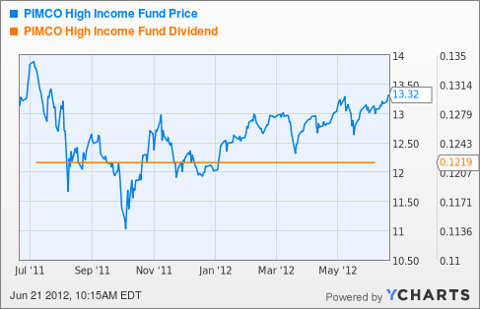 Disclosure: I have no positions in any stocks mentioned, and no plans to initiate any positions within the next 72 hours.