Electric Utilities
The Utilities ETF (NYSEARCA:XLU) is trading near its 52-week highs. The search for safe and high yielding dividend stocks has caused a run up in many dividend stocks. However, we think investors should also focus on the strength of a dividend stock's business model as well as its ability to generate cash flows. In this article we have identified electric utilities that will see a rise in profitability because of the switch from coal to natural gas and generate enough cash flow to keep paying the future dividends.
We will now discuss the key industry drivers, before providing an overview of the industry, as well as an in-depth analysis of the major industrial players and finally our recommendations on the relevant investment opportunities.
Industry Overview
Electric utilities are a regulated industry and the companies within this industry engage in the generation, transmission and distribution of electricity to different consumer types. The demand for electricity is inelastic, as a shortage of electricity not only causes inconvenience to its consumers, but also economic losses to the whole economy.
Each territory is composed of different types of consumers and can be broadly categorized as commercial, residential, industrial and others. Consumers are divided into classes of service or sectors based on the type of service they receive and can be determined by factors such as demand level, rate schedule, voltage distribution and end use application, among others.
Demand growth is expected to continue, and energy demand is expected to increase by 30% by 2030.
Electric utilities typically employ a number of tariffs for each type of consumer, reflecting the varying consumption levels, patterns and the associated impact on the utility's costs of providing the service.
The infrastructure of these companies is vast, and they have high fixed costs. During the '80s and '90s, the real cost of producing electricity (i.e. adjusted for inflation) was declining. However, the increasing costs of building materials and labor have made any kind of utility construction much more expensive. Utilities companies are also facing increasing cost pressures in operating and maintenance expenses. Until now, these utility companies have been able to pass on the higher costs associated with power generation, transmission and generation to customers, but may not be able to do so in the future.
In the last few years, the share in generation of electricity has shifted from coal to natural gas. This shift is due to the lower production cost of gas, and its benefit of being more environmentally friendly. Generation through nuclear energy has remained relatively flat.
Share of U.S. Energy Production
| | | | | | |
| --- | --- | --- | --- | --- | --- |
| | % Share | 2011 | % Share | 1998 | % change 1998-2011 |
| Coal | 42% | 1,734,265 | 52% | 1,873,516 | -7% |
| Natural Gas | 25% | 1,016,595 | 15% | 531,257 | 91% |
| Nuclear | 19% | 790,225 | 19% | 673,702 | 17% |
| Hydro | 8% | 325,074 | 9% | 323,336 | 1% |
| Renewable | 5% | 194,993 | 2% | 77,088 | 153% |
| Other | 1% | 44,582 | 4% | 141,396 | -68% |
| Total | 100% | 4,105,734 | 100% | 3,620,295 | 13% |
Source: Energy Information Agency
Key Industry Drivers
A major driver for electric utility companies is their defensive characteristics. Electric utility stocks in general are less risky and less volatile as compared to non-utility issues. Capital appreciation is not a major consideration for electric utility investors. Electric utilities have a history of offering high dividends.
Catalysts Going Forward
Environmental considerations have been at the forefront in recent years, and utility companies face stringent rules concerning emissions of pollutants. Lately, there has also been much talk about regulating carbon emissions, which is accused of being a major cause of global warming. Even though no rules have been put in place regarding carbon emissions, most companies expect some negative development to take place going forward. In addition, it has become a lot more difficult for companies to start new coal-fired generating facilities due to stringent opposition from environmentalists and the general public.
The tsunami in Japan left two of its nuclear plants damaged, which caused major environmental damage and raised concerns as to whether nuclear plants should be relied upon for the production of civil energy.
In 2011, the prices of natural gas fell below the coal benchmark; prompting the production of electricity through natural gas to be a more viable option. Hence, power producers are being forced to shut down their coal operations and shift to production from its cheaper substitute.
The renewable energy sector is subsidized and provided incentives by the government to pursue these energy resources. Any major technological breakthrough, which would make these sources of energy cheap, would be a changing point for electric utility companies in the U.S. It is anticipated that central solar may achieve grid parity in the Southwest.
The first wave of electric vehicles and infrastructure is expected to emerge, and the drivers include improvement in battery technology and the commitment of car makers. Another catalyst going forward could be an improvement in energy efficiency.
Price Trends For Natural Gas And Coal
Natural Gas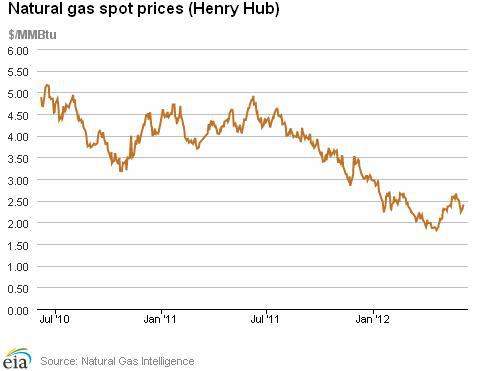 Natural gas supplies have been growing in the U.S. ever since producers learned how to use horizontal drilling and hydraulic fracturing to tap deposits locked in dense shale rock formations. The price of natural gas has been falling since mid-2008, at a time when a global recession weakened demand while drilling was accelerated in the gas-rich Marcellus shale on the Eastern coast of the U.S., according to Bloomberg. The price of natural gas decreased more in late-2011 on concerns that mild-winter weather in the U.S. would curtail demand for heating fuel.
This collapse in the price of natural gas has made it the cheapest source of fuel for power generation in the U.S. This has caused many companies to shelve projects related to power production from other sources of energy for the time being.
Coal Prices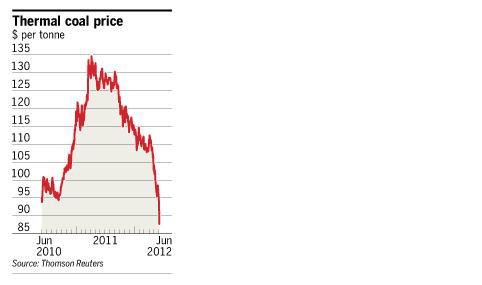 Thermal coal prices fell to a two-year low on June 10, 2012, as high exports from the U.S. and Indonesia continue to overcome surging demand from Asian countries. Thermal coal prices are down 21.5% since January and have reached $87.30/ton, which is the lowest level since 2010.
The high supply of coal is also due to the booming supply of cheap natural gas in the U.S., which has reduced the demand for coal and has caused its price to decline both locally and internationally.
Companies
Production Mix
2011

2010

2011

2010

2011

2010

2011

2010

Coal

53%

57%

0%

0%

59%

83%

47%

57%

Natural Gas

15%

15%

19%

10%

32%

14%

34%

25%

Nuclear

15%

19%

30%

57%

0%

0%

8%

15%

Hydro

7%

5%

51%

33%

1%

2%

6%

3%

Renewable

7%

3%

0%

0%

2%

2%

0%

0%

Other

3%

0%

0%

0%

6%

0%

5%

0%
Source: Energy Information Agency
PG&E Corporation (NYSE:PCG)
Overview
PG&E Corporation is a holding company that conducts its business through the Pacific Gas and Electric Company, which is a public utility operating in Northern and Central California. The company's revenue is generated mainly through the sale and delivery of electricity and natural gas to consumers. It is regulated primarily by the California Public Utilities Commission (CPUC) and the Federal Energy Regulatory Commission (FERC). In addition, the Nuclear Regulatory Commission (NRC) oversees the licensing, construction, operation and decommissioning of the company's nuclear generation facilities.
Financial Performance
Around 76% of earnings for 1Q2012 were contributed by the electric utility segment of the company, and the rest from the gas utility segment. Earnings from operations after excluding items affecting comparability (contribution to the city of San Bruno, and insurance recoveries paid to third parties) for 1Q2012 witnessed a growth of 53.4% to reach $0.89/share compared with $0.58/share in 1Q2011. In 1Q2012, the earnings per share (EPS) ratio also beat the consensus estimates.
The dividend payout ratio of the company is 83.60% and it has maintained its dividend at $.50/share for 1Q2012, with the total dividend payout for the company being $729 million, whereas the cash flow from operations is $3.8 billion, which is sufficient for the company to continue to pay out dividends in the future.
The company's net cash from operations witnessed an increase of $527 million to reach $3.7bn for CY2011, and has been rising on a yearly basis. The cash flow from investing activities increased by $91 million due to additional CAPEX, with the total CAPEX for the year being around $4 billion. The net cash flow from financing is positive, nevertheless, due to the high CAPEX, the company has to depend on debt and has been issuing shares to finance its CAPEX.
The debt/equity ratio of the company is 108% compared with the industry average of 142%, and the company has an interest coverage ratio of 3.2x compared with the industry average of 2x.
Stock Price Performance
The stock price of the company has gained 9.38% CYTD and 7.05% in the past year, outperforming the DOW.
Production Mix
PG&E Corporation has tilted its production mix in the last one year, increasing its production from natural gas up to 19% from 10%, and hydro to 51%, up from 33%. Contribution of production has reduced to 30%, down from 57% in the electric production mix of PCG.
Recommendation
The positive point remains that it does not depend on coal for power generation, which makes it a less likely target for regulatory risk compared with its competitors, who depend heavily on coal. This means it has the potential to outperform its peers if gas prices continue to remain depressed and well below coal prices.
The stock is trading at a trailing P/E and P/B ratio of 21x and 1.5x and offers a dividend yield of 4.00%. We have a buy stance on PCW.
Southern Company (NYSE:SO)
Overview
Southern and its subsidiaries construct, acquire, own and manage electric generation assets, and sell electricity at market-based prices in the wholesale market. SO is based in Atlanta, and is one of the largest generators of electricity in the nation with more than 42,000MW of electric generating capacity. Its electric subsidiaries include Alabama Power, Georgia Power, Gulf Power and Mississippi Power.
Financial Performance
SO reported 1Q2012 earnings of $0.42/share declined 16% compared with earnings of $0.50/share in 1Q2011. As reported by the company in its 1Q2012 review, earnings were negatively affected by warmer-than-normal weather during 2Q2012.
The warmer-than-normal weather's impact on earnings was partially offset by retail revenue effects in the company's traditional business and SO's traditional businesses added about 15,000 new residential customers during 1Q2012, which was a significant increase from the 2,000 customers added during 1Q2011. However, total energy sales, including wholesale, decreased 7.3% year over year.
The company increased its dividend for the 11th consecutive year, and the dividend announced of $1.96/share for CY11 was 3.7% higher than the $1.89/share dividend announced for 1Q2011. The dividend yield of SO is 4.1%. The company announced a 1Q2012 dividend of $0.49/share, which increased by 3% YoY.
SO reported cash flows from operations of $5.9 billion for CY2011, which increased 50% YoY from $3.9 billion. The cash flow from investing was approximately $4 billion, which remained relatively flat YoY. The dividend amount was $1.7 billion. Therefore, we are of the view that SO will continue its dividend pay out going forward given the room it has from the positive operating cash flows.
Stock Price Performance
The stock price of the company has gained 5% CYTD and 19.3% in the past year, outperforming the DJIA.
Production Mix
SO relies heavily on coal for the generation of electricity. However, its reliance on coal has decreased as can be seen from the fact that the contribution of generation from coal witnessed a decline from 57% in 2010 to 47% in 2011. The company has also been prudent and increased its contribution of generation from natural gas to 34% in 2011, up from a contribution of 25% in 2010. As per the disclosure given by the company in 1Q2012, it aims to tilt its generation even further toward natural gas.
Recommendation
The tilt in generation from coal to its cheaper substitute, and the will to continue going forward, definitely places SO in a better financial position. However, even after last year's reduced reliance, SO still generates 47% of its electricity through coal and any adverse price movements in coal prices or any negative regulatory changes will have an adverse impact on the profitability of SO.
SO is trading at a trailing P/E and P/B ratio of 19x and 2x respectively and offers a dividend yield of 4.14%. We have a neutral stance on SO.
Wisconsin Energy Corporation (NYSE:WEC)
Financial Performance
WEC reported an EPS of $0.74/share in 1Q2012, which was an increase of 2.7% compared with $0.72/share in 1Q2011.
Production Mix
WEC's generation from coal has tilted from a contribution of 83% in 2010 to 59% in 2011, and generation from natural gas has increased as the contribution in generation has increased to 32% in 2011 from 14% in 2010.
Stock Price Performance
The stock price of the company has gained 12.5% CYTD and 26% in the past year, outperforming the DJIA.
Recommendation
Even though the contribution of generation from coal witnessed a decline in 2011, we believe that the company still has a significant dependence on coal. Any negative regulatory changes will impact WEC significantly.
WEC is trading at a trailing P/E and P/B ratio of 18x and 2.2x and offers a dividend yield of 3.3%. We have a neutral stance on WEC.
Edison International (NYSE:EIX)
Financial Performance
EIX reported an EPS of $0.35/share in 1Q2012, which was a decrease of 44% compared with $0.62/share in 1Q2011.
Stock Price performance
The stock price of the company has gained 11% CYTD and 18% in the past year, outperforming the DJIA.
Production Mix
The contribution of coal in the generation of EIX is 53% in 2011, down from a contribution of 57% in 2010. Unlike its peers discussed above, EIX did not increase its contribution from the cheaply available natural gas, and the slight change in contribution was toward renewable energy.
Recommendation
Given that the company did not shift its generation mix much in 2011 compared with 2010, we believe the company will not be as competitive as its peers who have all increased their dependence on the cheaply available Natural Gas.
EIX is trading at a trailing P/E and P/B ratio of 15x and 1.5x and offers a dividend yield of 2.8%.
| | | | | |
| --- | --- | --- | --- | --- |
| | PCG | SO | WEC | EIX |
| P/E(ttm) | 20.86 | 19 | 17.8 | 14.7 |
| P/B | 1.48 | 2.3 | 2.2 | 1.5 |
| Dividend yield | 4.0% | 4.1% | 3.3% | 2.8% |
| EPS growth 1Q2012 | 53.4% | -16.0% | 2.7% | -44.0% |
| YTD stock price performance | 9.4% | 5.0% | 12.5% | 11.0% |
| 52 week stock price performance | 7.1% | 19.3% | 26.0% | 18.0% |
Disclosure: I have no positions in any stocks mentioned, and no plans to initiate any positions within the next 72 hours.