Tasman Metals (NYSEMKT:TAS) is a Scandinavian focused mineral exploration company with extensive claim holdings in Sweden, Finland and Norway that are prospective for strategic metals, including rare earth elements (REEs) and iron ore. The region is rightly regarded as the "home of REE" as many REE's were first discovered in Sweden, including cerium, erbium, holmium, lanthanum, scandium, terbium, thulium, ytterbium, yttrium. The mineral bastnaesite is named from the Swedish village of Bastnäs, where cerium ore was mined in the late 1800s, which lies close to Tasman Metals Ltd's exploration project areas.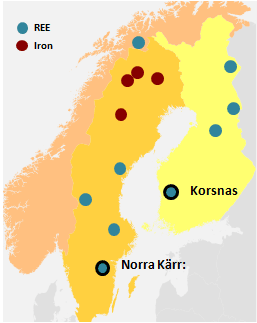 The Scandinavian region has a long and prosperous mining history, which has developed into a modern, highly mechanized and low cost region to explore and develop mines. The Fraser Institute in its 2008/09 survey ranked Sweden and Finland 13th and 14th respectively for politically supportive places to explore and mine. The Scandinavian countries offer good infrastructure, an intelligent workforce, modern mining legislation with low or no royalties and big areas of relatively unexplored ground. For more in formation, see the 2009 Mining Journal supplements for Sweden and Finland.
I see at least three reasons to invest into Tasman Metals
1. The company's flagship project Norra Karr is the 4th (or 5th) largest heavy REE deposit in the world.
According to company's presentation Norra Karr is the 4th largest heavy REE deposit in the world. Norra Karr has the highest percentage of HREE to TREE at over 50%, and is unusually rich in dysprosium and yttrium.
There was an article titled "TMR Report Ranks Top 5 Rare Earth Mines Outside of China" on August 22, 2011 at Rare Earth Investing News.
TMR's top five mines, both in production and under exploration, are ranked for relative in-situ quantity of individual CREOs, as a means of comparing the respective reserves of rare earth mines. The critical rare earth oxides are in TMR's report are dysprosium, yttrium, terbium, europium and neodymium and ranked according to the greatest risk to their supply.
The top five mines were:
2. Norra Karr has $1,464 million before-tax value
Preliminary Economic Assessment (PEA) of Norra Karr was completed on March 21st.
PEA Financial Highlights Include:
$1,464 million before-tax value (NPV at 10% discount rate);
49.6% before-tax Internal Rate of Return (IRR);
Before-tax payback period of 2.6 years;
$5.3 billion in revenue over the first 20 years and $10.9 billion over the 40 year life of mine;
Initial capital expenditures of $290 million (including contingency of $66.82 million or 30%);
Average annual operating expenses of $74.3 million or $10.93 per kg of mixed TREO concentrate;
Conservative basket price of US$51 per kg versus current China FOB basket price of US$184.85.
3. Tasman Metals' market cap is one of the lowest amongst its peers
| | |
| --- | --- |
| Company | Market Cap |
| TAS | $90M |
| QRM | $97M |
| UUREF.PK | $52M |
| GWMGF.PK | $173M |
| LYSCF.PK | $1.8B |
| MCP | $2B |
Conclusion
I would recommend Tasman Metals as the second choice after Molycorp (MCP) for investors who are seeking high potential returns. I believe the sector is carving out a bottom currently.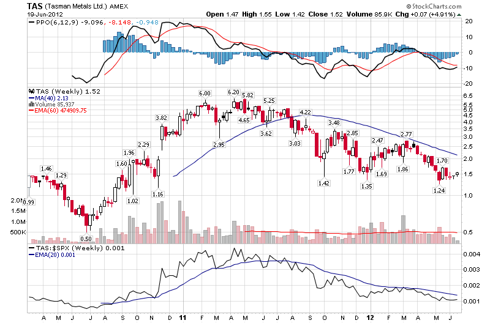 Disclosure: I am long TAS, MCP.