In the last one year, the BRICS currencies have experienced meaningful depreciation due to large number of internal and external factors. The chart below gives the appreciation or depreciation in BRICS currency from July 2011 to June 12, 2012.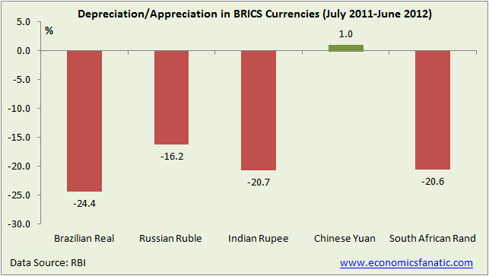 As evident from the chart, only the Chinese Yuan has appreciated primarily due to large current account surplus and pressure from the Western economies on China to have a free market exchange rate rather than pegged rates.
In my opinion, the Chinese Yuan will continue to appreciate over the long-term. One of the ways to play the Chinese currency is to buy Chinese stocks. The iShares FTSE/Xinhua China 25 Index (NYSEARCA:FXI) is a good option for investors looking to consider exposure to Chinese equities. However, I would suggest gradual accumulation of Chinese stocks in the midst of a meaningful slowdown in China.
Another way of considering exposure to China's currency is through the WisdomTree Dreyfus Chinese Yuan Fund (NYSEARCA:CYB).
Moving on to the Brazilian Real, the primary factor for depreciation in these currencies has been a slowdown in China and decline in industrial commodity and energy prices. Therefore, investors who believe that the best part of the growth for China and India is still to come can consider exposure to the currencies of this commodity producer.
I personally would look to consider exposure to the real with gradual accumulation in a scenario where these currencies can depreciate further if China's growth worsens.
Brazilian Real exposure can be had through the WisdomTree Dreyfus Brazilian Real (NYSEArca: BZF).
The South African Rand is another commodity currency, which has depreciated due to the factors of slowdown mentioned above. However, I personally prefer the currency of Brazil over the South African Rand.
Among the BRICS, India is a commodity consumer like China. India's currency depreciation has been due to factors such as high fiscal deficit, high current account deficit and inaction by the government on the reforms front. These factors have negatively impacted the currency as well as the stock markets.
However, declining commodity prices will benefit India in terms of deficits and the overall economic scenario should not deteriorate further from here. Therefore, I consider the Indian stock markets as an attractive long-term investment option at this point of time. I am certainly not ruling out further correction in the markets due to global factors. However, investors can consider some exposure to Indian equities as a part of their long-term portfolio.
I consider the WisdomTree India Earnings Fund (EPI) as a good investment option for investors looking for exposure to Indian equities and currency.
In conclusion, the BRICS present an attractive investment option for long-term investors in the current slowdown. Investors can get above average long-term returns if exposure is considered at current levels and on any further correction to BRICS currencies and equities.
Disclosure: I have no positions in any stocks mentioned, and no plans to initiate any positions within the next 72 hours.