I agree with many of the analysts on this site that Thornburg Mortgage (TMA) is operating in a fairly safe area of the mortgage market. Yet JPMorgan Chase (NYSE:JPM) has decided to force their debt into default. Why? Well obviously leverage plays a huge factor, but what if JPM actually wanted the bonds for themselves? We are talking about a $28mm margin call and they supposedly received $920mm (from another source) on 3/3/08 to cover some exposure on other mortgages. TMA holds about $35b in LT and ST debt here, seems odd. Billions being thrown around to help out and $28mm will likely cause the demise of this company?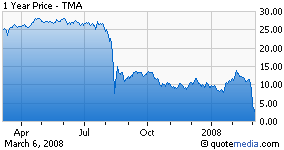 Now let's look at the big picture. What are the banks, and possibly hedge funds, looking to gain? The number one answer is probably market share and at any cost. One of the ways to achieve this goal is to work together in a partnership. Let's look at some recent events, particularly focused on JPM and Citadel, and see if we can make sense of what could possibly be happening:
2006: JPM and Citadel "partnered" up on the Amaranth natural gas trade. JPM was probably the bank where Amaranth's assets sat and once they realized that the trade would take time to unwind, used Citadel in a partnership as someone who could handle the risk of unwinding the trade.
2007: Citadel has begun sucking up small bankrupt mortgage companies and traders such as ResMae Mortage and Sowood Capital Managemet.
Late 2007: E*Trade (NASDAQ:ETFC) faces issues with its toxic mortgages and is almost forced into bankruptcy. Citadel steps in as a "white knight" and takes several billion of mortgages off the books, providing a capital infusion, and appoints a JPM executive as CEO.
Now let's' consider the next potential step in this scenario:
Early 2008: JPM decides they want their money back on the loan that has gone a paltry $28mm in margin, thus forcing Thornburg to unwind huge leveraged positions and push them into a potential bankruptcy. Enter the "white knight" to bail out TMA, by purchasing great bonds at a discount and providing a capital infusion and maybe a 20% position in the stock. New CEO? Why not…
There are other steps we could put together in this scenario, but these appear to be the most relevant at the present. Citadel appears to be the group that has benefited the most from these events, but surely JPM receives big fees and reduced risk exposure in times of need so the relationship appears to be working and that is much more important then who receives the better end of the deal.
References:
Disclosure: none