The Aussie Dollar responded in a whipsaw fashion that looks suspiciously like short-term distribution following Wednesday's FOMC results, where the Fed continued its current "twist" operation, albeit at a slower pace, as it starts to unwind its QE with its left hand while still flexing its right arm for the cameras. The knee-jerk reaction to the initial FOMC statement was bearish, but price quickly turned up to punch out a new high of the move just above 1.0220, a level which represents the 50% retracement of the March through May sell-off.
As of this report AUDUSD has failed for the second day to close beyond 102.00, which in our estimation points to a weekend corrective sell-off. The Aussie still holds an edge for us as a trading vehicle because it is an asset class market, unlike gold, or any other currency or commodity without a yield or dividend. Because of this it is a market that institutions still accumulate, and one that is a serious choice to divert non-asset class investments such as commodities and no-interest or low interest bearing currencies into as QE winds down. That and the fact that a slowdown for its biggest client, China, means only 7-1/2 to 8% GDP growth, makes it a good long-term trading vehicle, and particularly in a less risky economic environment. The Aussie is also not in the U.S. Dollar index meaning it can still appreciate in a pro-Greenback cycle. Like all markets however it goes both up and down, and at these levels and just ahead of the weekend we need to temper our bullishness, and protect against a corrective sell-off.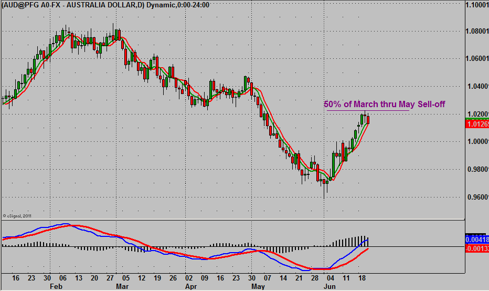 Figure 1. AUDUSD Daily Chart
Negative Interference in EURUSD Coming to an End
The Euro followed the asset class markets higher earlier in the week and through Wednesday's FOMC meeting but that uptrend is likely coming to an end now. In physics the term for haven been short Euro recently is called negative interference, when the waves of one source - think Euro - are divergent to the waves of other sources - think asset class markets, i.e.: stock indices and carry pairs - and the more powerful source wins out. The best way to play that scenario is long asset class markets. Once the asset class markets correct however, that is the time to be short euro.
So a counter-trend correction in stock indices and Aussie, which we feel is close at hand, will likely mean a resumption of impulse trade lower in EURUSD, and that is the ball that FX traders need to keep their eye on. For all the time spend on a tight rope these past several years the Fed has gotten pretty good at it, and the ECB has been watching. Both central banks have gotten very good at getting what they need from markets and this time that meant not spooking the Euro into a free-fall. The Fed gave a good impression that while Europe is a concern, it is a manageable one, which is why overall the Fed continues to back-peddle away from QE, yet leave that option open. No one is more understanding of the diminishing returns attached to QE than central bankers and treasurers. We believe the question is not what will the Fed do, but where will speculative flows turn to once the majority of market participants realize QE is in the rear view mirror. We feel the Euro, and more speculative markets such as metals and commodities will not benefit, while stock indices and possibly the Aussie will. We still like 1.1900 as our intermediate downside target.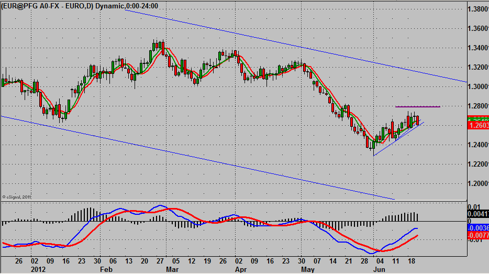 Figure 2. Daily EURUSD Chart
USDCAD Back Above 1.0200
Helped by dismal Canadian retail sales numbers Thursday morning the Canadian Dollar weakened against the Greenback propelling USDCAD back above 1.0200. The correction seen in the other majors over the last 3 weeks has been impressive, but not so for USDCAD, which has experienced a shallow down move. We were hoping for a larger pull back as we had targeted support at 1.0125 and at 1.0020 - see Figure 3 - with the later definitely a value area we would monitor for both short and long-term buy set-ups. Yet as much as we'd like a dip in USDCAD, we need to stay focused on what is happening now which likely means we go back to focusing on intra-day buy signals. Our intermediate-term target for this pair is the 2011 high at 1.0650.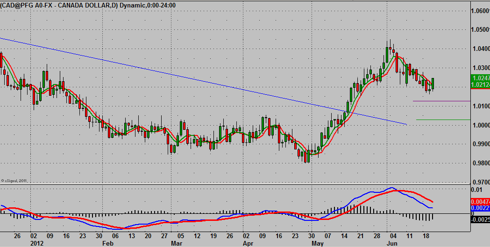 Figure 3. Daily USDCAD Chart
Trading involves risk of loss and is not suitable for all investors.
Disclosure: I have no positions in any stocks mentioned, and no plans to initiate any positions within the next 72 hours.