Dr. Pepper Snapple Group (NYSE:DPS) is somewhat of a poor man's Coca-Cola (NYSE:KO) or PepsiCo (NYSE:PEP). While it doesn't have the sales or multinational presence of either of the soda giants, it does have several things going for it. Take a look at the following three charts.
Dr. Pepper's P/E Ratio: Lower than Coke or Pepsi
Dr. Pepper's Dividend Yield: Higher than Coke and Pepsi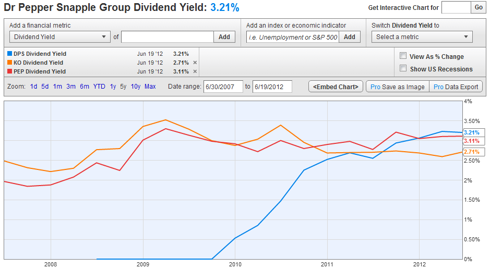 Dr. Pepper's ROE: Similar To Coke and Pepsi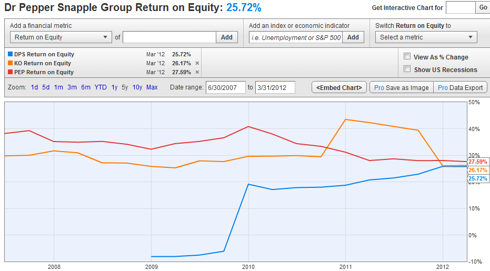 Due to the above factors, Dr. Pepper has been attracting attention recently. Analysts at Wells Fargo upgraded DPS to "Outperform," noting:
If recent commodity price trends hold over the next quarter, Dr. Pepper Snapple should demonstrate significant earnings leverage in 2013 - well in excess of current Wall Street estimates. By virtue of the company's position as a U.S.-centric beverage company, we think the shares could benefit from a flight to quality from more global and discretionary stocks.
In today's market, lack of European exposure is undoubtedly a good thing. It's also worth noting that Dr. Pepper is committed to expanding dividends.
Disclosure: I have no positions in any stocks mentioned, but may initiate a long position in DPS over the next 72 hours.